Strolling down the Terrace, from South Street in a southerly direction, it is soon obvious one species of tree is rather prominent – that would be the London plane tree, Platanus × acerifolia.
Love them or loathe them, they are widely planted across Metropolitan Perth and Australia. These, at times controversial, trees are planted not only along our South Terrace but around Freo more generally.
When mature they are quite majestic, in my opinion. It is a pleasure, for example, to sit in the shade of them sipping wine on a beautiful summer Sunday afternoon, listening to music, at the Freo Arts Centre.
Freo Council are constrained in their choice of trees to plant in a number of locations and the plane tree meets enough of certain characteristics not found in our wonderful natives, or so it seems.
These characteristics include –
1. Good shade properties
2. Deciduous so the beautiful winter light is not blocked out
3. Ability to tolerate our poor sandy soils and dry summers.
Some residents complain of allergic reactions to the seed pods from this tree and the mighty chore of sweeping up fallen leaves.
Read more about the problems with allergies here.
It appears that Freo Council have listened to the call from the community to stop planting them and have for now ceased purchasing and planting this species on the Terrace.
Enter the 'new kid on the block', in the London plane tree's place – the Chinese Elm, Ulmus parvifolia which is reputed to be more suitable. But are they?
Ulmus parvifolia, commonly known as the Chinese elm or lacebark elm, is a species native to eastern Asia, including China, Taiwan, Japan, North Korea, South Korea and Vietnam. It has been described as 'one of the most splendid elms, having the poise of a graceful Nothofagus'.
The tree was introduced into the UK in 1794 by James Main, who collected in China for Gilbert Slater of Low Layton, Essex.
Guess we will need to wait and see how they look and behave on maturity?
At this time of the year it is impossible not to notice the stunning show of red Callistemon, commonly referred to as 'bottlebrushes' because of their cylindrical, brush like flowers resembling a traditional bottle brush.
They are mostly found in the more temperate regions of Australia, especially along the east coast.
The species planted along the Terrace, I believe, is Callistemon 'Kings Park Special'.
The Latin name Callistemon comes from the combination of two Greek words – 'callis' meaning beauty, and 'stemon' meaning stamen, referring to the flowers of the plant.
 
Of course, everyone would be familiar with the popular Jacaranda, Jacaranda mimosifolia.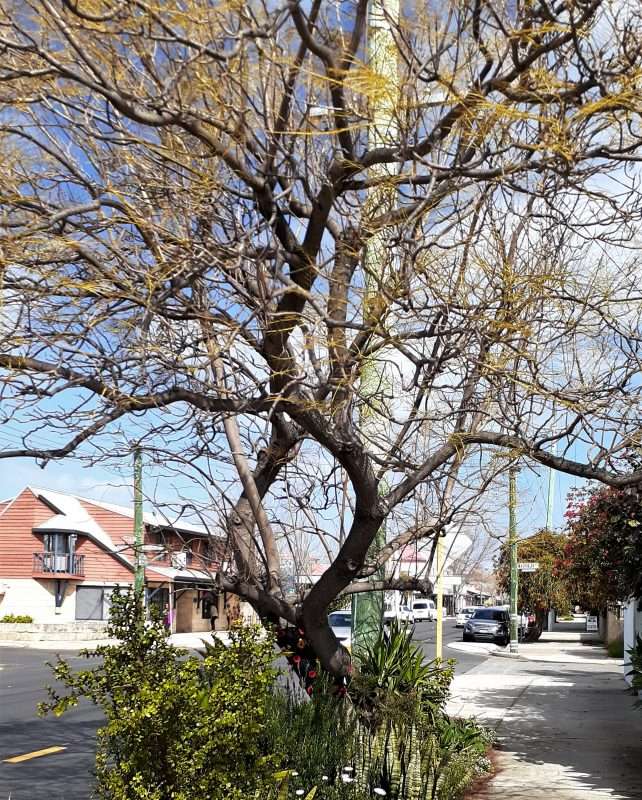 You will have to wait a few months to appreciate the stunning purple flowers that adorn these popular verge trees every November.
I just love how Freo locals decorate the street trees and other objects with a bit of good old 'Yarn Bombing'.
How beautiful is this mature Coastal Moort,
Eucalyptus platypus
heterophylla to be found shading the wonderful Meeting Place on the corner of South Terrace and Jenkin Street.
Want to learn a new language or other skill? Meet new people? The Meeting Place is the place to do it!
 
Strolling further south on the Terrace you come across a couple of young Marri trees, another beautiful South West Native. Did you know Marri – Corymbia calophylla – is from the genus 'Corymbia', and split off from the Eucalypts into the 'Bloodwoods' a decade or so back. You can learn all about them here.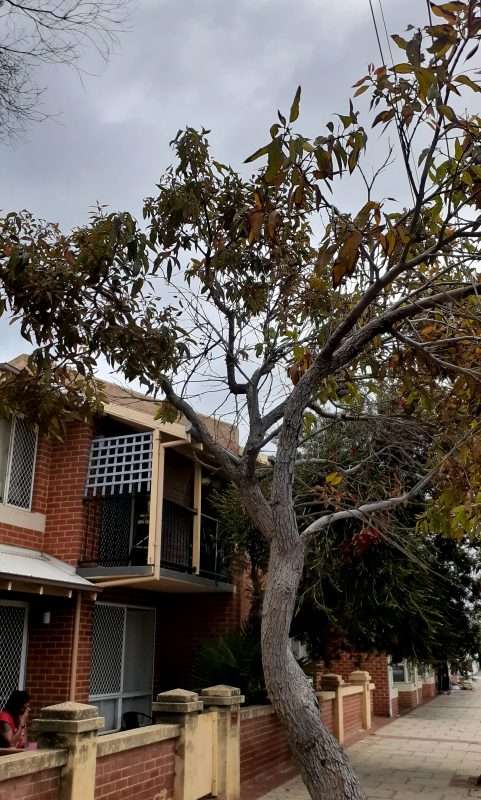 Right down at the southern end of South Terrace, this Norfolk Pine dominates the Douro Road roundabout. It seems much younger than its siblings just to the west along South Beach. No doubt she will reach those grand heights in a few more decades.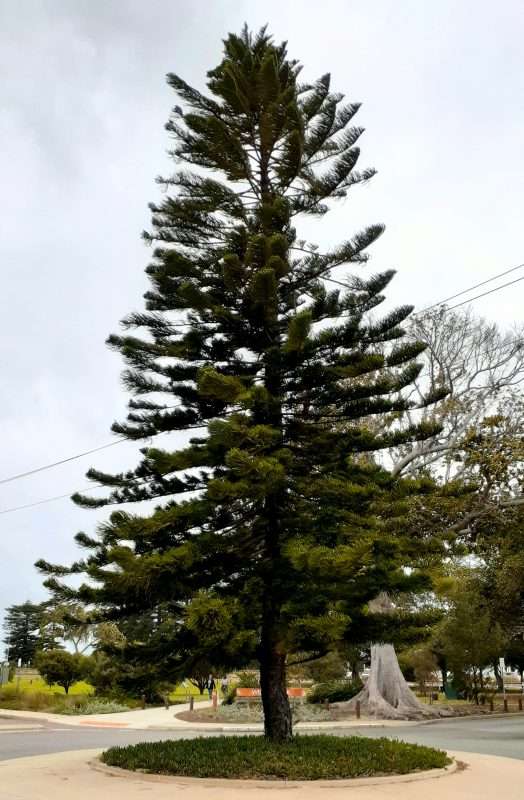 So, it seems we have a bit of diversity along the South Terrace, but could we do with more? I have been following with interest this Fremantle project , which is still in the making.
At a community workshop I attended in the early stages of the project, participants were asked what their 'Vision' was for Fremantle in terms of tree coverage. I responded that, 'On a hot summers days I would love to be able to walk from South to Central Freo along the Terrace more or less in the shade all the way'.
I am really hopeful that day will come!