'How good is that?'
For some unfathomable reason, the Coach was channelling the Prime Minister. The five of us were ambling along the path towards the old power station. Beyond the sand dunes the sea shimmered. Already the morning sun was fierce and unrelenting. A late afternoon sea breeze, forecast the weather girl. But we were not confident. The air felt dead and heavy. Fifteen minutes into our walk and we were all dripping.
'How good is that?' repeated the Coach, determined to claim our attention.
'What are you on about?' Desert Dan emerged from a side track leading to the groyne. He'd been inspecting Cockburn Council's efforts to 'rejuvenate' the beach. From a distance we watched him gesticulating to a stony-faced bulldozer driver. Dan had a way with Council employees, although we were never too sure whether his messages found their mark.
'Listen up,' said the Kid. 'There's a wacky proposal to attract tourists to South Fremantle.'
Yes, the Coach had the inside running, tipped off by one of his mates on the unfortunately-named 'Pull In More Punters' committee – universally referred to as PIMP. Tomorrow, there would be headlines in the Herald. Today, sworn to silence, our quintet had advance notice of the furore that was bound to follow.
We shouldn't have been surprised. Our hometown of Perth had long struggled with the demons of conflicted identity. On the one hand, we basked in the smug glory of isolation, far removed from the frenetic pace of life of other capital cities on the eastern seaboard. In our estimation, we were laid-back and that counted for plenty. But, on the other hand, we were historically afflicted by a severe dose of FOMO – fear of missing out – on the money trickling in from Canberra, the international artists who left us off their itineraries, the sporting events that were concentrated in Sydney and Melbourne, and – relevant to today's conversation – the planeloads and boatloads of tourists who never seemed to arrive in sufficient numbers to kick-start our economy.
Down the river, in Fremantle, we struggled with our own version of this conflicted identity. While we prized our relative immunity from the pressures of big city life and the commuting horrors of the suburban sprawl, many of us were inevitably drawn to the shopping centres and sporting and entertainment facilities that sprang up well beyond our boundaries. Meanwhile, traders – large and small – packed up and left, exacerbating our angst.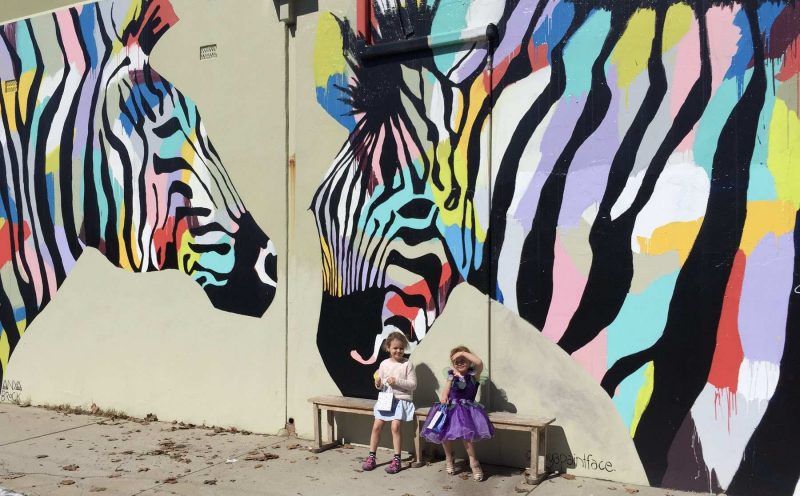 However, if the Coach's prediction was true, times were about to change.
The past few months had seen a flurry of creative activity. PIMP was inundated with ideas, as community surveys soared through cyberspace and were digested by the anxious convener and her associates. Why anxious, you might ask? Our Molly – for she was a South Fremantle lass – seemed a natural leader. After all, she volunteered for the committee when the Council got it up and running. It was not as if her life or job depended upon its success. Well, yes – and no. As the Coach had also divulged, young Molly had aspirations. She had seen the local member springboard from Council to Federal Parliament. Down the track, she aspired to follow suit. A bagful of brownie points for helping breathe life back into Fremantle would add mileage to her already impressive CV.
But community creativity, she could see, had some limitations. Scrolling through the proposals, she found herself shuddering in muted apprehension. For example, Roger from Hamilton Hill thought the answer lay in music. True, the Esplanade and the Arts Centre, not to mention the newly minted Freo Social, held regular gigs – but Roger, possibly due to his membership of the sailing club, envisaged spring and summer spectaculars. At South Beach, a series of interlinked pontoons and some kind of army-style duck-walk would support musicians and patrons alike. 'Aquatic Rock', as he called it, would incorporate Fremantle's best feature – the sea – and become a must–attend event on the international calendar.
'Dream on,' sighed Molly, turning to the next submission. Cynthia, whose overpriced apartment overlooked the harbour, had a vision. Or at least that's how she expressed it. (Readers will know that visions in Fremantle are not uncommon.) Be that as it may, Cynthia could envisage a transformation of the tired wharf infrastructure and the umpteen acres devoted to newly-arrived motor vehicles. Get rid of all the existing stuff, enclose the area in fluorescent fencing, build a few enclosures, truck in a variety of Australian wildlife – and there it would be – a mini-zoo; a noisy, colourful menagerie of Australiana to captivate the occupants of cruise ships and special trains that would be employed to convey the masses from Perth airport and all points in between. 'Nah', thought Molly, shaking her head sorrowfully and flicking over to the next offering.
'And that's when she found it,' said the excited Coach, swerving adroitly to avoid a hyped-up cyclist towing an equally exuberant dog.
'Bad idea, the zoo,' said Hydraulic Harry, still contemplating the challenges of the wharf redevelopment. 'Kangaroos and koalas would cactus in the salty air.'
'Maybe that's not what the lady had in mind,' said the Culinary Kid. 'What about snakes and lizards – or crocodiles for that matter?'
'Agriphobus consolatus', intoned Desert Dan, a repository of obscure Latin-isms.
'What are you talking about?' said the Kid, rolling his eyes.
'Do you guys want to hear what Molly recommended or not?' The Coach seemed a little miffed. He had something important to share and, here we were, getting off track as usual.
'Shoot,' said Harry.
I must say that even for Fremantle the idea was definitely OTT. But so over-the-top it might actually be a winner. What has Geraldton got – and Esperance until recently had – that we lack, asked Nessie of North Fremantle, in her compact and well-crafted submission? 'No idea', we chorused as the Coach posed the question.
He smiled and told us. We should have picked up on it. Only a few nights before, there'd been a breathless news item. Chinese tourists flock to Geraldton. Or, to be specific, to a location in the vicinity. Why Geraldton? I mean, it's a country town but not famous for international tourists. Yet, in the environs, a patch of still water was the drawcard. A pink lake. An out-of-the-way stretch of saline swamp that only jumped into prominence by virtue of its colour. So taken by surprise were the local Council and the entrepreneurs of Geraldton, they scrambled to find enough buses and portable dunnies to accommodate the human floods.
'We haven't got a lake in Fremantle.' I was a bit slow to cotton on. 'Are they talking about Bibra Lake? Isn't that in Cockburn?'
The Coach exercised his customary patience. Nessie's brainwave involved our beloved South Beach – or at least that small portion theoretically verboten to canines. Some over-bright kid at John Curtin High School had formed a fascination with dyes. Applying his chemistry knowledge gleaned in his quasi-legal garage laboratory, he and a couple of mates conducted experiments in the ocean. Certain dyes would defy the currents and remain static, at least for 24 hours or so – a sufficient interlude to allow busloads and train loads of eager tourists to selfie ad nauseum at the water's edge, backed by a brightly-coloured Indian Ocean (plus the occasional container ship).
'Here's the thing,' said the Coach. 'The Council has already commissioned an expert panel. They reckon the dyes can be contained by a kind of fine mesh, stretched from groyne to groyne. In that way they can last for weeks – even months. Not only that, but they can be formed into some kind of rainbow pattern. Very Fremantle, wouldn't you agree?'
Who were we to argue? Very Fremantle indeed. But was it ethical to fool the tourists, given our self-proclaimed credentials as an open, loving, and caring community?
'It wouldn't be rolled out that way,' said the Coach.
All totally transparent, he told us, or at least translucent. The colouring of the sea would be billed as an act of integration. The skills of science combined with the wonders of nature. A veritable re-enchantment, albeit with a commercial edge. And, heavens above, poor old Freo did need a commercial edge.
'Actually,' said Hydraulic Harry. 'There is already the rainbow container arch between the bridges. It makes perfect sense to colour in the ocean at the other end of town.'
'Wait.' The Coach looked us over. 'Nessie took this a bit further. She reckons we need a bi-annual event at South Beach to really put us on the world map.
'A cooking competition in the park?' said the Kid somewhat hopefully, no doubt thinking about attracting a world-class chef, preferably Nigella.
No, not exactly. Nessie, we knew by reputation and appearance. She had given up on Port Beach and come south to embrace our patch of sand and sea. On three occasions she'd swum solo to Rotto. Not extraordinary in itself but on the third outing she'd swum naked. Her penchant for publicity was only surpassed by her exceptional chutzpah. In conjunction with the colouring of our local waters she proposed both a summer and winter dip for community members. Naked, naturally.
We digested this information in silence, imagining the spectacle and contemplating whether we would be part of it.
'It's old hat,' I commented, eventually. 'It's been done before.'
'Ah.' The Coach had a grin from ear to ear. 'Not this way. The event would coincide with the arrival of a cruise ship. The tourists would be either participants or onlookers. And everyone would be in body paint. The mayor would make a speech, welcoming everyone to Australia and to Fremantle in particular.'
Well, you never know. Freo has always had a flair for the unusual. If the event took off, the dollars would follow – and no doubt a movie. I closed my eyes and tried to think of the title. But what came to mind was the skin-shrieking image of a thousand multi-coloured folk plunging into the briny at South Beach on the very day the stingers returned.
Oh dear, oh dear.