The Green Electricity Guide for 2022 has just been released by Greenpeace.
Synergy, our local, WA electricity provider, comes in just above the bottom group of 'no-gooders' along with a bunch of other 'do-nothing' providers.
The rating system goes from the 5-star 'greenest', to 1-star 'no-gooders'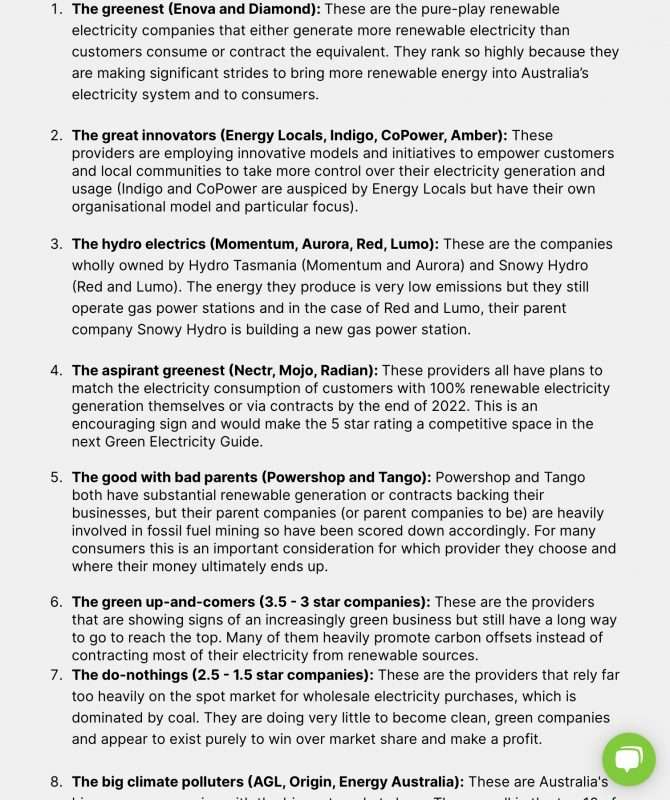 Here's the 5-star and 4-star Top 10. No Synergy.
Here's the 1-star, no-gooders. No Synergy.
And here's Synergy, just above the No-Goodes, with the other 1.5-star, do-nothing operators, along with the reasons why Synergy doesn't rate.
Synergy's school report card plainly infers they, 'Could do a whole lot better'.
Mind you, Synergy's school principal, the WA State Government and Energy Minister should also be sitting Synergy down, quietly explaining just how well the smart kids around the country are doing in greening the provision of electricity, and insisting that, if their next report card shows they haven't caught up with the smart kids, it might be time to get out of electricity and leave it to those who know how to get the job done.
* By Michael Barker, Editor, Fremantle Shipping News
PLEASE HELP US TO GROW FREMANTLE SHIPPING NEWS
FSN is a reader-supported, volunteer-assisted online magazine all about Fremantle. Thanks for helping!
** Don't forget to SUBSCRIBE to receive your free copy of The Weekly Edition of the Shipping News each Friday!