I enjoyed reading about Esperance – Sibling Port to Freo by Jean Hudson on Fremantle Shipping News recently and thought: 'Here I am sitting in my caravan in Albany with wife and dog, why don't I write about the port of Albany?
I have been coming to Albany for about sixty years including working down here for short periods as the Customs and Excise boss whilst the regular one was on leave. I love Albany and cannot spend too much time here.
Albany was settled in 1826. Three years ahead of the Swan River colony. 'We' British, as the Colonists were then, thought the French might settle here before us and claim the land for France. What if they had? Would our lives have been very different?
This beautiful place is located on King George Sound which includes Princess Royal Harbour.
The Sound is 110 square kilometres and depths range rom 10 metres to 35 metres. A narrow passage named Ataturk Entrance joins the Sound to Princess Royal harbour.
On 1 November 1914, thirty six ships, converted to carry troops and horses, with three escorting cruisers, departed King George Sound taking our young men and women to War after having assembled there from around Australia and New Zealand.
Over a period of time over 8000 troops and 30000 horses departed Albany. The green hills of Albany were the last view of their homeland of a great number of the 62000 young men and women who were killed in action.
Albany Port has Berths 1 to 6. Exports are grain, woodchips and mineral sands and modest imports of fertiliser. And after the covid interruption, cruise ships will also start to call again. Although like all ports these days the berths are infuriatingly closed off from the public. The Port of Albany, however, has good facilities for being able to see what is going on.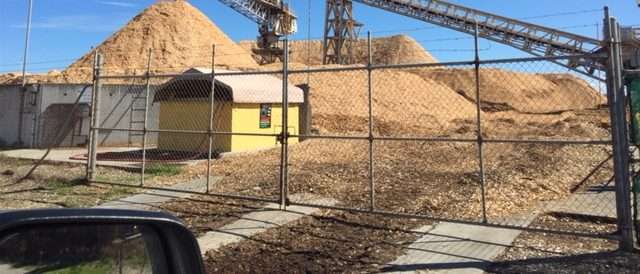 Drive down the entrance road to Number 6 berth and you are in the middle of massive chip piles. You can smell the chips and watch the bulldozer crawling around the stockpiles hanging on to the sides of the piles, I do not know how. The shiploading gantry is fixed in one place on the wharf so the ship has to move along the wharf to fill the different holds.
Useless Loop was the same for the salt the last time I was there. The ships average 50,000 tonne of chips, which is 1000 truckloads or 100 acres of trees.
Grain is the prime export from Albany. Ships can frequently be seen anchored in the Sound awaiting berthing. Why, I asked myself, were they spread across the huge Sound? Why aren't they anchored closer together? The reason is that they are told exactly where to anchor by the Port.
There are nominated locations alphabetically named A, B, C, etc and are available on Aus Charts 109, 110 and 119.
What if a ship arrives without those charts on board? The ship's agent in town has to take a chart out by launch to put onboard whilst the ship waits on the Port boundary. Has this ever been done? Not for twenty years or so. All charts are available to ships through emails and, in fact, the exact location of every ship on the ocean can be tracked on the computer, as our erstwhile Shipping News editor does quite frequently. Woodchip vessels have to always use Location G.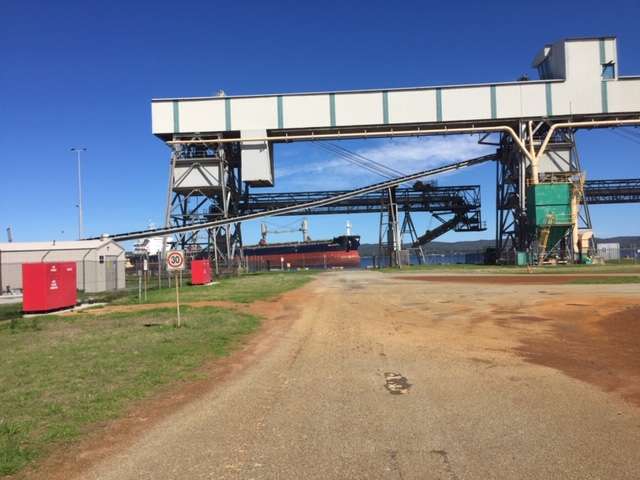 Two of the anchorages are deemed 'calm water anchorages'. They are used by the grain ships that are being inspected for cleanliness. All our grain heads overseas in cargo ships which have been closely examined by Health officials. We do not want to send our grain out contaminated.
What do the crew do whilst awaiting berthing. They could be there for days. Well one thing they do not do, is go fishing. Definitely not allowed without a WA Fisheries Recreational Fishing Licence. (Honestly!) I suppose the agent is always getting radio requests "Calling Albany Port, Please supply fish licence for following thirteen crewmembers".
Finally, as happens at Freo, the ships are helped to berth by the tugs, Karoo and Kooma, owned by Svitzer Australia. Depending on the ship size rates vary from $2318 to $10,295 for each movement (in and out).
Ports either big or small are wonderfully fascinating places. But we all now that, don't we?
PLEASE HELP US TO GROW FREMANTLE SHIPPING NEWS
FSN is a volunteer-run organisation and we rely on the support of Freo people to keep making local news free. Thanks for helping!
* Words and pictures by Michael Metcalf
** And don't forget to SUBSCRIBE to receive your free copy of The Weekly Edition of the Shipping News each Friday!
*** Michael Metcalf is the author of On Customs and Coffins: A Memoir available here.
**** In case you missed Michael Metcalf's earlier instalments, here they are again –
Adventures of a Boarding Officer in the Swinging Sixties
More Adventures…
Even More Adventures …
A woman on the wharf
Yet Another Adventure – A BI (AUS) V Navy (US)
Reflections of a BO – Arriving in Australia