Lovers of big, bold, vibrant art won't want to miss award-winning artist, Greg Baker's latest exhibition, Living in a Lightscape, which opens this Monday 15 March 2021 at the Coogee Beach Surf Life Saving Club, cum Art Space, and runs until 18 March.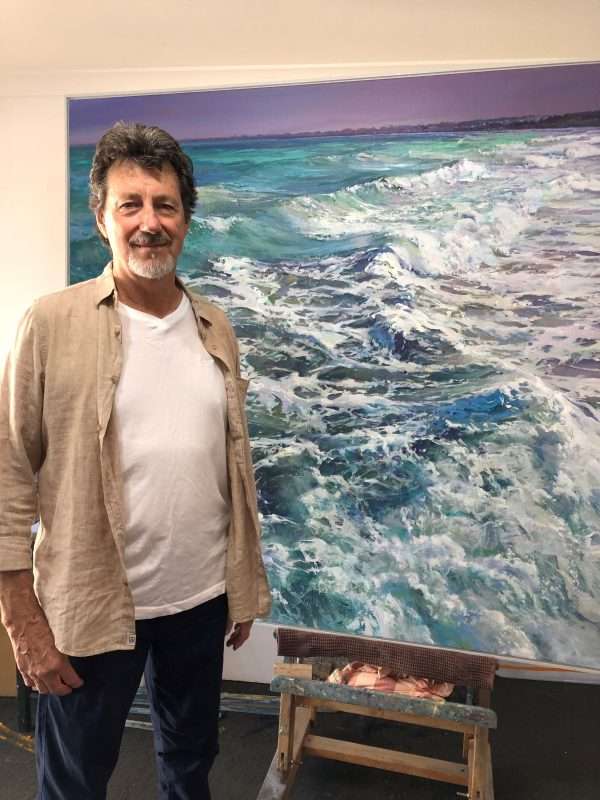 Living in a Lightscape is inspired by Greg's recent 'seachange' to Coogee from the Perth Hills. The exhibition, his 70th, has a strong local theme and the works portray his new awareness of tides, sunsets, big skies and local history.
Here's a glimpse of some of the other 40 works by Greg you'll find in the exhibition.
The exhibition also introduces new beach sketches by renowned sculptor Greg James, a long-time friend and associate of Greg Baker.
2020 began with Greg Baker conducting painting workshops, with plans of heading back to France in April, where he spends several months each year painting commissions and conducting painting tours.
With everything changed by Covid, Greg began painting for an exhibition here in WA, originally planned for November last year. Too much uncertainty meant the exhibition was rescheduled to March 2021.
Greg then approached fellow artist, sculptor Greg James, to see if he would like to create some new works complementing the Living in a Lightscape theme. Greg James had twice-exhibited in Greg Baker's gallery, Gooseberry Hill Studios, and both artists showed their work together at the Australian Embassy in Berlin in 2006. So, it made perfect sense.
Greg James is of course well known for his sculptures of `Bella`, Bon Scott, The Fishermen on the Wharf, and Pietro Porcelli (in Kings Square). They are so much a part of Fremantle's fabric.
Back to Greg Baker, you won't be surprised to learn, especially once you've seen this latest exhibition, that his paintings have also been shown in exhibitions in France, London, Singapore and Hong Kong, as well as throughout Australia. His many commissions include works for corporate collections, such as Shell, Woodside and Rio Tinto. Overseas commissions include the Sultanate of Oman and Oman Liquid Natural Gas.
Details of Living in a Lightscape exhibition
Opens: 6.30pm Monday 15 March 2021, general public welcome
Runs: 10 am to 5pm daily from Tuesday 16 March until Thursday18 March (inclusive).
Venue: Coogee Beach Surf Life Saving Club, 20 Poore Avenue Coogee WA.
You can see more of Greg's work on his website.
Greg Baker kindly agreed to speak with Michael Barker, the editor of Fremantle Shipping News, about the exhibition, his career, and so much more besides. Did you know, for example, Greg is also a prize winning portrait artist?
Before you hit play on the podcast, have another look at this fabulous painting of Greg's! It's title is 'Between Jetties (Woodman Point)'. Love it!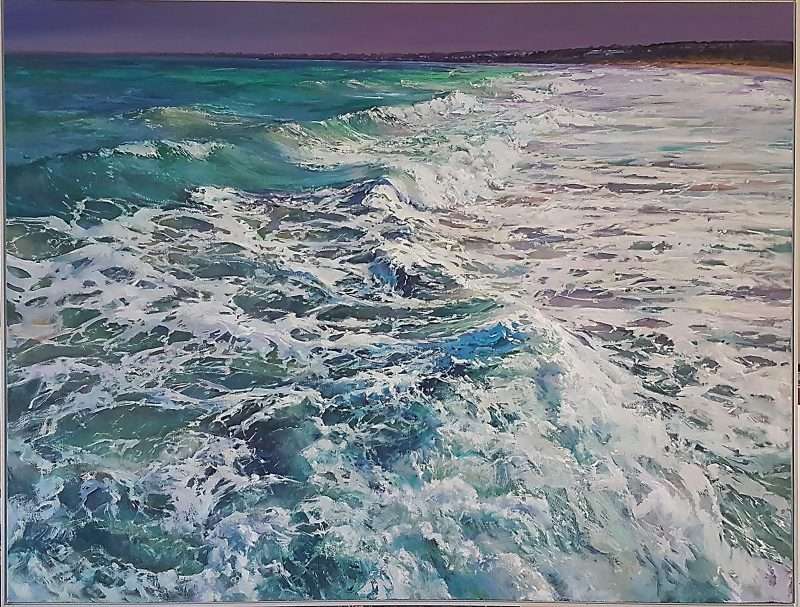 Listen to the podcast interview here.