Jail, gaol, prison, penitentiary – let's go with 'jail'!
Did you know Fremantle's first jail was a ship?
Nor did I!
 
The Marquis of Anglesea
The Marquis of Anglesea was the sixth ship to arrive at the Swan River Colony, following the arrival of Captain James Stirling and his party of new settlers at the very end of May 1829, on the Parmelia, near the place that soon become Fremantle.
On 23 August 1829, Marquis of Anglesea anchored in 'Gage Roads' – an offshore area named by Captain Stirling on an earlier visit in 1826. Less than two weeks later, she dragged her three anchors in a storm and drifted on to rocks close to the shore.
 
These rocks were close to Bathers Beach House, as it is today, near where the Fishing Boat Harbour breakwater now goes out to sea. The rocky outcrop was later named 'Anglesea Point' after the ship. Fortunately all of her 104 passengers and most of the cargo had already been unloaded.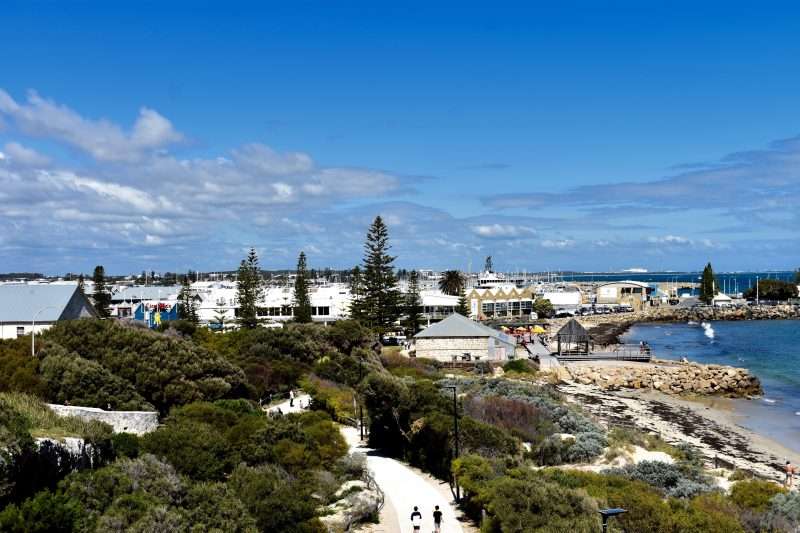 Anglesea Point does not exist any more. There is an interpretive plaque at Bathers Bay, which shows the location of the wreck on Anglesea Point and South Bay – this bay was later filled in to become The Esplanade Park.
 
Damaged beyond repair, the stranded hull of the Marguis of Anglesea was sold to a local merchant. He then leased her to the Government and she soon became the Governor's residence; the Harbour Master's office; and the Post Office.
 
Later, the wreck became the colonial jail, housing up to twenty-seven miscreants as prisoners.
The Swan River Colony, at this starting point, was established as a 'free settlement' – populated by people who migrated by choice and not a settlement for convicts. The convicts came later!
 
The Roundhouse
Just 18 months after the first settlers arrived, a new jail – 'The Round House' – was built to hold any person convicted of a crime in the settlement.
The Roundhouse – all one word these days – is neither a house nor round. It is dodecagonal, having twelve sides. Its location on Arthur Head, an elevated windswept limestone rocky outcrop, was near the busy, early seaport.
 
The Roundhouse is the oldest public building in Western Australia. It was built by private labour (still no convicts yet) and was used for colonial and indigenous prisoners until 1886.  It had eight cells and a central courtyard. At one point 48 men were held captive in these cramped cells.
From the late 1860s, the Roundhouse was a transit prison for Aboriginal prisoners on their way to the Rottnest Native Penal Establishment, founded in 1840.  
A 15-year-old boy, John Gavin, was executed by hanging in front of the Roundhouse in 1844.  He was the first European settler to be executed in Western Australia.  
Between 1842 and 1850 – something not always appreciated – 234 juvenile offenders were transported to Western Australia on seven ships. From 1850, adult convicts began to be transported to Western Australia, landing in Fremantle.
Not all settlers were happy that their colony was to become a penal settlement, although many more were, having argued that the Colony was in sore need of a cheap labour force. The first 75 convicts arrived on the 'Scindian' in 1850, to be followed by 9,000 more convicts before 1868.
After the first convicts arrived, the eight-cell Roundhouse jail was too small to meet demand.
 
After the construction of Fremantle Prison in the period after the 1850's, the Roundhouse became a police lock-up.
By the turn of the 20th century, a time ball was erected, and a blast from a sea cannon, ‪at 1pm‬ each day, enabled mariners to set their chronometers. This tradition continues today.
A flagpole today flies the Australian flag and a variety of local flags. 
The Roundhouse is open to the public daily, with gold coin donation to enter.
 
There are wonderful views of the coast in a southerly direction, and of Fremantle, from Arthur's Head.
 
Fremantle Prison
As soon as the first convicts arrived in 1850, they were immediately put to work to build themselves a prison.
Fremantle Prison was originally known as the Convict Establishment. Convicts were used as cheap labour to build roads, bridges, jetties and other necessary buildings for the expanding colony.
 
The prison was completed by 1859 and built with limestone quarried from the six-hectare site. The prison had perimeter walls, a Gatehouse and a four-story high Cell Block designed to hold up to a 1,000 prisoners.
On site were a hospital, workshops, cookhouse, bakehouse and laundry.
It became the main place of incarceration for the Colony, and later the State, a place of hangings, floggings, dramatic convict escapes and prisoner riots.
At least 43 men and one woman were hanged at Fremantle Prison.
The Gallows Room can be seen as part of prison tours, if you're up to it.
 
Nearly 10,000 convicts passed through Fremantle Prison between 1850 and 1868.  Over the years, there were colonial prisoners, prisoners of war and maximum-security detainees. It was extended twice, in the 1890s and in the 1900s. It served as the only women's prison in the State until 1970, before Bandyup Women's Prison opened.
 
Fremantle Prison was decommissioned in 1991 and its prisoners transferred to Casuarina Prison. Today, it is an important historic and tourist venue and reflects the history of Western Australia in so many ways.
Fremantle Prison is one of the largest surviving convict prisons in the world today.
 
The Ball and Chain
This is the fourth!
Fremantle had a fourth, temporary prison in a warehouse on the then waterfront while Fremantle Prison was being built.  It was at the site of today's Ball and Chain Bar in the Esplanade Hotel. In those days prisoners ankles or necks were often shackled to balls and chains.
So, there we are. The jails, gaols, prisons of Fremantle.
We are fascinated it seems, by such places, though no one really pines to be there, do they?
As Nelson Mandela, who spent many years in prison on Robben Island, once said –
'After one has been in prison, it is the small things that one appreciates: being able to take a walk whenever one wants, going into a shop and buying a newspaper, speaking, or choosing to remain silent. The simple act of being able to control one's person.' 
On that sombre note, I leave you!