Who knew that when the British Government secretly blew up remote parts of the Australian desert in the mid-1950s, atom bombs weren't the only things being tested?
Inspired by true events at Maralinga in 1956, Operation Buffalo, a six-part mini series that airs Sunday nights on ABC Television starting May 31, not only shines a spotlight on a controversial and secretive period of Australia's modern history – the British nuclear weapons testing program in outback South Australia – but also the web of intrigue, innuendo, and betrayal that surrounded it.
Starring Ewen Leslie, Jessica De Gouw, and James Cromwell, Operation Buffalo was written and directed by Peter Duncan (Rake) and follows Major Leo Carmichael (Leslie), an Australian Army Engineer and WWII hero, as he navigates his way through espionage and an uninhabited test site that's not really uninhabited at all. All the while he deals with a Commanding Officer not fit for purpose and a Chief Meteorologist who is much more than she seems.
In exploring this controversial period in Australia's modern history, Operational Buffalo also puts Fremantle actor Ewen Leslie firmly in the limelight. After crafting a lauded stage career with the Sydney Theatre Company, Leslie has since been acclaimed for his brooding and menacing screen performances through productions such as Jane Campion's Top of the Lake and Warwick Thorton's Sweet Country.
Operation Buffalo gives Leslie the opportunity to broaden his acting armory even further by imparting his character with a hearty dose of classic Hollywood aplomb. On the eve of the series' premiere, Leslie spoke to Fremantle Shipping News about those testing times in Australian history, how Fremantle helped paved his creative path, and what it's like to be a modern day Cary Grant.
Operation Buffalo explores a fascinating yet not well explored part of Australian history – the British nuclear weapons testing program of the 1950s. How aware were you of the atomic tests in Australia prior to the series entering your life?
To be completely honest with you, I knew very little. I knew that there were atomic tests here, but didn't know much more than that. When I started reading the script, the more I read, I realized how little I actually knew. I think that speaks for so many Australians. Even when we were making the series and I told people I was doing a show about Maralinga I could see a glaze come over their eyes. It's a story where the more you read and the more find out about it you go, well, this is mind boggling that this even happened. It's unbelievable that we weren't taught about it in school. Growing up and going to school in Fremantle I didn't know about any of this. Part of that is because at the time there was so much secrecy around it. The fact that our government let another government come here and drop atom bombs in the heart of our country boggles the mind.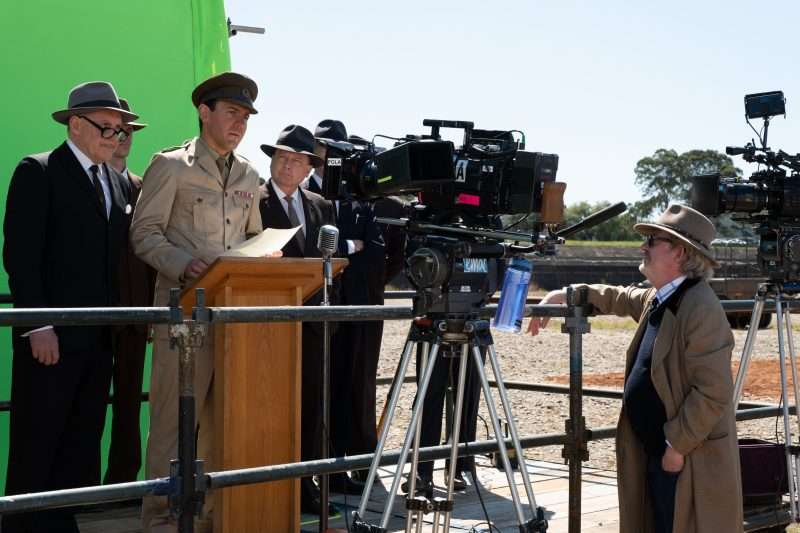 Tests took place in Western Australia too. The Montebello Islands, an archipelago off the coast of Dampier, were also used by the British Government for nuclear testing …
And we were told that the clouds and plumes didn't travel and nobody was going to be harmed, both of which were completely untrue. The clouds did travel and people were harmed and there are repercussions of that even today.
The series is the brainchild of Peter Duncan, who previously brought us Rake, and it does what Australia does very well when it comes to the screen – tell a very poignant story with a hearty dose of laconic humor. Why do you think that approach resonates so well?
Well, it will be interesting to see how it does resonate. Peter Duncan, having done Rake, comes to things with a satirical bent. One of the things about telling this story is that it's a very bleak tale so he wanted to create a show that exposed this but also bring it to life and do it in a way that make it an entertaining piece of drama. With hindsight the tests were a horrible thing but, at the time, we were incredibly excited by it. Australia had sat at the kid's table for so long and all of a sudden was being invited to sit with the adults and be part of this incredibly exciting thing where we were testing atomic bombs as part of the nuclear arms race. Families would travel from Adelaide and have picnics as they watched the blast go off. There was a sort of madness to it all and as a result I think Peter thought a great road into that madness is to approach it from a satirical point of view. But the more my character finds out about what's going on at the camp and the repercussions, obviously the darker, deeper, and more serious the show gets.
It's a very multifaceted story. There's the global aspect fuelled by the Cold War. There's the testing of Australia/British relations. There are the personal stories of the characters. And then of course there is the impact of the tests upon the land and its indigenous custodians. Receiving such a charged script must have been very exciting.
Absolutely. Tonally the story is doing lots of different things. There are scenes where you're in a Catch 22 sort of satire and the next moment you're in an espionage thriller. Then you're in a noir kind of film and some of the scenes later in the film with Jessica De Gouw have more of a His Girl Friday feel. I think Peter wanted to pay homage to some of the films that were around at the time. And just because we're doing satire it doesn't mean we're trivializing the story. Peter was always very clear on that. This wasn't something he was making light of and we were all very aware of the weight and the horror of this story. We wanted to be respectful of that it in a way that was entertaining.
I think Peter has a great instinct for characters. Just as I can't imagine anyone other than Richard Roxburgh playing Cleaver Greene in Rake after watching Operation Buffalo I can't imagine anyone other than you playing Leo Carmichael. How did the character develop?
That's very kind of you to say. This character was very different to the guys I have played in the past who have been very introspective, very angsty, and very inward looking people whereas Leo is a very 1950s sort of male. He's a man of action, a bit alpha, a bit macho, and someone who defines himself by his action so he wasn't like anyone I had played before. I only began to really understand the character when I started shooting. Once they started tanning me up and putting a bit of gray in my hair all of sudden I looked at myself and thought 'okay.' I saw the vision you guys had in mind in terms of molding Jessica and myself after some of the movie stars of the 1950s – which I have to say I have zero problems with!
You alluded earlier to growing up in Fremantle. You were of course born and raised here and attended John Curtin College of the Arts before moving onto the Western Australian Academy of Performing Arts. How did your formative years here in Fremantle inform a career in the performing arts?
It's funny because I did some googling before you called. I went to South Terrace Primary School, which is now Fremantle Primary School, and then went to John Curtin Senior High School, which is now called John Curtin College of the Arts. Reading that I thought 'oh man, my whole past has been erased!' At primary school I used to put on little lunchtime plays and I was always interested in film. My dad taught Photomedia at Edith Cowan University so I had access to all this video equipment and used to shoot my own action and horror movies. I then auditioned for the theatre scholarship at John Curtin and got it. In Year 8 I auditioned for a television show called Ship to Shore about a bunch of kids on an island that was shot out Rockingham way and I got the role. So through Year 8 and 9 I shot this show while doing distance education and going back to school at the end of each season. I started to flunk out at school and got kicked out of the theatre scholarship because it was really hard to assimilate again. I did some theatre at John Curtin though and really loved it and asked to be let back into the course and they allowed me back in on probation. By the end of Year 12 I knew I had done really badly at school, which I think was the repercussion of those two years out of school, and started to panic. I heard about the Western Australian Academy of Performing Arts and did a mad dash audition instead of going to Rottnest for Schoolies week. I didn't get in but I was put on the reserve list and then someone went off to NIDA and they gave me their place. That was three years and at the end of that headed to Sydney expecting to find lots of work – only not to work for four years!
If carving out a career in the performing arts isn't difficult enough in itself, how difficult is it to uproot your life and transpose it to the other side of the country in order to do?
There are lots of great things about Western Australia, but it is very isolated and removed from the industry. The good thing about that is you can make mistakes and fall on your ass without it being in the industry eye. The flipside is when you do move across it can take people a bit longer to get things going. Having said that though Heath Ledger was a Perth boy who didn't go to any drama school and came across and blew up straight away. There is a huge amount of artistic people coming to the east coast from the west, but it's not as simple as, say, coming from Melbourne and then deciding to give Sydney a try. Moving from Perth to Sydney is a big move and it was a big thing for me. I remember thinking 'Holy shit, I'm going to the other side of the country and moving away from my family and any support system.' It was like being thrown into the deep end and it took me four or five years to really find my feet in Sydney. Because it was such a big move, I was really hungry and had to be all in. But, having said that, there are plenty of people who stay in Perth and are incredible actors and artists and build an extraordinary life there. The reason I ended up here was because I came across at the end of WAAPA to do a showcase and got an agent here in Sydney and thought, well, I guess this is where I'll live now.
And finally, what do you hope people take away from Operation Buffalo?
First and foremost I hope people are entertained and that they go with the characters, find it compelling a story and enjoy the satirical nature of it. Because there is so much of this history that people will have no idea about, especially surrounding the bombshells that are being dropped towards the end – shocking bits of information – I hope people see it through to the end to discover this alarming piece of Australian history.