This Reserve, at 21 Forrest Street, Fremantle, is bounded by Forrest Street on the north, Amherst on the west and Holland on the south. The east side has a row of five houses facing Wood Street, which is to the east.
As you can see from this aerial shot, it's relatively close these days to the large traffic roundabout where Stirling Highway meets High Street.

The open parkland is well-treed, including with some beautiful Tuarts, has good play equipment for kids, as well as basketball hoops, public toilets and seating for recreational purposes.
There used to be a dog mural on the basketball wall, but it appears the dogs have absconded. Hopefully, they'll return some day.
There's also a BBQ, which is handy when it's working.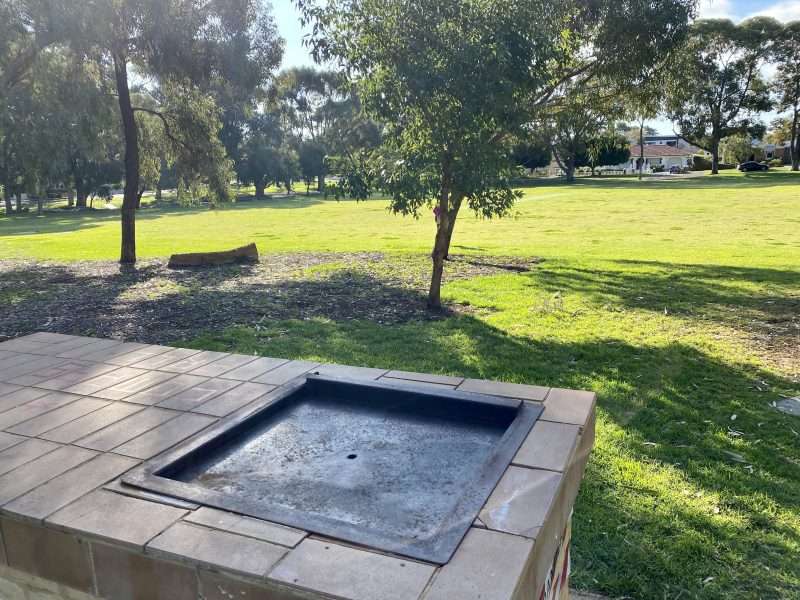 The Reserve, a big park, has considerable social significance to the local community as a venue for a variety of recreational pursuits. It is big enough to kick a footy on. And a great place to throw a frisbee. Or to exercise your dog – but don't forget to pick up. There are bags available.
The Reserve also has a cricket pitch. The local primary school, East Fremantle PS Years 5 & 6, use it and have done very well in being in the top 5 amongst all primary schools in the State!
The Reserve is so well loved by locals it has its own Horrie Long Reserve Community Facebook page, as well as a Horrie Long Basketball Court Facebook page!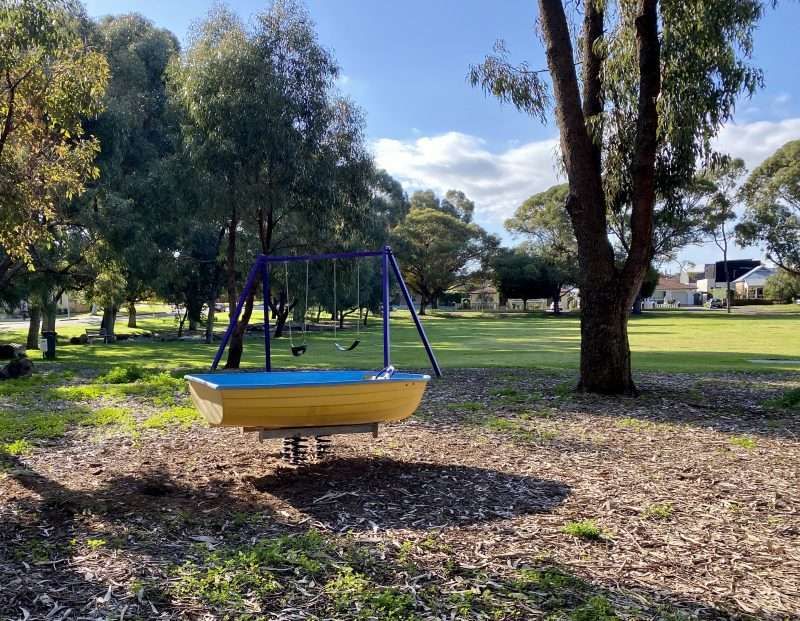 Who was Horrie Long? Well, Horace Edward Long was a longtime City of Fremantle Councillor for the North and East Wards. The Reserve is situated in North Ward. Horrie first served as an elected member for the North Ward well before many today were born, from 1948-61. Then he returned for another term in the East ward between 1970-74.
Following Horrie's decision not to seek re-election to Council in 1974, a local publication called Gateway provided this account of Mr Long's time on Council –
Cr Long retired this year after 25 years of continuous service. Elected in 1948, he served firstly as a member for North Ward and later as a member for East ward. Cr Long served under 3 Mayors and during his period of service, saw much change in Fremantle. He was particularly interested in the progress and development of the City as a retail shopping centre of some significance. He served on the Health Committee and the Works Committee, the Parking Committee and the Parks and Reserves Committee. He was Chairman, at different periods, of the Works and Parks and Reserves Committee.
Before the Reserve was renamed in Horrie's honour in 1971, it was known as the Holland Street Reserve.
That was in the days before the Stirling Highway extension and Holland and Forrest Streets ran uninterrupted all the way east from East Street to Carrington Street, as the image below from an old 1980s street directory (kindly supplied by Garry Gillard of Freotopia) illustrates. You can just see our Reserve, marked with the letters 'Res'. You can sort of still do the continuous run if you start on Forrest Street at East Street on foot, a bike or an e-scooter and take the tunnel under Stirling Highway near Mother India and through to Carrington.
Make a visit soon. It's a lovely spot!
WHILE YOU'RE HERE –
PLEASE HELP US TO GROW FREMANTLE SHIPPING NEWS
FSN is a reader-supported, volunteer-assisted online magazine all about Fremantle. Thanks for helping!
** Don't forget to SUBSCRIBE to receive your free copy of The Weekly Edition of the Shipping News each Friday!