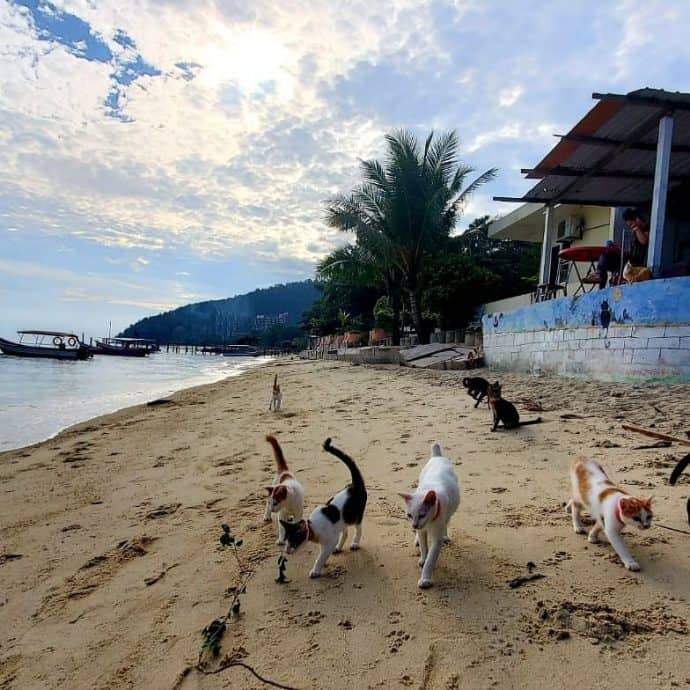 That's not Freo! You're quite correct (- in fact, it's Penang!). Read on, all will be revealed.
First, however, a disclaimer. Any resemblance to actual persons, living or dead in this article, is purely intentional, and permission to have tales told of their doings has been given by all concerned. With one notable. exception. This person shall be referred to as FFP.
At two and a half years, FFP cannot be expected to give a yes or no that is legally binding. The initials disguising her identity are for Frances Fruity Petals, a moniker adopted for her by her Great Aunt. (Who is by the way, not the sort of Great Aunt usually found in stories.) I digress. Stories are filled with digressions, and oftentimes they are the best bits, but for now, back to the matter at hand.
As a well-trained second in command I ensure jaunts are carefully planned. There are alternative options for possible exigencies, and of course maps, compass and comestibles. Last week one destination had the red glow of urgency. To the Port, before it's too late. An over-reaction perhaps, but these are strange times.
On the morning in question FFP and I commenced our jaunt with a brisk constitutional at South Beach. The regulars were braving the waves, and the stingers snared in the dried weed were crackling and popping underfoot like blue rice bubbles when, to our mutual surprise, we met Luna. This sweet feline loves a hike and her owners told us she has a rich assortment of Freo adventures. We agreed a dedicated Cat Beach would be a wonderful innovation. The elegant, somnolent creature draped high in the dune, purring happily, would pose no threat to tiny reptiles or hatchling fairy terns.  
FFP and I perched on the beach wall to discuss possibilities for the day. The Port and a quick ahoy to the giraffes? South Mole and some dancing round the lighthouse, not giving the seagull titbits from our lunch? A contemplation of the Bridge dilemma while sitting under the Rainbow? (FFP and I, by the way, are preparing banners to campaign for repurposing the old traffic bridge and modifying it to create a High Line style pedestrian park over the Derbarl Yerrigan. Maybe space for cat playground up there too?!! )
 

Each suggestion a favourite, but all were vetoed for the day. A swing was required, but South Beach Park rejected as the queue for the swings was deemed too long. Patience is not a highly developed virtue at this tender age, accordingly an emergency detour was made to Secret Park, known to you, dear readers, as Hollis Park.
After much twirling, jumping and very fast running a pronouncement was made. Shouted in fact. 'Treasure Park!' Back along South Terrace it was, on the way making an emergency stop at a local bakery for some treats to add to our picnic. It's essential to have fresh bakery treats at Treasure Park. In fact, it's a time-honoured tradition as you will see in some of the lore we found in the park.  
And what, where, you ask, is Treasure Park?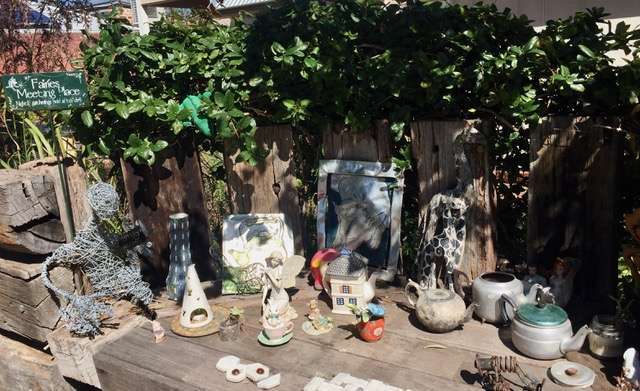 Fremantle is filled with treasure displayed by kind citizens to treat our eyes.
This tutu clad gal graces the verge just near Treasure Park, more familiar to you as Florence Park.
As is the way with all good Ship-ees, following events here on the Shipping News, I am curious. Exactly who was 'Florence' of Florence Park, and where is she now? I was pretty sure the tutu clad verge dweller was not a clue.
Step one: Garry Gillard's Fremantle Stuff. Thank you, Garry for a shameless steal –
Florence Park in South Fremantle is on the corner of Marine Terrace and what used to be Florence Street, named for Florence Jones. Florence married Alex Reid, after whom the Reid Library at UWA is named, and became Lady Florence. The street is now unfortunately named King William Street after a dead white male.
You too, perhaps, have memories of golden hours, indeed years, spent in the Reid Library and its surrounds. Ah! That, however, is one digression too far… Gary G, thank you for the next lead. Florence's maiden name led to a Trove search –
Florence Sarah Jones: birth about 1891, Fremantle Marriage 17 April 1915, Congregational Church, Subiaco.
There were riches to be found in the bios of both Florrie's parents:
* Frederick Jones and Emma (Cook) (Reeve) Jones
* Her father Frederick Jones, lived in Fremantle most of his life, A shipwright, born in 1846 at Point Walter, died 1914 in Little Essex Street.
* Her mother, Emma's obituary speaks of both their lives –
The Late Mrs. E. Jones. The funeral of the late Mrs. Emma Jones, of 3 Thompson-road, Claremont, widow of the late Frederick Jones, shipbuilder, of Fremantle, took place yesterday afternoon in the Congregational portion of the Fremantle Cemetery in the presence of a large gathering of friends and relatives … Mrs. Jones, who was born at Yarmouth, England, in 1853, came to Western Australia on the sailing ship Victory 83 years ago, and with the exception of a visit to England in 1913, the whole of her life was spent in Western Australia. Mrs. Jones's first husband was the late Captain Reeves, of the Flying Foam, her second husband being Mr. Frederick Jones, who was born at Point Walter in 1847, and was for 25 years a member of the Fremantle Municipal Council, and for several periods was acting Mayor of Fremantle…. Of a charming disposition, Mrs. Jones, who was affectionately regarded by her friends, lived a life of service to her family. Her husband predeceased her in 1914. 
So, they were Freo folk through and through and the list of the children's name of the unions of both generations is a catalogue of South Freo street name.
Here's a portrait of our Florrie, Florence Jones, the youngest of the nine Jones children.
Later that day, once FFP was safely delivered back home, I read on. There was so much about Sir Alex, but not about Florence, his wife. His career was vast and glorious, he was ,amongst myriad other major roles, Chancellor of UWA . I relished this detail from the Australian Dictionary of Biography –
He played a major role in Commonwealth-State financial relations. Appointed to provide economic analysis and data on public finance, he was a member of the committee that prepared 'The Case of the People of Western Australia' for secession in 1933.
Over dinner I chatted with FFP's Grandfather about our day's doings at Treasure/ Florence Park. I said I would love to find out more about Florence. A mother of two children and a wife, but the rest? And as is sometimes the way, serendipity struck. Every summer of his boyhood, in the late 50s and early 60s, the family holidayed at Cave's House. Their dinner companions were Sir Alex and Lady Reid. I quote –
Their arrival each year was as eagerly awaited as that of royalty, yet their presence at the table and other diversions was far more edifying than such a party could ever have been.' He recalls both of them a gracious and convivial. Florrie, as she was always known, was a diminutive, smiling woman. She remains a vivid presence in his memory as kind and charming in her engagement with a boy in his early teens.
With FFPs approval, there is a further Treasure Park mission ahead. I hope to find out more about Mrs Cooper and her bakery. Although, maybe we will simply sit on the bench looking again at the mosaic showing the happy pie munchers of yore. We'll share our bakery treats and, if lucky, hear the glorious karrak shriek of some white tails, or red tails, as we delight in the day!