'Hollis Park?', I hear you ask. 'Where is Hollis Park?'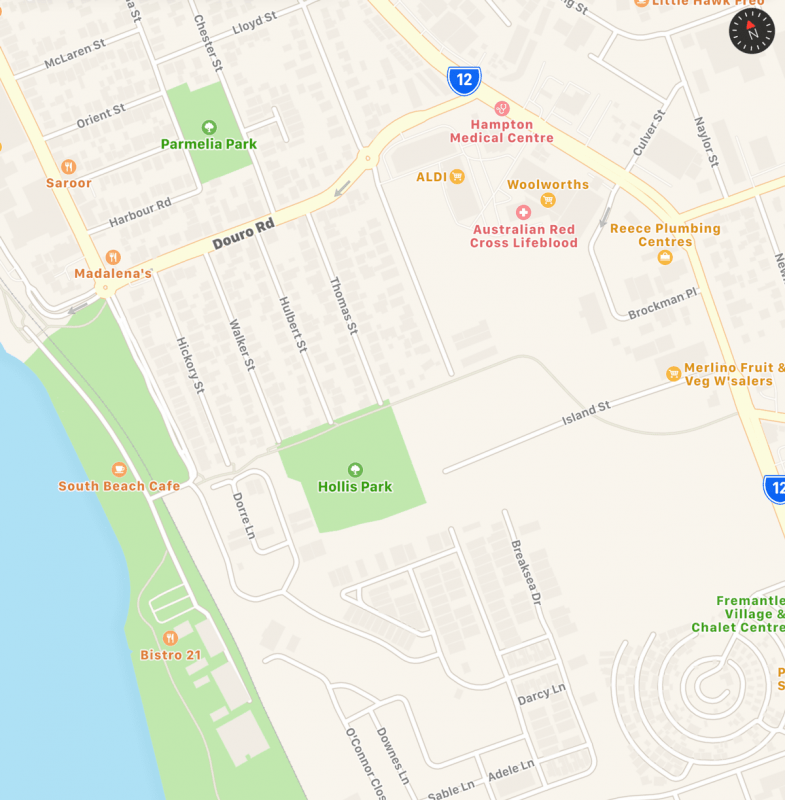 I often get this response when I mention it to people. In fact it was not so long ago I asked the same questions.
Chances are you have probably been through it without realising. Hollis Park straddles the popular bike and walking path linking South Beach, South Fremantle, and the intersection of Hampton and Rockingham Roads, near the old Newmarket Hotel recently featured in Freo Today.
The Park is named for Frederick Hollis, who came to Freo from England as a young man, in around 1884, and became a greatly respected resident of Fremantle. He was elected to the Fremantle City Council in 1927, and died in 1935. (His Obituary is a social history of Old Freo in itself.)
Hollis Park, the nearby old Sandown Park site, and the more recent Fremantle Village development have a tricky, inter-related history. From 1931 to 1986 much of these areas was a tip site for all manner of waste. Hollis Park and Fremantle Village have since the America's Cup time of he late 80s, outgrown their pasts, though a large part of the old tip site hasn't yet. A report on the contamination of this land is highly instructive. What its future should be, is presently undecided.
But I digress!
Hollis! The entry by the Heritage Council on Hollis Park provides a nice summary of its history –
"Hollis Park is one of several parks in the City of Fremantle constructed on the site of a former quarry. It is thus evidence of the Council's wish to beautify the City while providing recreational amenities.
Part of Cockburn Location 203. Proposed site of 'Sandown Park' horse track. Used greatly for running horses and access to South Beach. Locals recall boats being built there.
The place was included in the "Heritage Study South Fremantle", prepared by John Taylor Architects, for the City of Fremantle, June 1993."
So the making of Hollis Park, as we see it today, is a relatively recent thing. Trees and plants have been grown. There is lawn in place close to South Beach, even a delightful children's play area. But it is a little further East of the playground that one discovers the main body of the Park.
It is here that, recently, some tree-loving, passionate locals have turned up to "Re-wild" the Park – and what a fabulous job they are doing!
We are here to discuss trees, of course! Well, Hollis has many trees but quite a few are still quite infant, apart from some existing trees here and there, including some beautiful Fremantle Mallees, Eucalyptus foecunda. I am told they were planted sometime in the 90's in an earlier, 'Guerrilla' planting!
During the recent re-wilding, young trees and plants were planted by a team of dedicated volunteers from the group known as Friends of Hollis Park. You'll find them here on Facebook.
Friends of Hollis Park is an unincorporated community movement formed to initiate the restoration of Hollis. It has operated with the support of the City of Fremantle, State and Federal Grants and community fundraising with the sole aim of revegetating the site. To date, in the period 2014 to 2020, it has planted around 15000 plants. Of this number, 2000 are trees, including around 1000 Tuarts.
Let's 'meet' some of the recently planted, local endemic species, starting with our beloved Tuart.
Tuart (Eucalyptus gomphocephala) has a very European sound to it but it is the Noongar name for one of the Earth's rarest trees. Noongar names for the tree have been recorded as tooart, moorun or mouarn. These stately trees can grow to 40 metres or more. They are the largest tree on the Swan Coastal Plain. We find them growing on the coastal dunes on well drained soils in a 400 kilometre band from Jurien Bay in the North, to the Sabina River, near Busselton, in the South. They don't venture very far inland at all.
Noongar people regarded old Tuart trees almost as relatives.  They typically camped beside large Tuart trees in areas such as Shenton Park, City Beach and Swanbourne. Of the Tuarts, Elders are recorded as saying –
These old people, they were kind to us, they gave us shelter, they gave a home to the birds and many other animals and insects too. It makes me very angry when they cut these old fellas down. They took so long to grow.
(MacIntyre and Dobson Report)
Here is a young Tuart and an older Tuart at Hollis:
Though not a 'tree', you can't go without also mentioning the beautiful Scaevola in the Park. It's been planted throughout.
The name (from scaevus, the Latin for 'left-handed') originates from the young Roman, Gaius Mucius Cordus, who was involved in a plot to assassinate Porsena, who was besieging Rome. He was apprehended and threatened with death by fire if he did not reveal the plot. In response, showing the valour of a Roman, he shoved his right hand into the fire and destroyed it! Thereafter, in life or mythology, he was known as Scaevola.
The plant's name refers to the one-sided, fan-shaped petal, or corolla. These and other interesting things can be found in Wildflowers of Australia's South West by Jane Scott & Patricia Negus.
In season the scaevola produce beautiful blue flowers.
The photograph on the left is the Scaevola and the other two are the Chenille Honey Myrtle.
Chenille Honey Myrtle (Melaleuca huegelii) are prolific throughout Hollis. In summer, they are covered in beautiful white, bee-attracting flowers. You can see the one without flower and the one with.
So much colour is to be found on the trees and plants in Hollis Park. Did you know, the colour of flowers on our local natives can give an idea of what season it is?
White flowers, for example, are associated with the Noongar season of Bunuru, from February to March as this guide on the Noongar seasons explains.
The following images show the transformation of Hollis in just over half a decade. Imagine how it will look and feel in 10, 20, 30 years from now, all those majestic Tuarts grown up, the understory plants in flower – a veritable, mini forest!
Here's some 'before' and 'after' shots, and others showing what's happening in Hollis.
Truth be told, there are more plants than trees in Hollis! There are only a handful of tree species in the park. Care has been taken to plant what was endemic to area. Additionally though it was considered important to ensure a healthy understory to fill the gaps between the trees. So efforts have been made to add local flowering plants and ground covers as well, a real treat for passing cyclists and walkers as they have been deliberately placed alongside the main path.
Here are a few. Running Postman, Kennedia prostrata. And the wild wisteria climber, Hardenbergia.
All these lovely trees and plants are attracting more and more beautiful native birds, including the Rainbow Bee-eater and Baudin's Cockatoo which have been observed in the park.
Bird boxes have been donated and built/installed by volunteers to attract more birds, Australian Ring Necks have recently been spotted nesting in the boxes.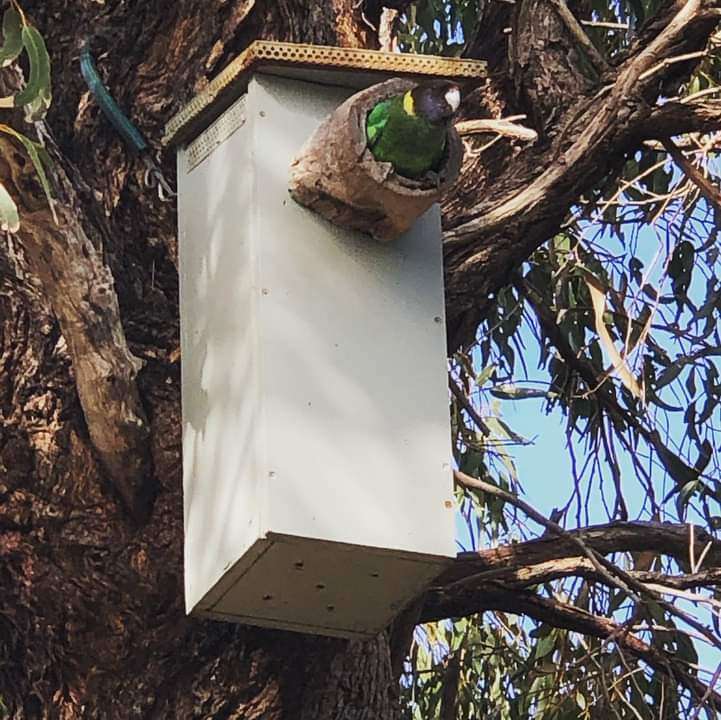 So, as you can see, Hollis Park is a great place to visit. Do it soon!
And if you'd like to join the Friends of Hollis Park go to the Facebook page!
* The author is an active member of Friends of Hollis Park.
** If you'd like to tell us about your favourite Freo trees, contact us here. We'd love to hear from you.