‪As we know, the world has changed since the 2019 Auction. ‬
‪Due to restrictions and the closure of the Fremantle Town Hall for maintenance, the Soroptimist International of Fremantle Help the Homeless Art Auction is being held online this year from 5pm this Sunday, 21 June 2020, for two weeks. ‬
‪Artworks are already up on the site, so peruse away until 5pm this Sunday when you can start to bid. ‬
‪To bid, you need to register.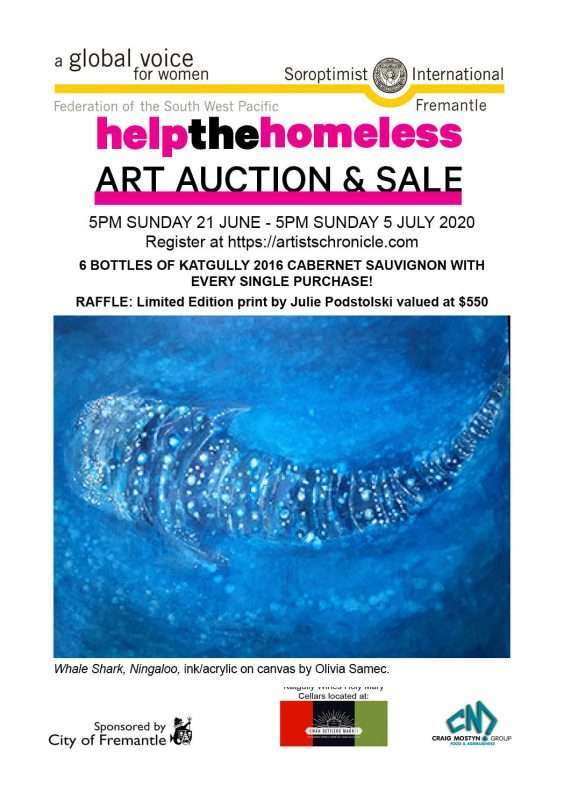 ‪Register today and browse on the Artists Chronicle website.
‪There's also a Raffle! The Raffle is open from 11am this Sunday until 7pm the same day. Tickets are $10 each, and just 100 tickets will be available to win a Limited Edition print by Julie Podstolski valued at $550.‬
‪And there's an additional bonus. Every buyer of every artwork will receive six bottles of Katgully 2016 Cabernet Sauvignon, valued at $28 per bottle. This vintage is not sold in Australia, so it's an opportunity to build your cellar with an exclusive wine.‬
‪Beneficiaries of the Auction are the Freo Street Doctor, Multicultural Futures and the Starlight Hotel Choir. They need our help more than ever with increased need for their services since Covid-19. ‬
‪See the 50 second video right here.
All artworks, together with the six bottles of wine with each purchase, will be delivered to buyers free of charge in the Perth Metro area, thanks to the fantastic volunteers at Soroptimist International of Fremantle.
You can also join them for a glass of wine ‪at 5pm this Sunday‬ as the Auction starts online to experience that feeling of 'zoom' togetherness, though apart!
As always, the Soroptomists are available to help if you have any questions.
Call Lyn DiCiero, the Auction Curator on 9336 1861‬ or email ‪art@artistschronicle.com‬ if you have any queries.
Now – REGISTER ASAP!