At long last, Fremantle Highway has found a safe harbour in The Netherlands, and the investigation into ship's disastrous fire can begin.
Here she is in 2019 when visiting Fremantle.
And here she is recently burning at sea just off the Dutch coast.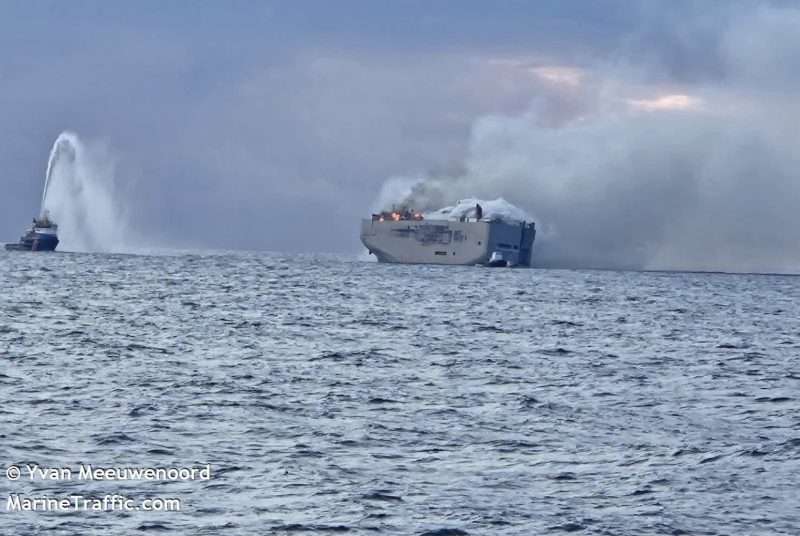 K-Line,mthe charterer, have reported this morning, Fremantle time, that according to the shipowner, salvors boarded the vessel on 1 August at 9:00 (Dutch time) and confirmed that the fire was extinguished.
It was decided to tow the vessel to the port of Eemshaven, following which, an investigation into the cause of the accident will be conducted in cooperation with the authorities and relevant parties.
We may also learn eventually just how much of the cargo has been rendered useless.
You can bet the insurers, as well as the owner and charterer – not to mention the Dutch authorities – are now all over the vessel, literally.
We are also advised that of the two who had remained in hospital, the pilot was discharged on August 2 (local time), but the Captain is still there. Everyone wishes him well. As we do the Pilot and all the Crew for full and speedy recoveries from their ordeals.
Here are our earlier reports on the incident.
We will keep you updated as more information on the investigation into the incident comes to hand.
WHILE YOU'RE HERE –
PLEASE HELP US TO GROW FREMANTLE SHIPPING NEWS
FSN is a reader-supported, volunteer-assisted online magazine all about Fremantle. Thanks for helping!
** Don't forget to SUBSCRIBE to receive your free copy of The Weekly Edition of the Shipping News each Friday!