A snail was flying his helicopter above the Stirling Bridge earlier this week, it was peakhour, when suddenly a red sports car with a white 'S' painted on its roof sped through: "Wow Molly!" he exclaimed to his co-pilot, "did you see that 'S' car go?".
Molly's attention had been on the sea of vehicles blanketing Victoria Quay: "No Phyl," she replied, "I've been looking at THAT cargo!"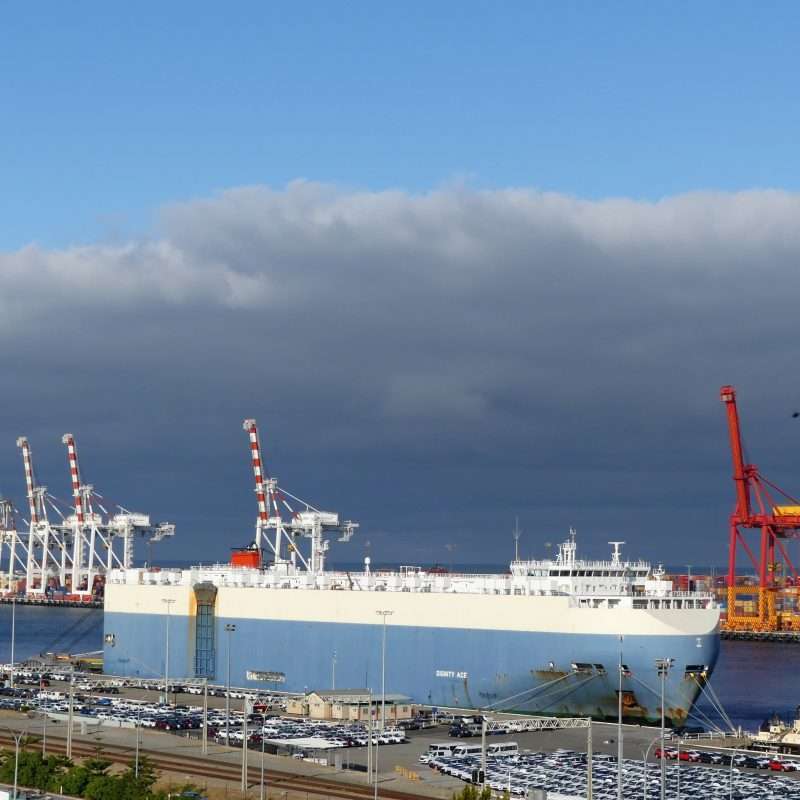 Despite the apparent volume, Molly might be surprised to learn that, in fact, 15,301 less imported new vehicles, and 32 fewer RO-ROs came into Western Australia this year.
This isn't necessarily a Covid thing as the figures have been dropping since 2015/16, by 13.5% in total.
What may be attributed to the pandemic is a whopping 215.13% increase in 'imported' used cars from the eastern states! Now that's Covid.
Tighter border restrictions and increased freight costs have slugged (pardon the pun), aspects of the shipping trade through the Inner and Outer Harbours but our exports of non-containerised cargo, such as scrap metals, iron and steel products have also spiked. And if Molly thought she saw more industrial and agricultural vehicles arriving at the Port, she wasn't imagining them – 107,405 to be exact, up 2.47%; and one hearse, spotted over the weekend. Amen.
Though the total Ports trade is down by 21.3% on the same period last year, mainly due to decreased bulk imports of crude petroleum and bulk wheat, the Ports boasts an average hourly rate of $3.6 million dollars and the Western Australian Government is $43.2 million dollars richer. It could be worse.
In fact, it could be GFC worse, according to Linton Nightingale, deputy editor for Containerisation International, a sister publication to Lloyd's List.
"A deep layer of uncertainty has been cast over the industry – particularly in the short to medium term," he wrote in August. "Indeed, the only certainty is that global container throughput figures will be down in 2020 – and by a margin comparative only to the global financial crisis of 2008-2009."
He says the half-year figures for 2020 have been telling, to say the least: "The first quarter saw world container port handling drop by around 4% compared with the first quarter of 2019. The huge demand side-shock caused by the closure of the main consumption economies is projected to see port volumes fall by around 9% this year."
How this impacts Fremantle Ports may be of little consequence given its 2019/20 throughput figure of 783,437 TEU (twenty-foot equivelant containers) – not at all insignificant given the size of the port – but compared to Shanghai's 43,303,000, we're a bit less exposed.
Still, flapping butterfly wings cause ripples – and with 40% of total global TEU, China's a monster butterfly … the sort movies starring Sigourney Weaver are made of. Touch wood, we tend to skirt the epicentre of global fiscal and viral storms.
Drewry's Global Container Terminal Operators Annual Review and Forecast 2020/21, projected regional container handling and average growth to 2024. The following chart articulates their forecast:
……….
In other maritime movements, we recently reported Kurt Paul finally arrived in Port Pirie, where Marine Traffic has her "underway using engine" for a few days now. Is she repeatedly circumnavigating the Spencer Gulf? Neither at anchor nor alongside, though according to Port Pirie's Public Shipping Schedule, she has a berth and is scheduled to depart on Monday 2 November, destination … unknown. Interestingly, they record her last port of call as Fremantle, not Kupang – and so the mystery continues.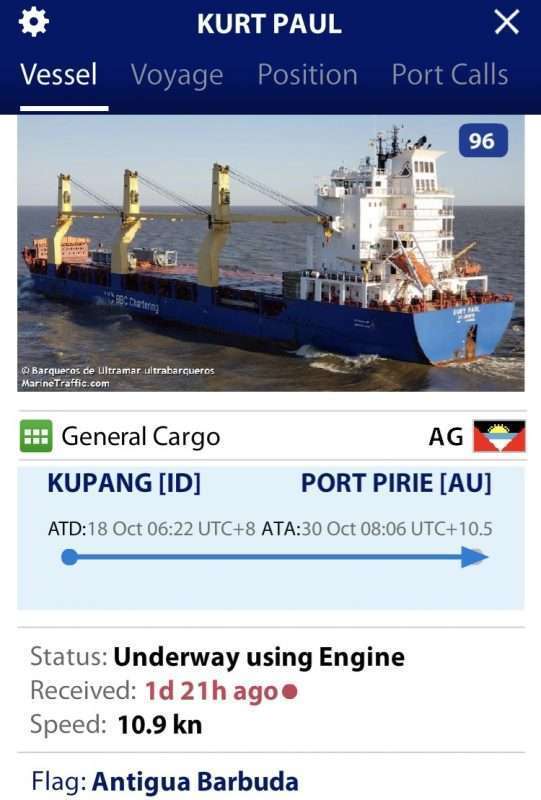 ……….
Key Integrity and Al Messilah remain in the Inner Harbour, and although the latter no longer appears on Voyager, she is a bit difficult to hide; and Key Integrity looks set to sail on Saturday 7 November, Singapore bound.
The Department of Health recently confirmed that of the 25 positive cases on the Al Messilah, four have now been cleared, with the remainder expected to clear in coming days.
"The vessel quarantine period following deep cleaning, will be finished on Thursday 5 November. All non-crew close contacts associated with the vessel have tested negative, but remain in isolation for up to two more days," a DoH spokesperson confirmed.
Both positive cases on the Key Integrity have been cleared, with the remaining crew returning negative tests and asymptomatic. She will also undergo a deep clean and seems, at this stage, on schedule for her Saturday departure.
……….
Other maritime movements that may be of interest include Austral Fisheries, one of Australia's largest integrated commercial fishing companies, and licensed by the Australian Government to fish for Patagonian Toothfish and Mackeral Ice Fish in the South Antarctic, which had three of their vessels in Port recently: dual purpose trawler-longliner, Atlas Cove; and two longline vessels, Isla Eden and Corinthian Bay. Atlas Cove and Corinthian Bay departed on 26 October, Port Louis bound, according to Voyager, and Isla Eden's departure isn't scheduled until March 2021.
The vessels operate in two fishing zones of Australia's sub-Antarctic territories: Heard Island, south-west of Western Australia, and home to Australia's only active volcano; and Macquarie Island, south-east of Tasmania.
The company are avid supporters of seafarer welfare, a subject we reported on last week, and advocate for their cause. Chief Executive Officer, David Carter says: "Hundreds of thousands of seafarers, including those on fishing boats, face a humanitarian crisis as they have been stranded at sea, unable to get off the ships they operate with contracts extended by many months. This needs to be addressed urgently, through Governments designating seafarers as essential workers and ensuring safe crew changes can take place."
To find out more and show your support, visit Austral Fisheries website.
……….
And finally, if you haven't already heard, Fremantle Passenger Terminal is hosting a Then and Now Open Day for the public on Sunday 15 November, 2020. Commencing at 9am until 2pm, there is free parking at the terminal, but Fremantle Train Station is right there. For details visit Fremantle Ports website.