Just when we thought we could take a breather …
Cruise Ships
Caledonia Sky arrived in Gage Roads yesterday morning, having left Singapore on 11 March. She was originally due to arrive here on 29 March. Here she is sitting off Leighton Beach yesterday morning.
There are no guests on board just now, but she will be in and around Fremantle until 1 April when she leaves, full of guests, on a fabulous 15-day cruise from Fremantle to Broome called 'Colours of the Coral Coast'.
She will visit Geraldton, Abrolhos Islands, Shark Bay and Dirk Hartog Island, Coral Bay, Murion Islands, Montebello Islands Marine Park, Dampier Archipelago, Rowley Shoals Marine Park and onto Broome.
Caledonia was the Latin name used by the Romans for Scotland. The well-known ballad 'Caledonia' is a simple love song to Scotland, and belted out by football crowds, pub regulars and sometimes-wedding guests.
The Caledonian Sky offers the perfect balance between the spacious comfort of a large ocean liner and the boutique advantage of a smaller ship. This stately small cruise ship is one of the best-known Kimberley cruise ships.
She hosts a maximum of 99 guests, served by 75 crewmembers. She is 90.6 metres long and 15.3 metres wide and has a cruising speed of 12 knots. Caledonian Sky is owned by APT (Australian Pacific Touring).
To its passengers, the vessel offers wine with lunch and dinner, a professional guest speaker program and in depth shore excursions. An APT spokeswoman spoke of their excitement for this trip – the first of its kind out of Fremantle in three years. If you missed her today you may see her around the harbour from around 27 March until 1 April.
On Monday 27 March, Coral Geographer returns again and leaves in the evening. She visited in October and November last year.
For the next two months, there will several visits by smaller ships on their way to the Kimberley and to see the solar eclipse off Exmouth on 20 April.
War Ships
Shirase, the Japanese Icebreaker/ Military Ops vessel has been in the inner harbour for several days this past week. She left mid morning yesterday assisted by two tugboats and a pilot. She headed north and steamed behind Caledonian Sky, who was on anchor in Gage Roads.
Then, as I was driving home, I noticed a strange looking ship approaching Fremantle at speed. Yes, it appears to have been the American 'Stealthiest Warship' aka Ocean Trader.
She visited Fremantle on 6 December 2022. Here's our article all about her.
As last time, she does not appear on any ship tracking apps, like Marine Traffic. And she doesn't yet appear on any Fremantle Ports shipping lists as a vessel in Port. For all intents and purposes she's an invisible ship.
But if you call by the Port, you'll see she is very visible, her hulk looming large at Victoria Quay.
And on Marine Traffic, yesterday, you could see the fuel ship Absolute in exactly the position she should have been if she were pumping fuel into a vessel in exactly the same position as Ocean Trader is in our pic! But Ocean Trader curiously doesn't appear on Marine Traffic as an 'ordinary' ship would.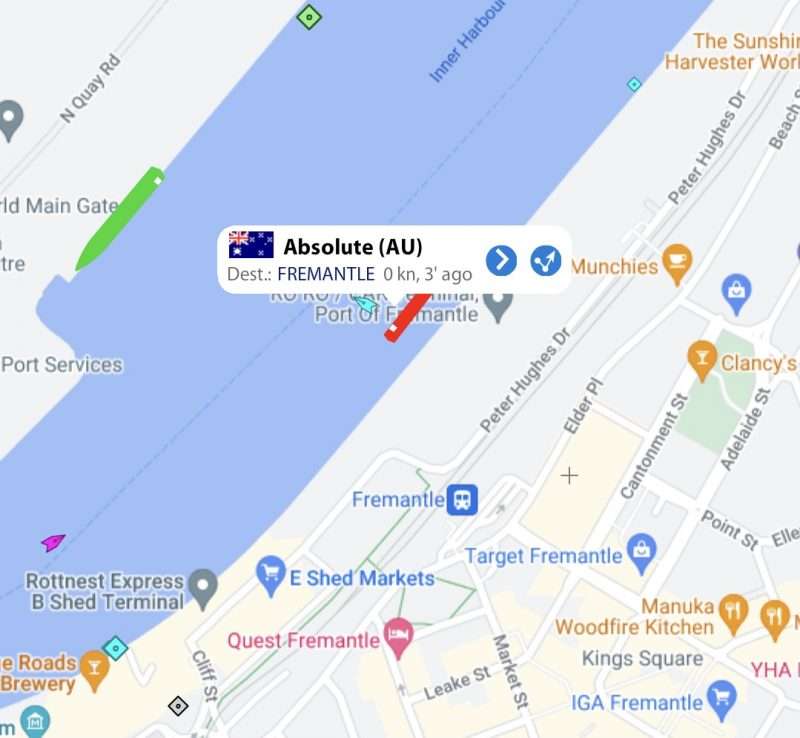 Strange times we sail in!
* STORY by our Shipping Correspondent, Jean Hudson @jeansodyssey. Jean is also a regular feature writer and photographer here on the Shipping News. You may like to follow up her informative Places I Love stories, as well as other feature stories and Freo Today photographs, right here.
WHILE YOU'RE HERE –
PLEASE HELP US TO GROW FREMANTLE SHIPPING NEWS
FSN is a reader-supported, volunteer-assisted online magazine all about Fremantle. Thanks for helping!
** Don't forget to SUBSCRIBE to receive your free copy of The Weekly Edition of the Shipping News each Friday!