At just before 13.00hrs today, Azamara Quest glided into Fremantle's Inner Harbour.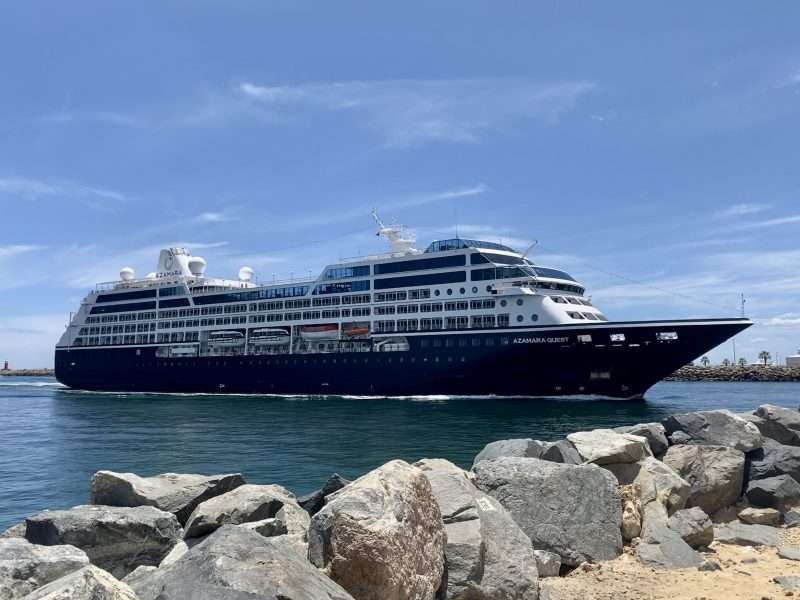 She's on a turnaround visit.
Azamara Quest has completed an 11-night Asia and Asia Pacific Cruise from Singapore. Her current passengers will disembark today at Fremantle.
The ship will then be provisioned and made ready for the lucky passengers heading on a 14-night Australian Christmas and New Year Cruise. She sails on Wednesday at 6pm.
Azamara Quest will first visit Busselton, Albany and Esperance. Guests will have Christmas lunch in the middle of the Australian Bight – I hope it's not too rough! Then, it's on to Adelaide, Kangaroo Island and Eden. She arrives in Sydney in time to ring in the New Year and watch the fireworks show in Sydney Harbour. And then finally to Melbourne.
I was curious to find out where the name Azamara came from. Apparently the name is a composite word derived from Az meaning blue and Mar meaning sea from the ancient Romance Languages. A star, Acamar, also inspired the name. In classical times, the star Acamar was the most southern bright star that could be seen from the latitude of Greece.
She is a mid-sized luxury cruise ship and a favourite ship for regular cruisers – described as 'your boutique hotel at sea'. Azamara Quest is an R-class cruise ship that entered service for Azamara Cruises in 2007. She was built in 2000 for Renaissance by Chantiers de l'Atlantique.
The vessel is 181m long, has a beam of 25m and weighs 30,277tons. She can motor along at 25kph. This vessel sails under the Flag of the Malta. She has the capacity of 1,000 passengers and crew.
Here's a great gallery of Azamara Quest arriving in Freo today.
Head on down to the port on Wednesday evening at 6pm and watch her sail into the sunset.
Wishing all our readers, everyone at the Shipping News, and Seafarers – especially those who can't be with their families at this time of the year – a Happy and safe Christmas and wonderful New Year!
So that's it, over and out for from me, your Shipping Correspondent for 2022. See you in the New Year!
* STORY and photographs by our Shipping Correspondent, Jean Hudson @jeansodyssey. Jean is also a regular feature writer and photographer here on the Shipping News. You may like to follow up her informative Places I Love stories, as well as other feature stories and Freo Today photographs, right here.
WHILE YOU'RE HERE –
PLEASE HELP US TO GROW FREMANTLE SHIPPING NEWS
FSN is a reader-supported, volunteer-assisted online magazine all about Fremantle. Thanks for helping!
** Don't forget to SUBSCRIBE to receive your free copy of The Weekly Edition of the Shipping News each Friday!