A short-story long.
Where to start?
Let's start on 22 July 1947 and we are in Delhi, India.
There is a meeting. It is an assembly. It is the day those tasked to write India's new Constitution were given the green light to do so. The British Dominion of India then became the Republic of India.
Exactly 24 days later, on 15 August 1947, the Tiranga flag was raised.
At precicely 0800 hours yesterday, Monday 15 August, 2022, the Tiranga was raised again, this time, for the first time, in Australia. On board the Indian Navy Ship Sumedha.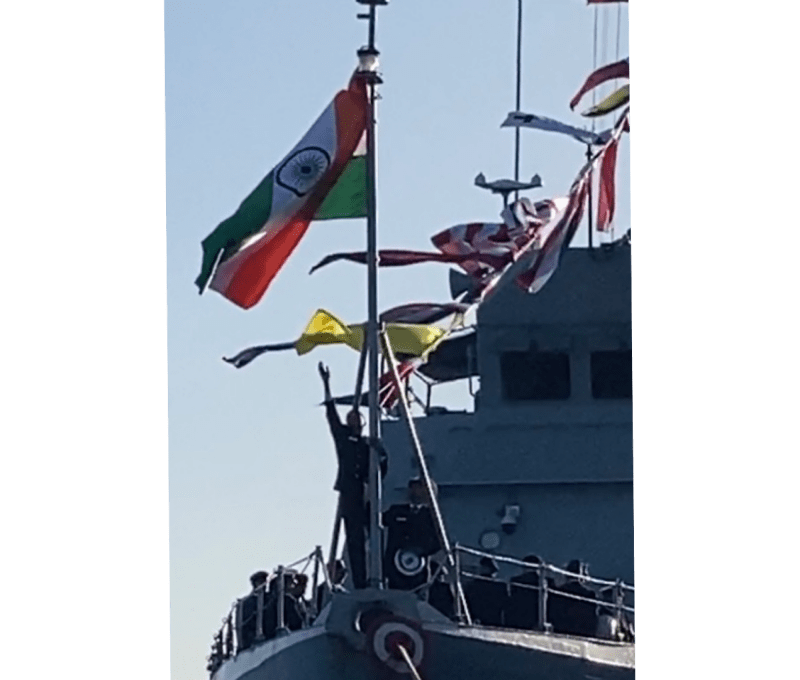 This video of the hoisting of the Tiranga is fabulous – makes you feel as though you are there!
Kaya. Welcome INS Sumedha and 150 crew, to Fremantle and the Port.
The colourful ceremony yesterday morning was breathtaking.
To see a warship in her finery is a sight to behold.
However, our winter sun and gentle four knot peck conspired to wreak havoc on the unfurling of Tiranga's silk magnificence, as it was a little timid to fully open. But with assistance from the ship's officers, the flag of India lit brightly at the bow of the Saryu class, Naval Offshore Patrol Vessel (NOPV), just long enough for me to capture these images.
The next minute I found myself on deck drinking chai with colonels and defence personnel, the top brass. INS Sumedha was top heavy indeed.
As an Indian brass band played three anthems, Vice Admirals, Captains, Brigadiers, Colonels, and navy, airforce and army representatives enjoyed a breakfast of fine Indian fare served on Sumedha's foredeck.
Well, what great fortune it was to find myself on board talking to an Australian Department of Defence policy advisor, originally from Delhi, and senior defence personnel. I was hardly prepared though, wearing but jeans. I couldn't believe it. A Collette Dinnigan moment and an invaluable lesson: any shipping correspondent worth their salt carries spare clothing in their trunk. Pant suit, heels and a coat.
It would also have been sensible to have had: some makeup; a hairbrush; and toothpaste. One should always brush one's teeth at least before leaving home, for you never know whom you may meet.
So, there I was taking photos around the time the Tiranga was hoisted and filming the ship from behind an iron gate. I decided to wander toward the entrance to the ship in the hope I might get a better, closer view. To my delight, the guard at the gate said I could go through, but not on board. I was so grateful and excited.
There was absolutely no way I was going on board, not on a day like yesterday with the top brass from India and Australia's navy and other forces. The notion was not entertained beyond one second. Besides, I was wearing my jeans and, fortuitously, my Indian-leather, woven slides. Still, I was badly underdressed for the occasion. Just to be on the right side of the gate and getting closer to the vessel and crew was enough.
Suddenly, after a passing hello to an officer, I was invited aboard. They don't say things twice in the navy.
Up the gangway I went, even more excited.
Stepping onto INS Sumedha, three officers saluted me. I almost passed out.
One offered to personally escort me on a tour of the ship. I nodded and smiled, speechless. A young woman from Singapore joined our tour through the steel corridors of an Indian navy ship.
Constructed at Goa Shipyard, INS Sumedha is a proud symbol of "Made in India".
INS Sumedha is third of the indigenously developed NOPV vessels of Saryu class which was commissioned at Visakhapatnam on 7 March 2014.
The ship is equipped with several weapon systems, sensors, state of the art navigation and communication systems, as well as electronic warfare suites.
Her coat of arms depicts the constellation of Ursa Major with the Polaris star predominantly displayed in a golden colour and a light house against a clear light blue sky. The two sinnous bands, each in white and dark blue, represent the sea.
Ursa Major is commonly known as Saptarishi, which symbolises the omnipresent role of the ship in Indian waters and across areas of maritime interests.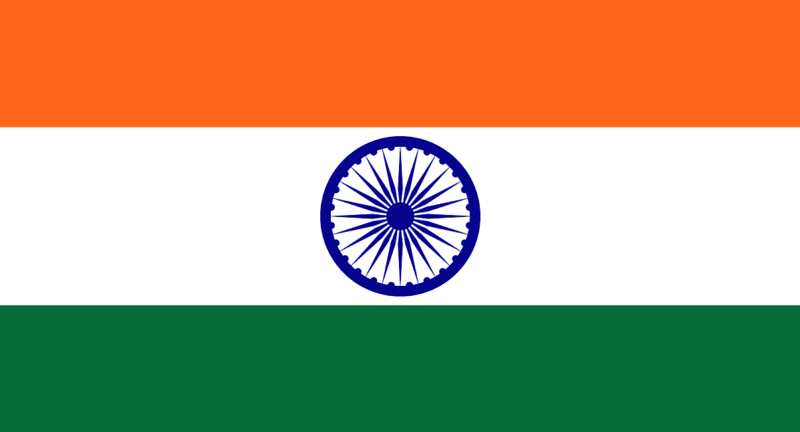 The Ashoka Chakra on the Tiranga represents form during the meeting of the Constituent Assembly. It is a 24-spoke wheel. The day selected to represent India's Independence Day was the day the Indian flag was raised for the first time as a Republic under the new Constitution, no longer a British Dominion, by Prime Minister Jawaharlal Nehru above the Lahori Gate of the Red Fort in Delhi. That day was the 15 August 1947. That day was yesterday, 75 years later.
Happy Independence Day India!
Chief of the Royal Australian Navy, Vice Admiral Mark Hammond says India and Australia have a shared vision of an open, secure, prosperous Indo-Pacific.
Thank you Commander P Phaneendra for letting me board your ship.
INS Sumedah sails for Malaysia on Wednesday at 1200 hours.
Be sure to make your way to the port to wish her well and safe travel.
* By PA Sinclair, our Shipping Correspondent. For more Shipping Movements and articles by our Shipping Correspondent look here.
While you're here –
PLEASE HELP US TO GROW FREMANTLE SHIPPING NEWS
FSN is a reader-supported, volunteer-assisted online magazine all about Fremantle. Thanks for helping!
** Don't forget to SUBSCRIBE to receive your free copy of The Weekly Edition of the Shipping News each Friday!