Dia duit, conas ata tu – in Gaelic that's, Hello, how are you?
Last time I wrote about Wicklow Harbour and Town and mentioned that I grew up between the towns of Wicklow and Arklow. I attended school in Arklow; it was once so familiar – now I see it through visitor's eyes. The houses and boats are brightly colored; the swans are white, no black ones here, and everywhere is so green.
Did you know there is a Wicklow Hill outside Toodyay, in our fair State, and an Arklow Forest outside Collie?
Arklow is a town in County Wicklow on the Southeast coast of Ireland.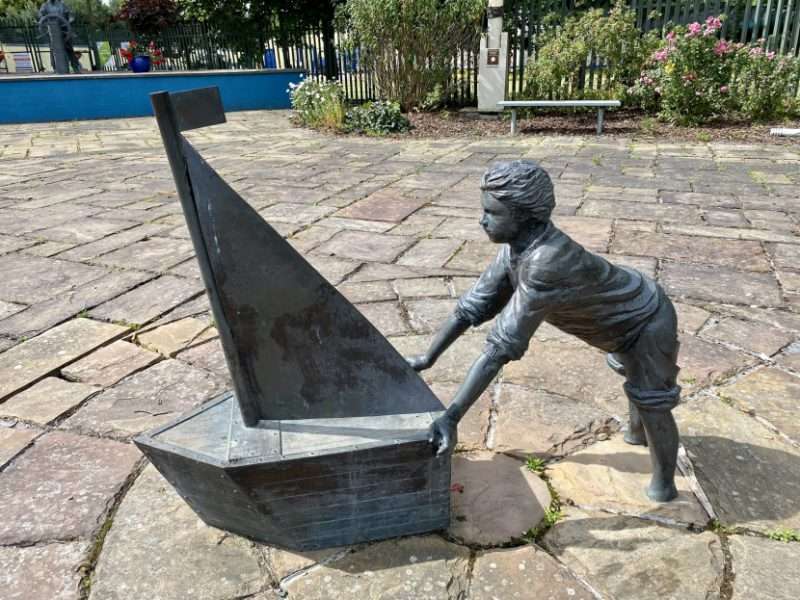 The name 'Arklow' is derived from Old Norse. In the 9th century, Danish Vikings established the town and port on a permanent basis. Seamanship was their forte and has passed into the heritage of Arklow.
Arklow is at the mouth of the Avoca River and the harbour has changed little over the centuries. The fishing village character is still evident and the port still boasts a sizable fleet of fishing boats.
The river divides the town. The river is crossed by the Nineteen Arches Bridge, this is the longest handmade stone bridge in Ireland.
Arklow's maritime history stretches back to the mists of pre-history. There is evidence to show that the 2nd century cartographer Ptolemy knew of its existence. There are Bronze Age burial sites dating back five thousand years.
The Anglo-Normans arrived in 1169 and consolidated Arklow's seafaring traditions. It was a strategic position for ships arriving with troops and supplies from England.
By the turn of the 20th century, Arklow was Ireland's premier fishing port and had a fleet of 80 schooners, brigs, and brigantines. The entire community depended on the sea for its livelihood.
The lower town was called 'The Fishery'. In 1831, this area had 702 thatched cabins with over 200 boats involved in herring fishing and oyster dredging.
To this day Arklow Shipping Ltd has the largest fleet of vessels trading under the Irish flag, with in excess of 50 ships, in sizes ranging from 4,200 – 35,000 tonnes, based in Rotterdam, Holland.
Boat building continues to be carried out by Arklow Marine Engineering Ltd. Until recently, wooden boats and ships were being constructed by John Tyrell & Sons Ltd, who designed and built Chichester's Gypsy Moth 3, the Irish sail vessel Asgard 2, numerous fishing vessels, trading vessels, pilot boats and many other types.
Today, Arklow is a lively commuter town to Dublin and has a population of over 13,000.
A marina on the north quay of the Avoca River is a popular stop for recreational yachts and motorboats. It's a day's sail from Dublin and a popular stop off point for yachts sailing up and down the Irish coast or from across the Irish Sea.
A huge rock known as Arklow Rock dominates the skyline to the south. It was an active volcano millions of years ago. The lava bubbling from the earth's core left a legacy of blue basalt and speckled granite.
There is an active quarry at the site. In the middle of the quarry site is Our Lady's Grotto where mass is read every Sunday.
I walked the 6 kilometre Arklow Rock loop trail with stunning views south towards Wexford and the Wicklow mountains to the north.
Ireland is currently in the middle of a mini heat wave, that's anything over 25 degrees, so I'm joining the masses and heading to the beach!
Slan go foill – goodbye for now!
* Story and photographs by Jean Hudson @jeansodyssey. Jean is a regular feature writer and photographer here on the Shipping News. Discover more of her informative Places I Love stories as well as other feature stories and Freo Today photographs, right here.
While you are here –
PLEASE HELP US TO GROW FREMANTLE SHIPPING NEWS
FSN is a volunteer-run organisation and we rely on the support of Freo people to keep making local news free. Thanks for helping!
** Don't forget to SUBSCRIBE to receive your free copy of The Weekly Edition of the Shipping News each Friday!