I'm back in the old sod, in County Wicklow, Ireland.
Our trusted captain and editor of the Shipping News asked me to wing some words from the Emerald Isle about another port town – Wicklow. So, between sinking pints of the 'black stuff' (Guinness for those of you inclined only to lagers) and dodging the rain, here are a few.
I grew up on a farm between the towns of Arklow and Wicklow.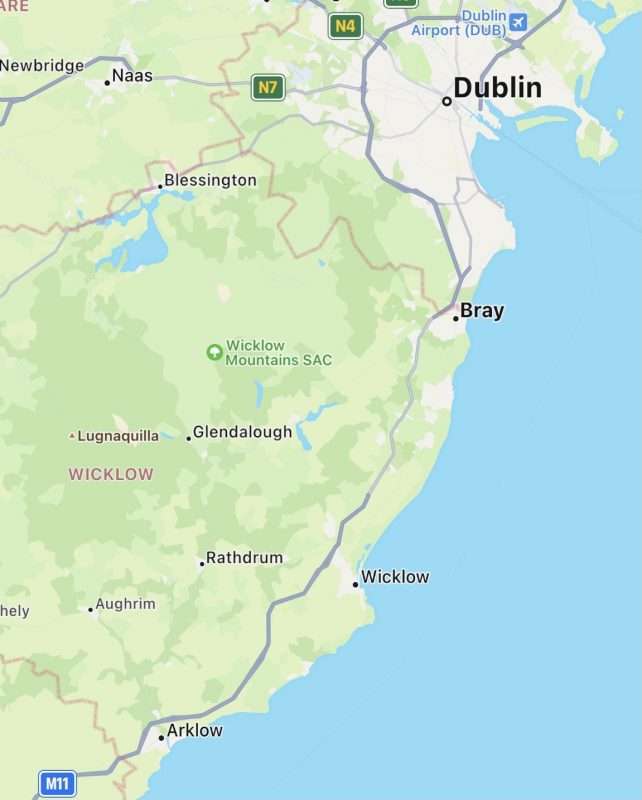 Wicklow, which is located south of Dublin on the east coast of the island, is the county town of County Wicklow.
The town is pretty. Here's a gallery of photographs to give you an idea.
And here's a lovely shot of Wicklow Harbour.
The name Wicklow probably comes from the old Viking word 'Vykyngelo', which means 'meadow of the Vikings'.
The earliest written evidence of Viking activities in Wicklow is dated 827 AD. The Viking raiders were attracted to coastal settlements where they could easily plunder lots of valuable materials, such as timber and church valuables, and where they could capture people for slavery. But they also stayed on in many places, including Dublin, Wicklow and Arklow.
The beautiful scenery of Wicklow is currently wowing viewers of a brand new Netflix series called Vikings: Valhalla. Wicklow has become the backdrop for the blood-spattering adventures of 11th century Scandinavians.
Earlier in the week, replica Viking Longboats were being fitted out on Wicklow's North Quay, in preparation for filming.
And then filming of the Longboats took place below Black Castle in Wicklow town. Longboats have become a common sight along the coast.
Wicklow Port is situated at the mouth of the Leitrim River. It has a good transport access including a modern port access road to the port area.
There are a number of commercial maritime businesses operating out of Wicklow engaged in stevedoring, logistics, and transport and maritime engineering.
The commercial vessels utilise the port facilities for cargo such as timber, glass and scrap metal.
Here's the Ceg Cosmos, sailing under the Latvia flag, unloading timber.
Wicklow Town has a long maritime tradition. There is an active and vibrant fishing sector based in the port.
Throughout the year there are a number of marine leisure events to participate in such as sailing, rowing, sea angling, scouting and swimming.
But you must keep an eye out for the seals, which have a habit of finding their way from the Harbour across the road to the fish shop – only in Ireland!
The Round Ireland Yacht Race is held every two years by the Wicklow Sailing Club, in association with the Royal Irish Yacht Club and Royal Ocean Racing Club. This is a gruelling 704 nautical mile race that starts and ends in Wicklow Port.
On June 18, just gone, 52 yachts started but not all finished this gruelling race. I completed this race in 1992, and it was one of the most challenging things I've ever done.
So, now it's back to the black stuff, and the rain!
Over and out from the Emerald Isle!
* Story and photographs by Jean Hudson @jeansodyssey. Jean is a regular feature writer and photographer here on the Shipping News. Discover more of her informative Places I Love stories as well as other feature stories and Freo Today photographs, right here.
While you are here –
PLEASE HELP US TO GROW FREMANTLE SHIPPING NEWS
FSN is a reader-supported, volunteer-assisted online magazine all about Fremantle. Thanks for helping!
** Don't forget to SUBSCRIBE to receive your free copy of The Weekly Edition of the Shipping News each Friday!