"The lights are out again! Can you believe it?"
It was a cry so familiar since moving into Hilton two years ago I thought we'd travelled back in time to London during the Blitz. I half expected to turn on the radio and hear Vera Lynn singing We'll Meet Again and Winston Churchill reassuring us that we'll get through "our darkest hour".
"Where are the candles?" I cried, poking around in a cupboard and banging my noggin.
"We used them all the last time. I can't keep up," complained Isabelle.
"What 's wrong with the power in this area?"
"Terrorists. The north are trying to cut off The People's Republic of Fremantle."
"Bastards."
Over yet another iPhone-illuminated dinner I reassured the light of my life that tomorrow I would lead a troop to Bunnings and restock our blackout arsenal before the next winter storms.
"As God is my witness they're not going to lick us," Isabelle declared slipping into a Southern belle brogue while serving up yet another salad. "We're going to live through this. And when it's all over we'll never be hungry again!"
Unfortunately, the salad didn't hit the spot. So early next morning on the way to Bunnings I popped into Harper's Food Market, a surprisingly sophisticated emporium in the middle of a light industrial zone (it's cheek by jowl with an auto parts shop, a pet supplies store, a swimming pool showroom and, across the way, Australia's home improvement mecca).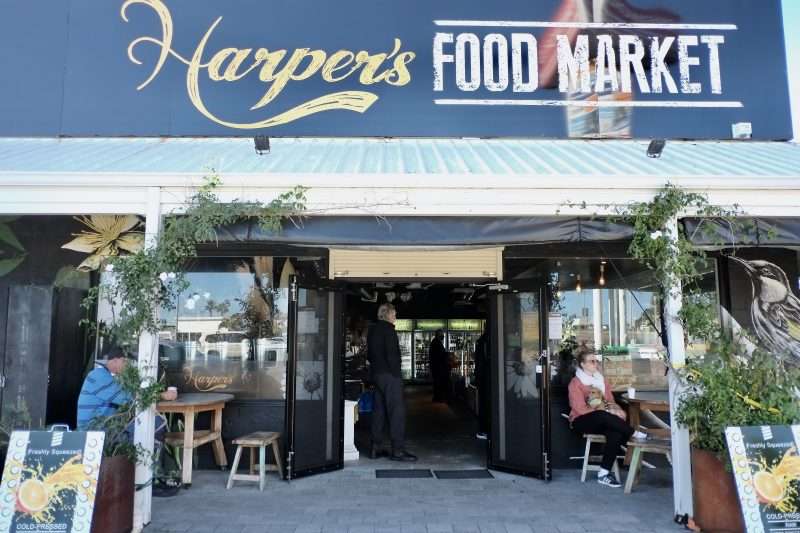 In the long line of coffee fiends who each morning the ignore the eyesore surrounds because of the quality of the brew I clocked someone I had not seen in decades, a once well-known actor who had played Hamlet, Henry Higgins and Willy Loman to great acclaim and earned extra dollars doing Bunnings commercials.
Judging by his uniform he was now actually working at Bunnings.
​"Julian!" I cried, throwing my arms around him. "I haven't seen you since that revival of Hair at His Majesty's. On that occasion I saw way too much of you."
"Weren't those wigs atrocious!" laughed Julian, leaping over the decades and seamlessly slipping into our familiar bitchy back-and-forth. "Can you imagine how many cats they skinned to make those horrible things?"
I met Julian during my brief, inglorious stint at drama school ("When Godot saw your Estragon he was so appalled he took off on the number ten bus," snarled my teacher). I went on to journalism and other pursuits; Julian trod the boards in Melbourne and Sydney, London and New York. Now he's giving advice on how to strip, sand and polish those boards.
"I've moved on from Shakespeare and Shaw to kitchen sink drama," said Julian. "I've never been fond of social realism — we go to theatre to forget our woes — but I'm getting more comfortable in my new role. As Ian McKellen once said to me, 'If you want a career you need to be versatile'."
Since starting at Bunnings during the pandemic — "COVID devastated the arts while Bunnings was as busy as the West End during Larry Olivier's heyday," said Julian — he has been starting his workday at Harper's.
"It's an oasis in this industrial desert," trilled Julian as he we took our coffees and cakes into the funky new area Harper's have recently opened-up (the added area is filled with interesting array of fine foods, kitchenware, handicrafts and clothes). "I close my eyes and for a moment I think I am back on Broadway. I once had lunch in Zabars with Bernadette Peters, you know? I still have a napkin with her lipstick kiss."
Julian returned to Perth to care for his aging mother. Unfortunately, he hasn't worked on stage as there few roles in Perth on for actors of Julian's vintage.
"Last week I saw a Helpmann Award winner mowing lawns in Peppermint Grove," said Julian. "He looked happy. I got out of my car and applauded his work. He turned and took a bow. They may have taken away our jobs, but we still have our dignity."
When I walked across to Bunnings with Julian the oddest thing happened. His voice deepened, his stride became heavier, his approach more commanding. I couldn't believe it: Julian was going full Method for his new role as a hardware expert.
"I make subtle shifts for each section," he explained. "When I'm in painting and decorating I become more artsy; when I'm in home security I give them a little Liam Neeson with my best Irish accent; and when the tradies come in for bags of cement I do Tony Soprano. They love it."
While Julian is enjoying his new life he has not given up on the stage. Using his experience in retail he has decided to do a one-man version of Arthur Miller's Death of a Salesman.
"Only my version will have lots of songs. If I Had A Hammer, This Old House, Paint Your Wagon. And it will have a happy ending. Willy's not going to die! He will live and take charge of the sausage sizzle. What do you think?"
"I think you will never go hungry again. Now which way to the lighting section?"
Harpers Food Market
378 South Street, O'Connor
Monday to Friday 7.30am to 4pm
Saturday 8am to 3pm
Sunday 9am to 2pm
​
* By Mark Naglazas
Read more Mark Naglazas's stories and reviews, right here!
While you're here –
PLEASE HELP US TO GROW FREMANTLE SHIPPING NEWS
FSN is a volunteer-run organisation and we rely on the support of Freo people to keep making local news free. Thanks for helping!
** Don't forget to SUBSCRIBE to receive your free copy of The Weekly Edition of the Shipping News each Friday