North Fremantle author Steve Rogers has a first-hand link with the Fremantle Ports. Until the closure of the cruise ship trade in Fremantle, he worked as a baggage handler and traffic wrangler when the cruise ships were in port.
Steve is in his early 70s and as active as any of the backpackers used to load and unload cases for passengers. But it was little known that he is also a published author of crime fiction. With the decline in cruise ship activity he has been able to concentrate on his writing and his latest novel, Death In A Matchbox has just been published by Moonshine Cove in the US.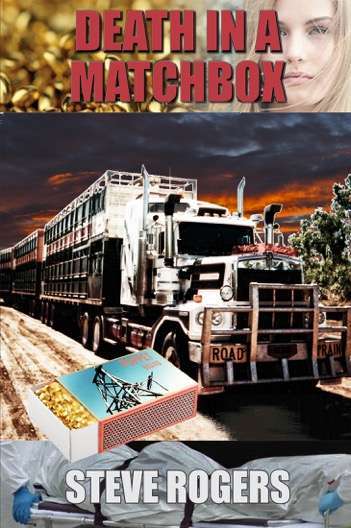 The book is available from Amazon as an e-book of paperback and from leading Western Australian Booksellers, especially New Edition in High Street, Freo.
This is how the story runs. Outback truck driver Carter De Freitas is a laconic Australian with a talent for painting, and finding trouble. With young, fellow artist Elise Alquist, and his three legged dog Carpenter, he visits a remote, disused gold mine to do some painting. They discover a mummified body down a shaft. More bodies show up. Is this the result of a feud between local farmers and miners over land use, or is there truth in the local story that a substantial cache of gold is buried in the district? The characters of the district reveal that the rumours may have substance. When another body is found, De Freitas is up to his painting pallet in the inquiries. Since the artists must stay in the district until they are cleared, they contribute their skills to the police investigations. Mysteriously, the paths of the alleged gold pilferer, crossed with the career of the long-distance driver in the long distance past.
The book has some heavyweight endorsements.
The winning formula of gold, murder and suspense rings true in this outstanding outback thriller. I enjoyed it very much.
—Robert Drewe – Award winning Australian author (The Shark Net)
Steve Rogers paints his tale of a gold stash hidden in the Australian Outback so vividly you can taste the fine bush-dust on your tongue. Here's a mystery that will introduce you to a breed of characters as tough and dry as the landscape. This is the real Australia of the recent past, that exists beyond the tinted windows of the tourist coach and the air-mattresses of glampers' weekend adventures. Dave Warner – Award winning Australian author (Premiers Award and Ned Kelly Award)
With his experience working at the port, we're told Steve's next book could have a very local flavour!
Fremantle Shipping News' Editor, Michael Barker recently interviewed Steve about Matchbox. Here's the podcast.