Route 94 doesn't quite have the same ring to it as Route 66, nonetheless it's an amazing 700 kilometre journey! Driving in Australia's outback is unlike driving anywhere else in the world.
 
After leaving Perth, you drive along the Great Eastern Highway for seven hours passing through small towns with populations of under a few thousand before arriving at Kalgoorlie. You'll see lots of roadhouses, road trains and road kill driving through the Central Wheatbelt and Western Australia's Eastern Goldfields.
 
It really is worth breaking the journey and exploring towns along the way. These towns each have their own charm with lots to see.
Our first stop was at Northam. The town has public art with a rural theme, a really good tourist office and a great coffee shop, Café Yasou.
 
The  Northam 'silo drive' was stunning: we drove through tree-lined roads, rolling hills and green fields. We found the CBH Grain Silos and viewed the first silo in the FORM Public Art Trail. These are working silos, so you can't get too close.
 
The FORM Public Art Trail is a self-drive road trip to seven towns in the wheat belt. The looped 1574 kilometre trail is from Perth to Albany where grain silos and walls have been transformed into public art.
In 2015, international artists HENSE (USA) and Phlegm (UK) transformed eight of the 38 metre high silos.  Over 16 days they created Australia's first-ever painted silo mural, and kick-started a national trend.  
Phlegm's whimsical characters and flying machines were inspired by the hot air ballooning culture of this region. Hense's murals are abstract fluoro blocks of colour.
South of Meckering we took a detour to check out the 1968 earthquake fault line. The Meckering earthquake registered 6.9 on the Richter scale, destroying 50 homes and crushing many of the town's buildings. It left a scar 32 kilometres long and up to two metres high.
 
Also in Meckering, you'll drive by The Big Camera. It's a building shaped like a giant camera and is a museum totally dedicated to photography.

 
At Merredin we visited the second public art silo. Kyle Hughes-Odgers, a WA urban artist, transformed four of the eight concrete silos with bright geometric designs. The colours of the wheat belt inspired him: burnt oranges, yellows and blues from the landscape and sky.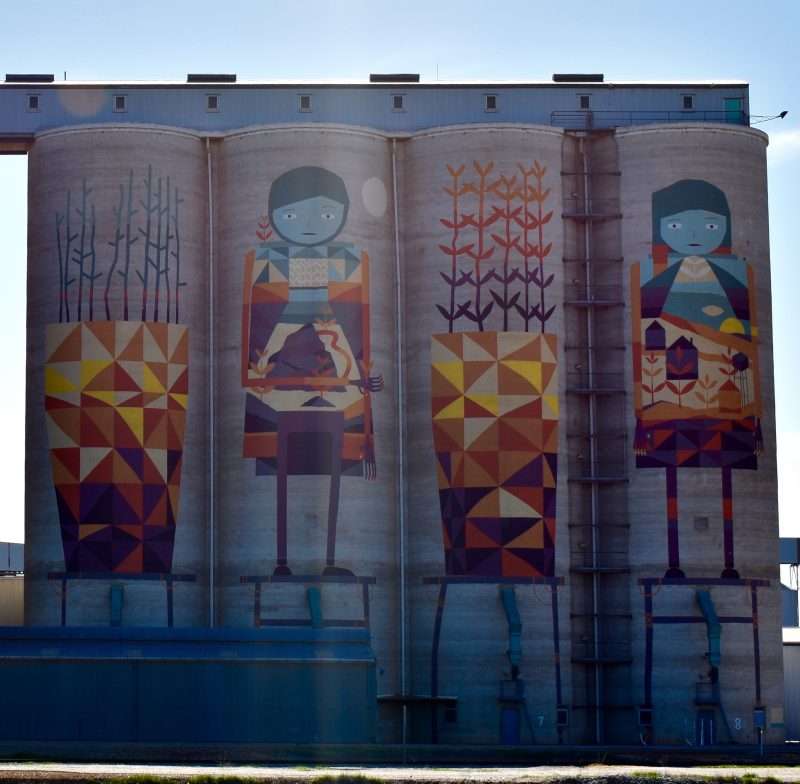 Near here you can visit the Rabbit Proof Fence at Burracopppin. It took six years to complete in the early 1900s and stretches almost 4,000 kilometres from Esperence to Wallal Downs. The flimsy barbed-wire fence was erected to keep wild rabbits out of farmlands on the western side of Australia.
 Rabbits were introduced by the first fleets as a food source and quickly became vermin. The fence is now called the State Barrier Fence, and stands as a barrier to dingoes, kangaroos and emus. Today, landholders and regional councils maintain sections of the fence.
 
The Golden Pipeline runs beside the Great Eastern Highway for most of our journey. The water pipeline is a reminder of how hard life is in the outback and the basic human need for fresh water.

 
CY O'Connor, an Irish-born engineer, designed and engineered the Goldfields Pipeline and sadly didn't live to see its completion. The Pipeline is over 100 years old and still operational today.
 
It takes five days for water to travel from Mundaring Weir, in the Perth Hills, to the end of the line. It is the longest fresh water pipeline on earth. You can follow the self-drive Golden Pipeline Heritage Trail stopping at pumping stations and places of interest along the way.
 
Beyond Southern Cross, at Yellowdine Roadhouse, we headed 12 kilometres along a gravel road to the old Mt Palmer town site and mine. The drive took us through a bronze eucalypt (gimlet gum) forest. 
There is little left of this once-thriving gold town. An elaborate archway and a corner of the old Mt Palmer Hotel, built in 1935, are the only structures left standing.  
You can walk around the house foundations and fossick amongst the scattered pieces of rusted iron and broken glass. A lone enamel saucepan hung from a gimlet gum and the cemetery had just four occupants.  
Coolgardie is only 160 kilometres down the road. It has completed the full cycle from gold town to ghost town and back. Today the big open-cut mines, prospectors, tourism and transport keep the town ticking.
Last stop is the legendary town of Kalgoorlie.
 
With our borders firmly closed, we have WA all to ourselves. It's the perfect time to take a road trip and explore our amazing state. Wildflowers are beginning to bloom and there are no flies yet!