By Bruce Menzies*
When the Captain raised the flag and politely enquired whether I would care to write about some of the books that have captivated me over the years I may have raised an affirmative eyebrow. However, in Covid time, I've been taking the easy option of reading rather than writing – until a dollop of guilt kicked in, and I began a languid patrol of our bookshelves, wondering what and who I might select. Fiction or non-fiction? Novels, biographies, philosophical excursions, or sub-genres that caught my attention at one moment or another? Would I confine myself to Australian shores or reach out globally? Should I stay with contemporary works, or roll back to bygone eras?
These and other questions danced around in my head, perpetuating the dark art of procrastination. But now, on a sunny afternoon, the excuses have dried up and I have made some selections. In accordance with the principle of 'keep it simple', I've restricted myself to books that presently grace this household. Not only can I refresh a fading memory but there is a certain satisfaction in running hands along the shelves and fastening upon the spines of hard copies and recalling the enjoyment of reading this or that particular book, even if the details have faded.
Covid has been an excuse to clean out – our garage is testament to that virtuous impulse. But books, by and large, remain sacrosanct. I'm attached to our collection, such as it is, and they will probably have to carry me away before the books go. Many readers may share this affliction.
********
Anyway, to cut to the chase, I've chosen three books by Australian male authors. Two are alive and one passed away a few years ago. We'll start with Christopher Koch.
Koch was born in Hobart and died in 2013 aged 81. Perhaps he is best known through his novel, The Year of Living Dangerously, which was adapted to become a movie starring Sigourney Weaver and Mel Gibson. I remember enjoying both the book and the movie – an intrigue set in Indonesia during the Sukarno regime. Koch's younger brother, Philip, was an ABC reporter in Jakarta, and the hero of the book, Guy Hamilton, is also a reporter – though not modelled on Philip, according to the author. The book is a vivid character-study of the key protagonists and a window into the challenges facing Indonesia at the time. It contains high drama, suspense, and an enticing plot. Highly recommended as an introduction to Koch's oeuvre.
Likewise, Highways to a War, published in 1995. Also located in Southeast Asia, this is a longer and more complex novel than The Year of Living Dangerously. Again containing true-life parallels, this riveting account focuses upon a missing Australian war photographer and the search conducted by his old friend. Again, Koch is able to weave a compelling story, based mainly in Cambodia and Vietnam in the mid to late 1970s.
But the book that really captured me was Out of Ireland, first published in 1999. It's a daunting, 700-page saga set primarily in Tasmania in the mid-nineteenth century. As with Highways to a War, Koch uses a contemporary person who, in this case, introduces himself as an 'editor', and then explains to readers he will be drawing from the diaries of an Irish political exile, Robert Devereux. Then the novel – which is in three parts – flips back in time and we begin to tune into Devereux's present and past, not to mention the Irish rebellion of 1848 and the export of human cargo in the form of convicts to Bermuda and Tasmania.
Devereux narrates in first person. When we first meet him he is imprisoned on a hulk off the Bermuda coast. He is an educated man – a former member of the Dublin Bar and an agitator for Irish independence. That passion has cost him his freedom and transportation from the land he loves. Though he is treated better than ordinary felons, conditions are tough. Then, through a stroke of fortune – or is it ill fortune? – Devereux is moved on to Van Diemen's Land where the larger story unfolds.
Language and tone pertain to the times and Koch's use of dialogue appears effortless, as are the scenes he sets and the manner of their description. In the convict colony, Devereux meets former acquaintances and others who share his aspirations for Ireland. With a measure of freedom, he is able to plot an escape and the book is really the story of that project. We, the reader, are taken into the back streets of Hobart, into the brothels and taverns, the prisons and the workhouses, and out into the hinterland where convicts are assigned to landowners and ticket-of-leave holders who are scrambling to find a place in this remote corner of the Antipodes.
It's as if we're going on a journey that rivals the age of the old forests that give this new yet ancient country much of its character. But in reality we are within a time capsule of a few short years in which much happens and the outcomes are undetermined. I found myself wrapped up with Devereux's fate and keen to know what would eventuate. But Koch was a master craftsman, with almost an innate capacity to keep his readers glued to the page, fine-tuned and present with the unravelling story and willing to put on hold the gratification of an ending.
I don't know what it is about Tasmania. The raw beauty of our island State obscures the not-too-distant past. Within that tight nineteenth century crucible rests a litany of atrocity – not only against the indigenous inhabitants but also the designated felons who formed an essential part of white settlement. When I visited Port Arthur in the 1960s, on a drunken bus trip with a group of university footballers, even an alcoholic fugue could not obscure the mournful ghosts of yesteryear. Port Arthur was described by the writer, Martin Boyd, as 'Australia's Glastonbury' – although I suspect the symbolism in the stone ruins of each place is rather different.
Koch was determined we should look at our history through unremitting eyes. Out of Ireland is said to have been inspired by the story of a real-life political prisoner, John Mitchel, who penned Jail Journal in 1854. Described as both a 'diatribe against the British' and a 'paean to the beauties of the Tasmanian landscape', Mitchel's treatise shows the importance of source material that stands in direct opposition to the official government narrative of the day. Such voices tend to be rare, and yet they can be important catalysts when one wishes to catalogue a particular time in history, either in the form of the novel as Koch has done so brilliantly, or in a scholarly account.
********
The multitalented Gregory Day has also found his way to our bookshelves. I have not dipped into his music or his poetry but his novel, The Archipelago of Souls, is a beauty. Despite being, in its essence, a book about loss and love, I chose it for my old men's book club. To my relief, it hit a sweet spot – probably because it is also an adventure story that jumps between Australian soldiers marooned on war-torn Crete – and King Island, where the narrator, a self-described 'remnant of the war', is trapped by his past and mired in his present.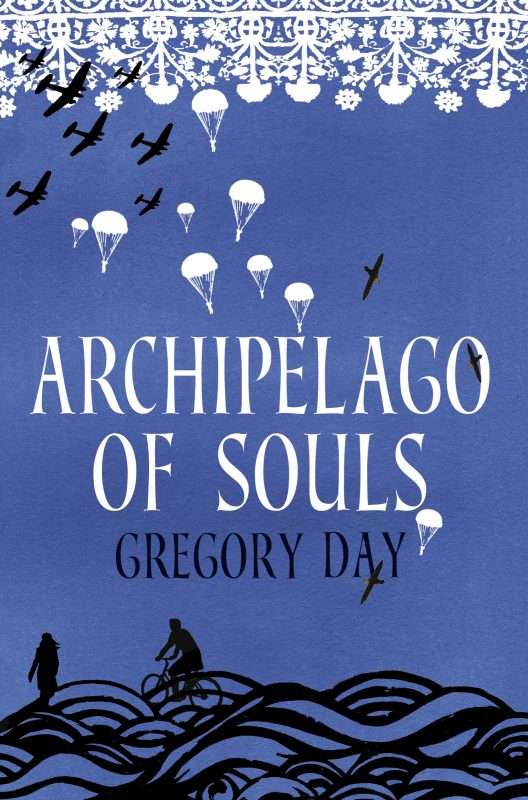 Wesley Cress, more anti-hero than hero, is a broken man. Hailing from country Victoria, he absconded to the wind-swept island in Bass Strait where he half-heartedly attempts to rebuild his life. Vern, his brother, did not make it home and we learn his fate and the family devastation that ensued.
Some readers may be old enough to remember The Guns of Navarone, a movie starring Gregory Peck, David Niven and Anthony Quinn, and based on the 1957 novel of the same name. I suspect it was my first introduction to the Greek Islands and the fighting that took place there in World War II. Day's depiction of Crete carries overtones of Alistair Maclean's fictional Navarone – in terms of the rugged beauty of the terrain, the fortitude, creativity and passion of the people who lived there, and the terrible reality of men trying to kill one another. In this sense, Archipelago of Souls is a war story but there the similarity ends. Day is much more concerned with the after-effects on his principal character; the accumulated residue of grief and loss – and guilt – that these days would invite compulsory trauma counselling. Wesley is a broken man yet there remains a flicker of hope. We see this as a relationship develops with Leonie Fermoy, a feisty descendant of American whalers who bears her own scars, as does the brute of a father with whom she still feels obliged to live.
Day negotiates the terrain of the novel with consummate skill. Like any good writer, he draws his readers into the places he is describing and into the hearts and minds of his characters. The language is unflinching yet poetic. Islands – as has been brought home to us recently – are intrinsically places of isolation. Tasmanians still refer to the rest of Australia as 'the mainland'. I don't know what the King Islanders would say – or the Cretans for that matter – about larger landmasses in the vicinity. But this sense of separateness creates identity, and Day explores this through Wesley and others who move in and out of the story. There is a harsh tenderness emanating through these pages, and perhaps it was that tone and sensitivity that resonated with the bunch of blokes in the book club.
********
Alex Miller, the third author in my chosen trilogy, also writes a pretty decent love story. Most recently, I read The Passage of Love – an evocative account of a young man's journey from working class origins in England to the shores of Australia, where he struggles to find a foothold. The outback, where the young man, Robert Crofts, works as a teenage jackaroo, brings him into contact with hardscrabble pioneering stock and Frankie, an indigenous ringer. When Crofts drifts back to Melbourne, he tries to write about his friend Frankie but succumbs to the dreaded writers' disease of comparison. Though he rereads Camus and Naipaul and sees 'how simple and straightforward their prose was', it doesn't help – and his words 'lay flat and dead on the page'.
Salvation of sorts lies in his relationship with Lena, also an immigrant with aspirations. But Crofts' addiction to his writing cruels the relationship and the novel explores the warp and the weft of intimate human connections, with all their foibles and frailty – along with resilience, hope and enduring affection.
The Passage of Love is a thinly-disguised version of Alex Miller's life and loves. When it was published in 2017, Miller was already the recipient of two Miles Franklin awards – the first for The Ancestor Game in 2003, the second for Journey to the Stone Country two years later. But of all his works, the one that stands out in my mind is the 2007 novel, Landscape of Farewell. It is not often a novel is chosen as a backdrop to a non-literary conference but, during my past life as a mediator, I was chuffed to find the 2008 National Mediation Conference in Perth, which carried as its theme 'transforming the landscape', had recommended the novel to potential participants. As the September conference coincided with my wife's birthday, I shrewdly invested in a copy as a present. As I recall, she got as much pleasure out of it as I did.
Hamburg 2004. Max Otto, an elderly German professor is due to give a farewell address before he retires. His beloved wife's recent death has emptied him out. After completing his obligations, he plans to return home and, with the aid of whisky and pills, make his final farewell. But fate intervenes in the form of a young, black academic from Sydney. She stops him in his tracks at the end of his lecture with her strident criticisms. What did he know about the history of massacres – the subject of his final paper? As he leaves the auditorium, Max catches sight of the young woman, and comes over to deliver an apology. He agrees with her condemnation. This gives her pause for thought. Old white men have never done that before, at least in her experience. She – Vita – and Max go for a drink and a friendship develops. Before she returns to Australia, Vita invites him to a conference, with a further promise of taking him out bush to meet her uncle, an indigenous elder.
What follows is an intensely moral tale, where two cultures meet, and understandings grow and deepen. Indeed, it takes place within a 'landscape of farewell' – but the 'farewell' contains an invitation to shed ingrained habits and ways of viewing the world that Westerners, by and large, have absorbed unconsciously, unaware of their enduring and pernicious impact.
As I returned to the book recently, I thought of another black activist voice – this one belonging to a real person not a character in a novel. With the recent riots in America, the New Yorker has reproduced a 1962 article by the late James Baldwin. Readers may be familiar with his works, among them Another Country and The Fire Next Time, which contains this New Yorker essay. Like Miller's Vita, Baldwin was writing and speaking from direct experience as a black person in a land dominated by whites. From early childhood in New York when he was mocked and assaulted by white policemen, he absorbed the reality – both physical and psychic – of what that kind of upbringing and background could do to a man. It is a measure of Miller's compassion, outrage, and skill as a novelist that he can inhabit the character of indigenous people, juxtapose them with white folk and create a climate of exploratory dialogue and mutual respect.
Max Otto is changed by his experiences in Australia. Irretrievably changed. Vita, overworked and irrepressible, hires a car and drives them both north into Queensland to the solitary residence of her uncle Dougald. Also widowed, Dougald self-effacingly describes himself as a 'so-called cultural advisor' to the white fellas. He is always on his mobile phone, in Vita's eyes, being taken advantage of by all and sundry. She has plotted to deposit Max with her uncle in the hope it will bring well-being to them both. Above all, she wants Max to induce Dougald to take him out to the Old Country, the land with which Dougald had an ancestral and spiritual affinity. In the interlude before this happens, the two men slip into amiable companionship, both at ease in the silence and the simplicity of daily life. After Max gets holed up in bed after injuring his ankle, Dougald confides he has been unable to write the story of his great-grandfather. He is fine with reports and submissions and with telling the story orally but it needs to be written – and Max has been anointed.
What follows is an account of a 'massacre' – but certainly far removed from what readers might expect. Here, Miller is at his crafty and sensitive best – and I noted from his acknowledgements, he consulted carefully with Aboriginal friends and historical sources.
It is probably trite to say Max returns to Hamburg a changed man. Transformed is a better word. His memories often go back to his childhood and the relationship between his father and his uncle, with whom young Max spent time on a family farm. In the code of silence that existed post-war in many German families, Max has never come to terms with what his father did or might have done. Vita, when they first meet, shoots from the hip and perceptively points out Max's journey will never be complete until he has addressed this lack.
I found the novel replete with conundrums around forgetting and remembering. What purpose is served in bringing the past into sharp focus? Is it better, as the saying goes, to let sleeping dogs lie? I feel certain Miller (and his surrogate, Max Otto) share my long-held view that history ignored or avoided – whether that history is on the world stage or within the confines of a singular family – is detrimental and ultimately fatal to human understanding. Perhaps, of all the messaging that flows throughout Landscape of Farewell, this is the arrow that remains embedded most deeply.
* Based in Fremantle, Bruce Menzies is the author of three novels, a family history, and a recent memoir. Details at ‪brucejamesmenzies.com‬