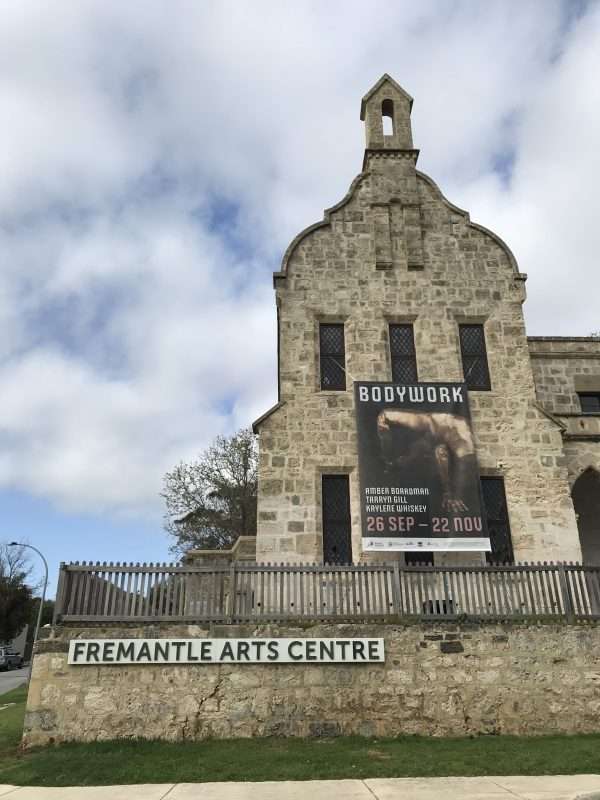 The Fremantle Arts Centre (FAC) is a multi-art organisation based in the heritage-listed building complex on Ord Street, Fremantle. It offers a program of exhibitions, residencies, art courses and live-music.
'Sunday Music', the popular free Sunday afternoon concerts have started up again and will run until March. The sloping back lawn is a great spot for families and friends to picnic and enjoy live music.
A new multimedia exhibition 'Bodywork' is running until 22 November. This exhibition features multi-limbed contorted soft sculptures, along with paintings and videos. Bodywork explores ideas connected to body modification, self-expression and female empowerment.
FAC was not always a fun place – it has a very dark history spanning more than 150 years. Over the years, it has had a fascinating and varied history: an Asylum, a Women's Home, a Depot for US Submariners, and a Technical School.
The Gothic style buildings are widely known as one of the most haunted places in Australia. In the early years, it became known as a place of suffering, sadness and murder.
According to some, the buildings are haunted by at least 10 spirits – with voices, cold spots, banging noises, footsteps, smells, black shadows and apparitions.
Lunatic Asylum
In 1861, Fremantle and Perth was a growing British colony with a population of 8,000 and with nowhere for the mentally ill. The Fremantle Arts Centre was originally known as the Fremantle Lunatic Asylum and served as a sort of prison for the mentally insane. It was built by convict labour between 1861 and 1868.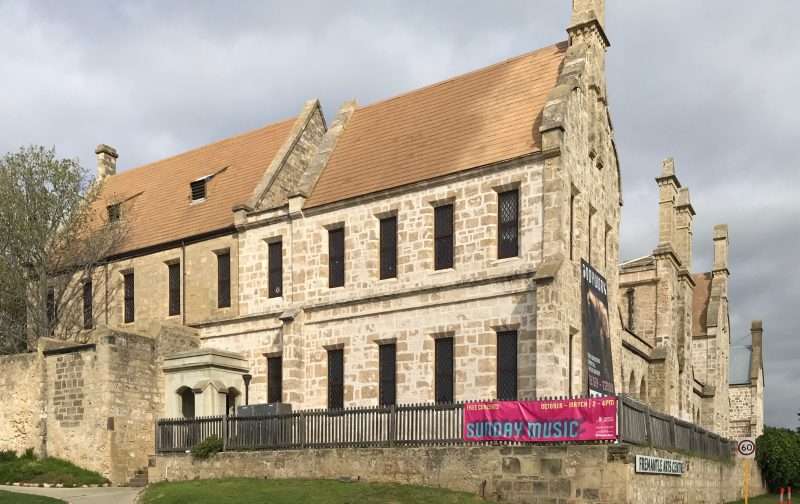 In the 19th century, institutions such as the Fremantle Lunatic Asylum were built to house the 'insane'. Institutionalisation was believed to be the correct solution to treating people who were considered 'mad'.
Later it became known as the Asylum for the Criminally Insane. The asylum contained sleeping wards, dining rooms, exercise yards, a washhouse, kitchens, cells and staff quarters. A tall wall separated the male and female wards.
The complex featured locked doors and barred windows and guarded grounds. Patients were referred to as prisoners and were under the punitive control of prison rules and regulations.
Incoming patients had their heads shaved and were required to wear second-hand prison uniforms. The asylum blankets were stamped with convict 'broad arrow' symbols.
The Asylum became the dumping place for any social problem, such as alcoholism, prostitution and the elderly. In fact, any form of perceived social deviancy – poverty, depression, drug addiction – even activities considered to be sexually deviant, were labeled 'lunacy'.
Women abandoned by their husbands or family also ended up in the Asylum. The youngest patient is said to have been nine years old.
Very few patients recovered from their symptoms, due to no active therapy, and many were incarcerated for 20 to 40 years or until they died.
In 1900, the building was deemed unsuitable as an asylum due to overcrowding and the inability to separate docile from dangerous patients. By 1908, all patients were relocated to a new facility, Claremont Hospital for the Insane.
Women's Home – Poor House
The building then became a Women's Home. It housed women and children of low social status – the elderly, the destitute, the homeless, abandoned wives and unmarried mothers.
The women were essentially prisoners within the asylum walls. There are accounts of women begging for food at the front gate.
The mortality rate of mothers and newborns was very high – only 50% of newborns survived in those days. A 12-bed maternity ward and midwifery training school was set up on 1910. King Edward Hospital for Women opened its doors in 1916.
Conditions within the Women's Home were dire, with rat, termite and cockroach infestations and poor sanitation. By 1941, the Women's Home was deemed worse than a female prison. Campaigns by women's groups finally resulted in its closure in 1941.
World War 2- Submariners Depot
Fremantle became a busy military port during World War 2. In 1942, after the fall of Singapore and with the Japanese advance – the FAC buildings served as a US Navy Submarine Supply Depot. Over 160 service men and 102 civilians worked at the depot.
There was a pub stocked with Swan Lager, a munitions store, a vehicle pool and a 24-hours coffee station. All interior walls were painted battleship grey. The upstairs 'Painting Gallery' is still battleship grey.
A brig (military prison) with four detention cells housed German and Italian prisoners of war. Officers carrying rifles and machine guns patrolled the depot.
Fremantle Technical School
After the war, the run down buildings became an annexe of Fremantle Technical School. Later, in 1953, students from overcrowded schools attended classes in pre-fabricated buildings in the grounds, until John Curtin High School opened in 1955.
In 1958, the old Fremantle Lunatic Asylum was threatened with demolition. The Mayor of Fremantle, Sir Fredrick Samson had a vision that it should be restored and become a Mariners' Museum and an Arts Centre. The building was restored by 1970. Its preservation remains a great victory for the people of Fremantle.
Fremantle Arts Centre
For the past 40 years, FAC has become a vibrant, creative, community hub for contemporary art exhibitions, art and writing classes, concerts and events.
The shop Found sells wonderful local crafts.
Canvas is a popular cafe for coffee or lunch.
FAC, receives its operating funding from the State Government. It is open 7 days a week, 10am – 5pm and admission is free!
Mental Health today
Mental Health has been transformed over the last seventy years. Old asylums have closed and care has largely moved into the community. New medications and talking therapies have had a hugely positive impact on patients and mental health care.
World Mental Health Week is now celebrated each year in October and kicks off this year on 10 October. This year's theme is 'Strengthening Our Community – Live, Learn, Work, Play.'
On 10 October, between 10 am and 2 pm there will be stalls, music, yoga, DRUMBEAT, mindfulness and games at Fremantle's Esplanade Park to celebrate World Mental Health Day.
Check out this website to learn more.