General cargo carrier, Kurt Paul, arrived at Kupang Anch, Indonesia, on 30 September 2020, six days after departing Fremantle's inner harbour. Why Fremantle Ports' Voyager vessel management system reported her onward destination as Port Pirie as she departed Fremantle, adds to the anomalies of her visit here, which include delays recording her movements; what cargo she carried; and if the predominantly Russian crew changed after four weeks at sea after leaving the Mexican port of Manzanillo.
Hard to imagine the latter, of course, without causing a Covid conundrum, so how does the Port explain a five-day lag in reporting her arrival into Fremantle's inner harbour on the morning of 16 September 2020?
Fremantle Port's media liaison officer also seemed perplexed when I made that enquiry of Fremantle Ports, suggesting Voyager is 'just a management system' and is somehow, therefore, capable of typical computer errors and delays. He added that livestock and naval vessels are sometimes reported later for security reasons; but he said this was not the case for Kurt Paul, a ship he recalled.
Something did not seem right, and gut instinct told me something else was going on with the Kurt Paul, so I continued my search for information on her.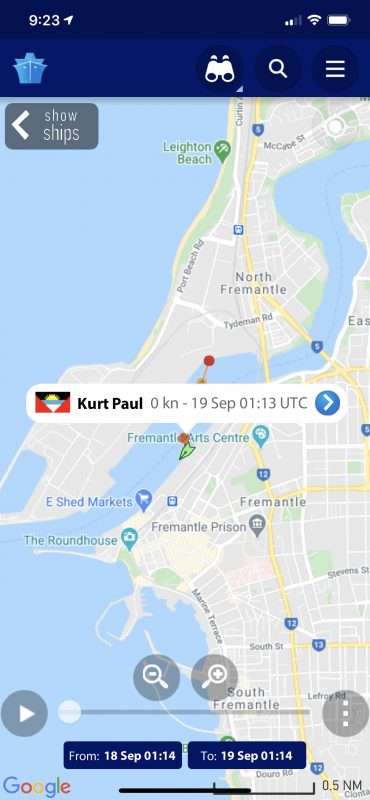 Kurt Paul is apparently owned and managed by German company Briese Schiffahrts and part of the fleet of BBC Chartering, a company specialising in oil and gas supplies,
Her Fremantle agents, Indian Ocean Shipping Agents are listed, on Voyager, as the point of contact, though enquiries about the Kurt Paul went unanswered. They have three representatives in their Fremantle office.
Perhaps the cargo was dangerous goods; perhaps Fremantle was an unscheduled port of call; perhaps the Master hadn't filled out the paperwork. But what is clear is that on 21 September 2020, there was no sign of Kurt Paul's existence on the Fremantle Port's Voyager system, the publicly accessible record of all the shipping movements within the inner and outer harbours of Fremantle. Yet there she sat, 143.13 meters of hulking steel. On 22 October, Voyager finally reported Kurt Paul's arrival as: from sea on 16 September, to No 11NQ, a common-user berth on the northern side of the port, then removed to F Berth beside the passenger terminal at Victoria Quay on 18 September, where she stayed until 24 October, when she set sail for Indonesia, not Port Pirie, South Australia.
It is hoped we can find out more about this vessel, her crew and cargo, her owners and managers and, perhaps, a bit more about how the Voyager vessel management system manages the vessels that arrive off our coast and enter our port. If and when we do we will let you know! Perhaps someone out there will make us wiser!
We do know, however, that Kurt Paul was built in Xingang province, China, in 2009. She had seven name changes in 2018, all Chinese, and now sails under the flag of Antigua and Barbuda. Kurt Paul is currently anchored off Indonesian Timor's largest city and port, Kupang, part of the TIA-GT, or Timor Leste-Indonesia-Australia Growth Triangle, until further notice – or so it seems.