Four – 'knock at the door', as they say in Bingo.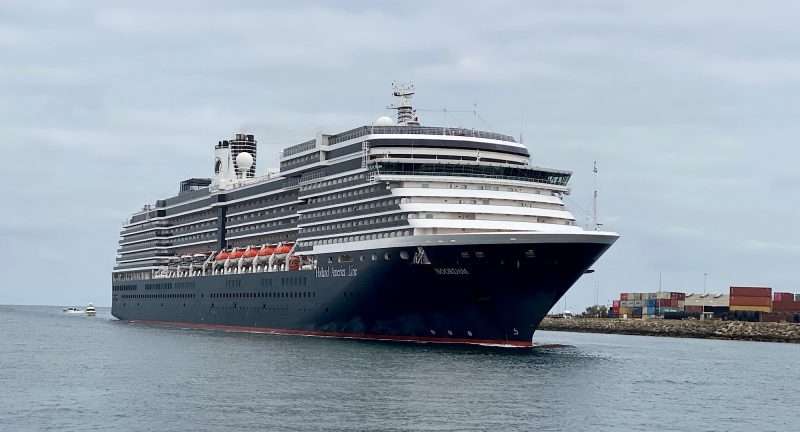 MS Noordam is the fourth cruise ship to knock at our door this week. She steamed into Fremantle's inner harbour this morning around 8.30 am.
As of Friday morning, there are three large cruise ships – Noordam, Queen Elizabeth and Regatta – in the harbour along with the usual Ro-Ros and container ships. Don't miss the spectacle!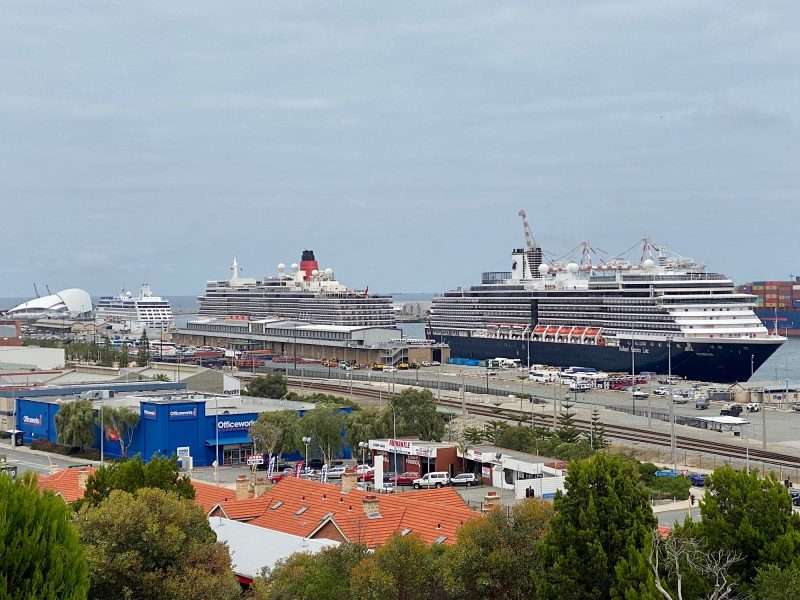 Noordam is one of Holland America Line's Vista class cruise ships.
She is currently 55 days into a 70-day cruise from San Diego to Sydney.
However, she took a very different route to Regatta, who arrived from the US yesterday. Noordam has visited: Hawaii, Christmas Island, French Polynesia, Cook Islands, Tonga, and is now circumnavigating Australia.
Here's a gallery of shots taken as Noordam entered Fremantle Port this morning.
'Noordam' is the Dutch for the Northern compass point. She was launched in 2005 and refurbished in 2017; length 286m, beam 32m, maximum speed 43km/h. She can carry 1972 passengers plus a crew of 800. She has 11 decks and is 82,318 gross tons.
This ship boasts museum-quality art, antiques and lavish staterooms; live piano music and a fitness centre with pilates classes. There are hands-on workshops in partnership with America's Test Kitchen.
Cruises on the Noordam tend to cater for older guests – with high tea, formal nights, antique displays and ballroom dancing. Her itineraries allow for overnights in key cities.
She departs on Saturday December 3, at 1pm, on a 14 night cruise to Sydney, stopping at Albany, Port Lincoln, Adelaide, Kangaroo Island, Melbourne, Burnie, Hobart and Sydney.
So, if your bags are already packed and you fancy a cruise – there are lots of empty cabins for this trip: $4469 interior, $6034 Oceanview and $8349 Suite. Prices twin share per person.
By the way, if you can spend a little time in Freo tonight, you can catch the MS Regatta leaving at 8pm and the Queen Elizabeth leaving at 10pm. They'll make quite a show!
* WORDS AND PHOTOGRAPHS by our Shipping Correspondent, Jean Hudson @jeansodyssey. Jean is also a regular feature writer and photographer here on the Shipping News. You may also like to follow up her informative Places I Love stories, as well as other feature stories and Freo Today photographs, right here.
WHILE YOU'RE HERE –
PLEASE HELP US TO GROW FREMANTLE SHIPPING NEWS
FSN is a reader-supported, volunteer-assisted online magazine all about Fremantle. Thanks for helping!
** Don't forget to SUBSCRIBE to receive your free copy of The Weekly Edition of the Shipping News each Friday!