One recent iridescent morn on the lawn of South Beach I was doing geezer stretching exercises — that is, whatever movements that can be achieved holding a latte in one hand and a croissant in the other — when a slender figure slipped in between me and the crystalline body of water with which I was trying to commune.
"You're going to hurt yourself, amigo," said my unwanted instructor who, on closer inspection, was the best-looking man I've ever seen. I turned to check the car park for the chariot that had clearly delivered this dark-haired dazzler from Mount Olympus.
Not one to pass up a challenge, especially from a genetically blessed millennial, I eased into a downward dog. The mishandled manoeuvre resulted in a coffee spill that burned my hand, bruised my ego and provoked comments in a language that Google Translator identified as Brazilian Portuguese (although I didn't need any help from iPhone to decipher "idiota").
"I apologise for laughing at your comically inept yoga pose. Your generation never listens to advice. I told my father he was too old to wear a thong to Mardi Gras. He didn't listen. Laughter still follows around my mother and my brothers and sisters," he said looking out over the ocean while recalling this shameful episode in his family history. "My name is João. Let me buy you another café."
Reminding myself he was from a country that didn't mince words (unlike our Hugh Grant-ish forever-apologising Anglo culture), I sat on a bench under one of the beach's iconic pine trees and drank a coffee with João, who explained that he was from Ipanema, the beachside suburb of Rio de Janeiro that has, according to João, a similar vibe to South Fremantle.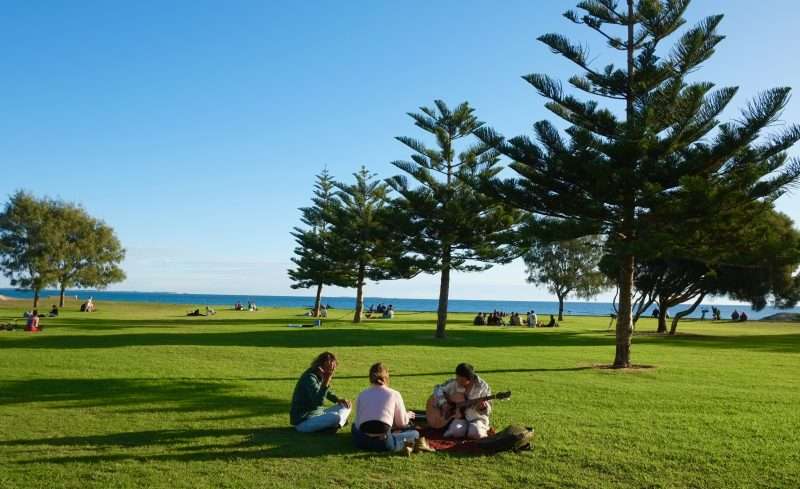 I was just about to make the obvious jokey reference to the 1964 Getz/Gilberto jazzy bosa nova classic when my tall and tanned, young and lovely nuevo amigo reached out and touched my lips with his beautifully manicured fingers. "Don't say it, Marco. I don't want to the think less of you."
We got on like a rainforest on fire — João's joke, not mine! — so I agreed to meet the boy from Ipanema (couldn't resist) later that afternoon at the upstairs bar at Madalena's, which was unsurprisingly his favourite spot on the sunset strip between Fremantle Hospital and South Beach (Madalena's was named by its Brazilian-born co-owner, Danielle Christina del Almeida, after a suburb of Sao Paolo famed for is arty/bohemian culture).
João ordered us Negronis, the cocktail that helped Stanley Tucci and his many fans through the darkest days of the lockdown, and we took a window seat. From our perches we could see the beach-front lawn where each morning João finesses the moves he teaches in his yoga classes which (from all accounts) are seasoned with phrases from the world's most beautiful language (the butt ugly "downward dog" is recast in Portuguese "cão descendente").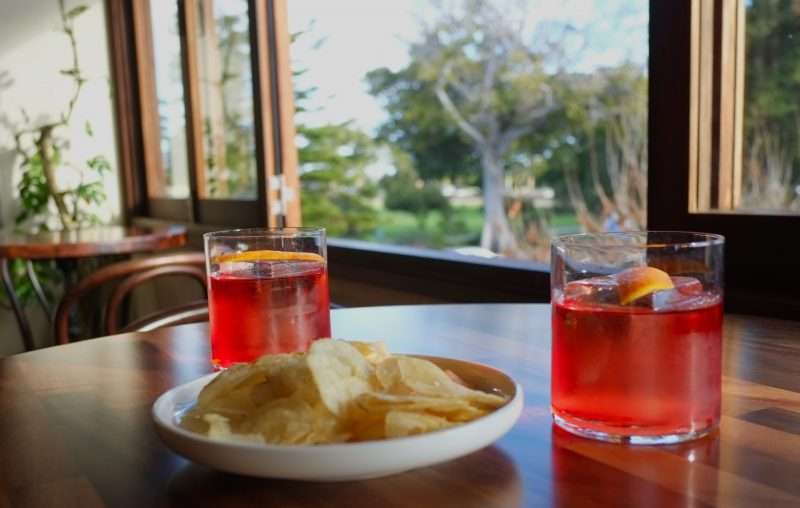 As we drank our cocktails, which blazed enticingly in the afternoon sunshine, I asked João why he swapped idyllic coastal locales. "Brazil is no paradise, my friend," said João. "You must have read about our president, Bolsonaro, who rose to power with the help of the military and rewarded them with powerful positions within his cabinet.
"When I was a journalist I tangled with one of these corrupt generals. If I did not get out of Brazil, Marco, I would not be sitting here drinking these delicious Negronis. They are the very best I've had since arriving in Perth. And I have had many, my friend, many," said João with a twinkle in his eye (scratch that; his twinkle is indelible, like his tattoos).
"You had to leave the country because you wrote articles exposing the corruption of the generals?" I asked. "That is admirable. Journalism is such a degraded profession. It is wonderful to meet someone who put his life on the line because of his principles."
"Don't be foolish, Marco. Would you waste this on principles?" asked João, gesturing toward the face that somehow became even more handsome in the Negroni-reflected sunshine. "I had an affair with one of those bastard general's wives and had to leave the country."
Unfortunately, Fremantle hasn't offered João the safety for which he was hoping. As we were diving into our second round of drinks and grazing from Madalena's mouth-watering bar menu — house sourdough bread, cultured butter, marinated olives, Comté and Manchego cheeses, Wagin duck parfait — trouble walked through the door in the shape of two older women expensively clad in Lululemon yoga outfits.
"Don't look," said João, flicking his hand up to the side of the face he would normally showcase, not shield. It was too late. One of the women marched straight over to our table, picked up my Negroni (why not João's!) and tossed it in his face. Then the other yoga woman — twigging that João was giving private lessons on the side — stormed over and did the same thing with João's Negroni (instant karma!).
"At least their husbands don't have guns," laughed João as he wiped the orange-coloured cocktail off his perfect face. "A classic Negroni has a little gin, some sweet Vermouth and the same amount again of Campari. Each on its own would be boring. A good life is a cocktail. You need a little of everything."
When we were leaving Madalena's I stumbled down the startlingly steep staircase and ended up face down on South Terrace.
"This is not the time or place to practice your downward dog," said João as he reached down to pick me up with the elegance of a goalkeeper scooping up a ball. "Meet me tomorrow at the beach, Marco. I will give you a free lesson. After that you pay."
I turned to my marvelous mentor, smiled dopily and corrected him.
"Cão descendente!"
Madalena's Bar
406 South Terrace, South Fremantle
Friday 3pm to late.
Saturday 1pm to late.
Sunday 1pm to 10pm
There is also Madalena's downstairs Restaurant
Wednesday & Thursday 4pm to late
Friday & Saturday 12 to late
Sunday 12 to 10pm
The kitchen closes from 3-5pm weekends.
* By Mark Naglazas
Read more of Mark Naglazas's stories and reviews, right here!
While you're here –
PLEASE HELP US TO GROW FREMANTLE SHIPPING NEWS
FSN is a reader-supported, volunteer-assisted online magazine all about Fremantle. Thanks for helping!
** Don't forget to SUBSCRIBE to receive your free copy of The Weekly Edition of the Shipping News each Friday