Revivals have never been a big part of the Western Australian theatre scene because few locally created plays have bitten deeply enough to be elevated to classic status, thereby demanding a return season.
That rarest of creatures is currently coming to life in Victoria Hall, where Melbourne-based, Perth-reared playwright Reg Cribb has come home to direct a freshened-up version of his blistering Patrick White Playwright's Award-winning drama The Return for the Fremantle Theatre Company.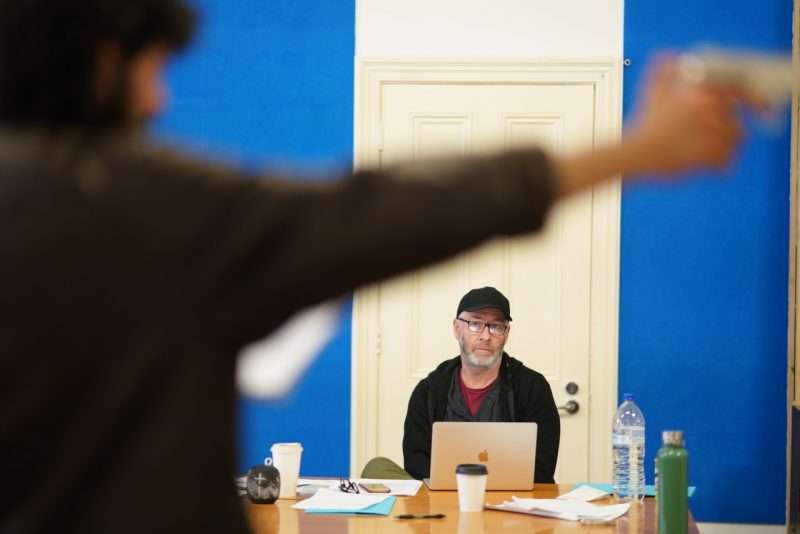 Retitled Last Train to Freo to bounce off the 2006 film adaptation of The Return, Cribb's play is about a pair of ex-cons who menace a group of passengers (a young female lawyer, an older woman and a writer) during a train ride from Midland to Fremantle.
As the train gets closer to its destination the true identities and motivations of all on board emerge and preconceptions and prejudices challenged. It's a short piece — just 80 minutes — but Cribb's confronting, David Mamet-ish script takes hold early and keeps the audience in its grip right through to the explosive closing moments, which reverberate long after it reaches its destination.
Cribb was surprised and pleased when FTC's artistic director Renato Fabretti asked him to direct a revival of the play that allowed him to move on from a semi-successful profession as a musician and an actor to a flourishing career as a playwright and eventually screenwriter, which culminated with the celebrated film-theatre double Last Cab to Darwin (directed by his long-time collaborator Jeremy Sims).
"I was keeping an eye on the FTC and appreciating how the company was bringing theatre back to Fremantle and using the old Deckchair building. So I was excited when Renato came to me with the idea of remounting The Return to coincide with the 20th anniversary of its WA premiere," Cribb tells me during a break in the rehearsal rooms at Victoria Hall.
"What surprised me about going back to the play, which I hadn't read for ages, was how relevant it is, especially in a post-COVID world. The Return is about the haves and have-nots, about the social divide and the rising anger, which is something the pandemic has amplified. In fact, coming home I've noticed greater numbers of homeless people and the outrage they're feeling, which doesn't feel like the Perth I grew up in."
Indeed, one aspect of the play, its examination of male violence, may speak even more vividly to the present moment than it did two decades ago. When the most articulate and more fearsome of the ex-cons, Steve (played by Michael Abercromby in the new production), threatens uni student Lisa (Chloe Hurst of Edward & Isabella fame) all the outrage of recent history lands on the production and will put in the mind of everyone in the audience term "toxic masculinity".
Cribb admits that he wondered if audiences would want to see such confronting scenes of masculine aggression and sexual threat. "Renato said the audience would be challenged by the material, which some will find triggering, but are sophisticated enough to discuss and debate what they've just seen. And isn't that what theatre is for? To be challenged?"
FTC's revival of The Return/Last Train To Freo also presents a major challenge to Cribb himself, who is directing his work for the first time. "What I am discovering is that it is hard work," laughs Cribb.
"Normally I can rock in as the writer, be vaguely interesting for the first hour, field a few questions, go home, have a cup of tea then go on to my own writing projects. Now I am here every day watching everything. But it's great. Every writer needs to do it at least once or twice in their careers," he says.
And if there is any play that a writer should direct it is this one as one of the central characters is a playwright (played by Josh Virgona) and the stand-in for Cribb himself.
After spending much of the 1980s and 90s in Sydney, a period in which he studied at NIDA, Cribb returned to Perth because his brother had died in an accident. He was plunged into darkness and even considered getting out of the entertainment industry.
One night he was on train in which two thugs were terrorising a law student. They were angry at the world that had dealt them such a rotten hand and taking it out on the passengers. This shocking experience fused with Cribb's own dark, depressed state of mind, out of which sprung The Return.
"I wrote an angry play about angry people," remembers Cribb. "I had lost a brother, like the writer in the play, so it came from a very particular moment in time. It is not a play I could write again."
Last Train to Freo marks the beginning of the FTC's next cycle of plays following their splashy start in 2021 with The Other Place (the headline grabber featuring American star Kate Walsh) and Meat and the summertime outdoor offering A Midsummer Night's Dream.
Hot on the heels of Last Train to Freo is Moth, a one-man autobiographical show written and performed by the in-demand Joel Jackson (next seen in Black Swan's The Glass Menagerie), another outdoor Shakespeare season (this time Twelfth Night) and The Effect by hot British playwright Lucy Prebble (she is part of the team behind the TV phenomenon Succession).
It is a wonderfully diverse line-up from a company playing a major role in bringing adult theatre back to Fremantle and helping to shore up the port city's reputation as one of the state's leading arts destinations (if we are going to listed as one of the top 50 tourist destinations we need to have diversions on offer beyond cafes).
The Fremantle Theatre Company's LAST TRAIN TO FREO is on at VICTORIA HALL, 179 High Street, Fremantle from AUGUST 3 TO 20.
* By Mark Naglazas
Read more of Mark Naglazas's reviews and stories right here!
While you're here –
PLEASE HELP US TO GROW FREMANTLE SHIPPING NEWS
FSN is a volunteer-run organisation and we rely on the support of Freo people to keep making local news free. Thanks for helping!
** Don't forget to SUBSCRIBE to receive your free copy of The Weekly Edition of the Shipping News each Friday