Talk about an eye-catching exhibition title!
You just want to see it , don't you?
It opens Thursday this week so be quick.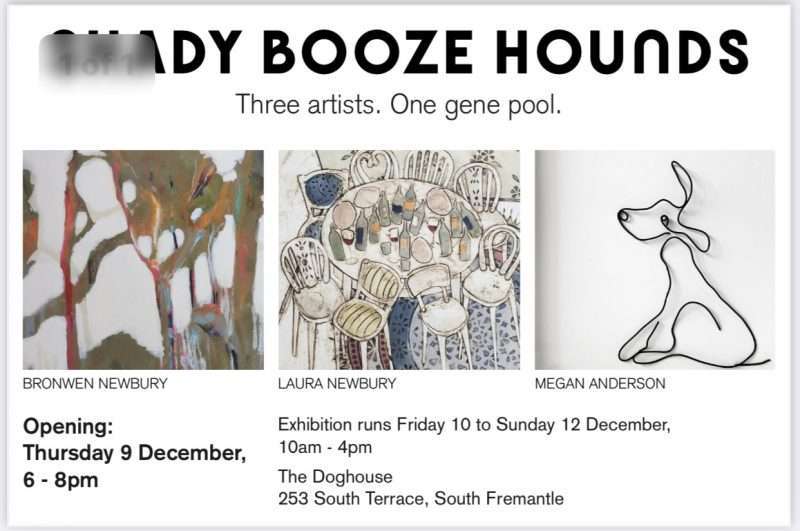 The exhibition shows the works of three artists sharing one gene pool – a mother-daughter-sister-aunt-niece triumvirate making playful work that celebrates the fine things in life.
Why Shady Booze Hounds?
SHADY is for award winning artist Bronwen Newbury. She's not dodgy, she just likes the light (and shade) through trees. Her celebrated landscape paintings (she won this year's Cossack Art Award) take on a slight New Zealand lilt for this exhibition. She has spent the past 6 months across the Tasman, exploring new colour palettes, different skies and the vagaries of pandemic lockdowns while on an art residency. She's ready to come home now, thank you NZ Travel Bubble Police.
BOOZE is for Bronwen's daughter, Laura Newbury. She likes a drink, it's true, but it's really a love of meal times and communal gatherings that inspires her playful artwork. In a previous life she worked the dining rooms of some of the world's fancy eateries, and retains a knack for amassing cheerful piles of bottles, plates and stemware wherever she goes. Along with those chaotic table scenes, her love of floor rugs and house plants is well represented in her hand-coloured collagraphs.
HOUNDS is for Laura's aunty and Bronwen's sister, Megan Anderson. Is she that dog lady? Yes, that's her. Megan paints dogs (and sometimes their people) under the guise of Hangdog Art. She's a regular at the Fremantle dog beach and she can't help it. Lately she's been fashioning pooches out of wire, stitching them onto paper and framing them in box frames because why wouldn't you? They throw great shadows that way. They can also cause smiling.
'We're all celebrating life's great things in our own ways,' said Megan, the bossy one. 'Although our styles are quite different, there's something in our respective approaches to art – a wryness and a tendency towards understatement – that makes it clear we're related.'
There's also a shared philosophy.
'Nature, a great feed, good times and the company of dogs. If there's a formula for how to live well, we reckon that's probably close to it.'
Shady Booze Hounds has a short, sharp run at The Doghouse gallery, 253 South Terrace, South Fremantle. It opens on Thursday 9 December at 6pm, and is open daily from 10am to 4pm until Sunday 12 December.
As well as the affordable artworks on the walls, there'll be unframed prints, Christmas cards and other giftable creations from the artists.
PLEASE HELP US TO GROW FREMANTLE SHIPPING NEWS
FSN is a volunteer-run organisation and we rely on the support of Freo people to keep making local news free. Thanks for helping!
* And don't forget to SUBSCRIBE to receive your free copy of The Weekly Edition of the Shipping News each Friday!