I had spent most of the day in a small garden shed in someone's back garden, carrying out surveillance on a vehicle in the adjacent Tow Truck Yard. Through a small knot hole in the shed wall (which was part of the back fence) we could keep watch on an imported vehicle that had been dropped off at the tow truck yard awaiting transport to NSW.
The vehicle, I think it was a Ford F100, had been searched on arrival and was found to have hash concealed in the wheels. The powers-that-be had decided to let the vehicle run, maintaining 24-hour surveillance, and see if it would lead to someone higher up the food chain. How did I end up here?
I had joined HM Customs in 1973, which was renamed Australian Customs in 1975. Around this same time I was assigned as a Narcotic Aid in the Federal Narcotics Bureau for a three-month posting.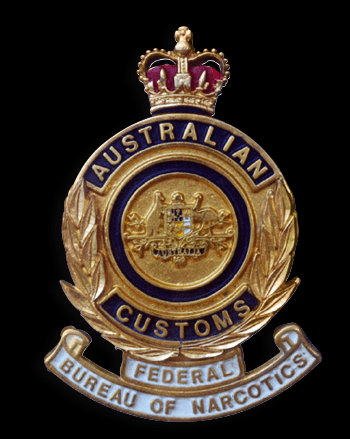 Wow, what an eye opener that was. To say the Federal Bureau of Narcotics was a bit 'gung-ho' and a law unto their own, is putting it mildly. One definition of 'gung-ho' is "overly enthusiastic or energetic" and that perfectly describes the level of work ethic or principle at the time.
One way to describe it would be like being in a James Bond movie, car chases, 180-degree hand brake turns (in a main street of Melbourne), changing your appearance so you wouldn't be spotted whilst tailing someone, surveillance, lots of surveillance …
Overtime wasn't unlimited but it came close. Unfortunately, that created problems. Officers spent a lot of time away from home resulting in many relationship breakups and, later, health issues raised their ugly head because of the irregular sleeping patterns and especially the consumption of junk food.
Luckily, as I was only seconded to the Federal Bureau of Narcotics for three months and was unaffected by the negatives.
To simply say I enjoyed myself would be an understatement.
So, this is how I came to be in the garden shed. As well as watching the vehicle I also had to take photographs of anyone who came close to the vehicle. During the day one of the workers at the yard had gone up to the vehicle and peered inside through a side window. I had taken a few photos of this occurrence. Later that night, much later, about 0200hrs, I was rudely awakened by a phone call at home. On answering the call and talking to one of the NAS, Narcotic Agents, who wanted to know had I photographed a person approaching the vehicle earlier in the day, I answered Yes, I had.
It was known by that NA that I was keen on photography and developed and printed my own B&W photos. He asked, if they dropped the film around, could I develop and print it there and then. So that is what happened, and the NAs were able to return to HQ where they had the person I had seen earlier near the vehicle, in an interrogation room where he was denying he had been anywhere near the vehicle.
I don't know why he denied it, but it was painfully obvious when he saw the photos that he had made a fool of himself. (It turned out later he was completely innocent and was just having a sticky beak). A month or so later after the vehicle had been kept under surveillance all the way to Sydney, several 'higher ups' were taken into custody and later convicted.
Everyone had a nickname, which was also used as our radio callsigns. For obvious reasons my nickname was 'Spider'. On one occasion I was with teamed up with an SNA, a Senior Narcotic Agent, and an NA and we were trying to gain access to a particular flat belonging to one of the 'bad guys'. The flat was situated on the first floor of a block of flats and our task was to try and gain 'intelligence' about the occupant – covertly. Standing around the back of the block of flats, out of sight of most people, the SNA said to me, "Well come on 'Spider' lets see you live up to your nickname", pointing to a downpipe that passed adjacent to the kitchen window of the flat above our heads that we were interested in.
Not needing further encouragement, I scrambled up the downpipe until I was level with the kitchen window. I noticed that the window was open, but the flyscreen was locked from the inside. I realised that if I poked my finger through the flywire, I could flick the catch to open it. This I did, opening the flyscreen and hauling myself through and into the kitchen sink, just like a cat burglar (of which I had had no experience, before or since!).
I quickly scrambled out of the sink, closing the flyscreen, and locking it. Then I made my way to the front of the flat, opened the door to let the other two in. We then commenced a thorough search but all the time making sure we left everything as we found it, except for the finger size hole in the flywire mesh (I wonder what the occupant thought when they saw it). I seem to recall we did find some useful intel, but, all this time later, I don't remember what.
PLEASE HELP US TO GROW FREMANTLE SHIPPING NEWS
FSN is a volunteer-run organisation and we rely on the support of Freo people to keep making local news free. Thanks for helping!
While attached to the Federal Narcotics Bureau I built a large 'map' of Melbourne for use in their Radio Room to keep track of 'operations' as they unfolded. I built the map with the assistance of the Department of Works where my father worked. Firstly, we constructed a framed plywood backboard in 2x sections (so that they would fit in the lift at the Federal Narcotics Bureau HQ's and then bolt them together). Then using 2x (because I needed each side of the page) 'Melway' Street Directories I slowly built a map about 1.8m high by about 2.5m wide. Then we covered the entire map with a roll of self-sticking clear plastic (as used to cover books). Using whiteboard pens it was easy to draw on the suspects locations, surveillance vehicles, etc, and simply remove from the map as required. The map was an instant success as it covered most of the Melbourne Suburbs at the time (Melbourne was much smaller in 1975 than it is now) and was used continually in support of various operations for several years after.
Eventually my three months secondment came to an end, as did all the excitement, bending of rules surveillance, masses of overtime (did I mention the overtime?), etc. Or so I thought …
A few months later, after returning to normal duties (almost boring by comparison) I received an unexpected phone call one afternoon. An NA I had previously worked with (we'll call him 'Percy') asked "What are you doing today?". Wondering why he was asking, I started to explain that later I was going to the Airport (Tullamarine) on night-shift baggage duties. He said, "Actually, you're not. We need you here tomorrow for a special job where your particular skills will be useful." He went on to explain that it had all been arranged with my supervisors and to be at a certain place in the morning, complete with carpenter overalls and a toolbox full of tools.
The next day, arriving at the unusual location, a park in one of the inner suburbs of Melbourne, I rendezvoused with another car containing 'Percy' and another NA. I was thinking this was all a bit clandestine, what is going on? It turned out that apart from the head of the Narcotic Bureau, 'Percy' the second agent and me, no one else new anything about this meeting. Now intrigued and possibly a little concerned I listen to the explanation. Apparently, there was credible suspicion that a Chief Narcotic Agent and his friend (a police officer) were somehow tied up in the importation of illicit drugs. It was believed the police officer, using an assumed name and false passport, was going overseas in the near future to organise the importation of the drugs. Having worked with 'Percy' previously while on secondment, he had suggested to his boss that I had the necessary skills to carry out what they wanted to do.
They knew where the police officer lived, had tracked down the owner/landlord of the building and discovered that one of the floors needed to be sanded and recoated in the suspect's double storey duplex. Which is where I come in – I was to hire a floor sander and together with 'Percy' go to the duplex to sand back the floor and recoat it. At the time I owned a Humber Super Snipe Series V, which was quite a flash car in it's day and certainly not your typical carpenter's vehicle. So, the cover story was to be, if anyone asked, that my Ute was in for a service, and I had borrowed my father's car (coincidently my father did own a Humber at the time). Great, so all we needed now was a floor sander. 'Percy' and I drove to the nearest Tool Hire business and rented a floor sander. We then drove to the suspect's duplex, with everything now going to plan, that is until the front door opened …
We had parked the car in the driveway. 'Percy' had gone to the boot to unload the floor sander. It was a large boot but not big enough for a floor sander, so we had secured the partly closed boot lid with a rope. Meanwhile, I knocked on the front door knowing that the police officer's girlfriend should be home. The door opened and that's where the whole charade nearly came undone. Standing in front of me in the doorway was a gorgeous young girl, a year or two older than me, barefoot with long legs disappearing into a short denim mini-skirt and a sleeveless denim jacket with at least the top four press studs undone and nothing else!
I immediately forgot who I was, why I was there, what day of the week it was, was I coming or going … After what seemed an age, I managed to stammer out that we had come to sand the floor (it was very hard to look her in the eye). So, she let me in and pointed out the floor that was to be sanded. Meanwhile we have unloaded the floor sander and transported it to the room requiring sanding.
The plan was to sand the floor and the instant she went out, shopping or whatever, we were to search the house looking for any fake ID or flight tickets. Now for the tricky bit. I had never used a floor sander, so had no idea what to expect. The room was already empty and ready to go. I plugged the floor sander into a GPO and pulled the lever. The sander kicked violently to the right – first lesson learnt. In normal woodworking it is usual to sand up and down with the grain so as not to leave scratches going across the grain. I tried this with the wooden floorboards, travelling along each board, but not much was happening. So, I thought, perhaps you do need to go across the grain, this I did and was soon removing the accumulated varnish/sealer at a cracking pace. Only problem was I was badly scratching across the grain of the boards – second lesson learned. It then took some considerable time sanding back along each board to get rid of all the scratches, but we ended up with an excellent finish.
About halfway into this process, our gorgeous host left to go shopping. As soon as she had driven away, we commenced searching, 'Percy' downstairs and me upstairs. In one of the bedside drawers I found what I presumed was a false passport and a flight ticket, of which I copied the details (a mobile phone would have been handy back then). 'Percy' also located some evidence downstairs, but I don't remember what. Nearly finished searching, and I heard her car crunching on the drive out the front. Oh shit, quickly putting things back as they had been, I flew down the stairs and just got the sander going again as she opened the front door.
You'd think that would have be the end of the operation, but no, we had to finish the job to keep up appearances. After eventually sanding out all the cross-grain scratches, 'Percy and I gave the floor a coat of sealer. We then had to return the following morning to apply a second coat.
I heard months later that the owner was very pleased with the job we had done. So he should have been, he got it done for nothing! And the Chief Narcotic Agent and his police officer mate, were eventually arrested, prosecuted, and did time behind bars.
Unfortunately, this was not the only corruption in the Narcotics Bureau, due partly to the nature of the job and the somewhat cowboy attitude that had developed. Don't get me wrong, there were more dedicated, honest officers than there were dishonest and corrupt ones.
Sadly, over time the corruption in the Federal Narcotics Bureau and some sections of state police forces increased. Eventually, in November 1979, some 10 years after its inception, the Federal Narcotics Bureau was disbanded. The remaining 'good' officers were amalgamated with the Commonwealth Police and the Australian Federal Police was formed.
* By Bernie Webb
** In case you missed Bernie Webb's earlier articles here they are –
– Foxy Lady II – The Hash Stash
– MV Kota Bali – The Heroin Haul
– Onslow Wharf – Oops!
– Foxy Lady II – The Sequel – 34 Years Later
– Land Patrol – If it could go wrong ..
** Don't forget to SUBSCRIBE to receive your free copy of The Weekly Edition of the Shipping News each Friday!