It has been three decades since we first encountered Penelope Cruz in Jamon Jamon. It is doubtful, however, that anyone who saw the Madrid-born former dancer in her big-screen debut sauntering across the harsh Spanish interior wearing an array of eye-popping peek-a-boo dresses and carrying tortillas and breadsticks will easy forget it.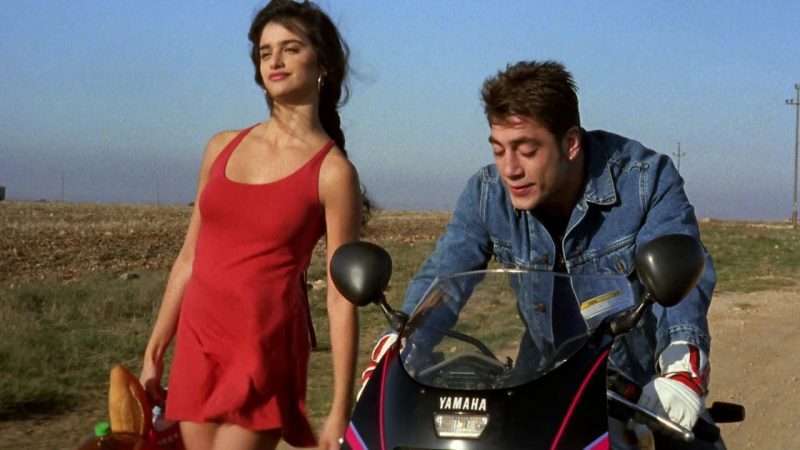 Such was the impact of Cruz's appearance in Bigas Lunas' 1992 typically provocative romantic comic-tragedy that critics at the time compared her to classic Mediterranean screen goddesses such as Sophia Loren, Claudia Cardinale and her own Spanish forebear Angela Molina (of That Obscure Object of Desire fame).
It was an astute call because Cruz went on to become a major star of the Spanish screen, broke into Hollywood with films such as All the Pretty Horses (2000), Vanilla Sky (2001) and Sahara (2005), won an Oscar for her dazzling turn in Woody Allen's 2008 Vicky Cristina Barcelona and forged with Pedro Almodovar arguably the greatest actor/director relationship in contemporary cinema (seven films and counting).
We now know that Cruz is one of the finest contemporary actors – her Oscar nomination for Almodovar's masterful Parallel Mothers should have been rewarded with a second Academy Award – but I was curious to see if that was obvious in Jamon Jamon, which is now screening as part of a Cruz mini-retrospective within the Spanish Film Festival.
Cruz plays the daughter of a bar owner and one-time prostitute who earns a living as a seamstress making men's underwear named Sanson (Samson in English and one of the many references in the film to embattled masculinity) and earns money on the side making the above-mentioned potato omelettes (a staple of Spanish cuisine).
Even though Cruz's Silvia comes from an impoverished family and has a mother whose reputation has been stained she's still managed to mesmerise Jose Luis (Jordi Molla), whose mother Conchita (Italian legend Stefania Sandrelli) owns the underwear factory.
So annoyed by the match is Conchita she hires aspiring bullfighter and ham delivery driver Raul (Javier Bardem) to seduce Silvia. What the mother doesn't count on is the spell cast by Silvia on Raul – and, for that matter, every man who catches sight of her swaying hips.
Anyone with a passing knowledge of Spanish culture (especially the role played by food) will get a kick out Jamon Jamon, which translates as Ham Ham and connected to the expression "jamona", which is used to describe a curvaceous woman.
Silvia's lover Jose Luis sucks on her breasts, wishing one tasted tortilla, the other like jamon; Raul chews garlic to make him more sexually aroused; and the climactic fight involves the two men brandishing legs of ham as if they were cavemen wielding clubs.
In bringing together food and sex Lunas is satirising and dissecting Spanish machismo and it's connection to the primal (in one of the film's funniest scenes Raul and one of his buddies strip down to the nude for a late-night bullfight practice session).
Despite the over-the-topness of the movie – Bigas Lunas can best be summed up as early Almodovar on steroids – what gives Jamon Jamon its heart and soul is the performance of Cruz, who even at this early stage of her career reveals a rare ability to project both psychological fragility and a gratifying resilience that has become her signature (and feature of Mediterranean actresses going back to Anna Magnani).
It's also electrifying to see Cruz working with her future husband Bardem (they reconnected on Vicky Cristina Barcelona and later married). Bardem, like the young Marlon Brando in A Streetcar Named Desire, is breathtaking in his capacity to tap into the animal side of his nature, infusing Raul with so much raw passion it's not hard to understand how her character switches from the rich boy Jose Luis to the bull-like Raul.
It has taken some time but at last Cruz is has moved beyond the exotic beauty to a major force in world cinema, a step into the pantheon showcased by this year's Spanish Film Festival.
We get another chance to see Cruz in her Oscar-nominated role in Almodovar's magisterial Parallel Mothers, in which she plays a woman search for the truth about a relative murdered during the Spanish Civil War and hiding the truth about her baby; and Official Competition, an hilarious movie industry satire that's arguably the funniest take yet on the hot top of toxic masculinity.
Jamon Jamon is on at the Luna on SX in Fremantle on Sunday 15 May at 6.15pm.
The Spanish Film Festival runs at the Lina on SX, Luna Leederville and Palace Raine Square until May 18.
* By Mark Naglazas
** If you missed our podcast with Mark Naglazas here it is again.
PLEASE HELP US TO GROW FREMANTLE SHIPPING NEWS
FSN is a reader-supported, volunteer-assisted online magazine all about Fremantle. Thanks for helping!
** Don't forget to SUBSCRIBE to receive your free copy of The Weekly Edition of the Shipping News each Friday!