The Norwegian company Northern Xplorer says, quite fairly, that while marine transport is the most environmentally friendly form of transportation, it still produces 940 million tonnes of CO2 every year.
And it also observes, again quite fairly, that tourism is damaging the very places that attract tourists, with 'over tourism' a major concern for our heritage cities and fragile natural locations.
Well, Northern Xplorer has the answer – and we must say we like it: a 'revolutionary vessel. A vessel that has the potential to create a new paradigm for the entire maritime industry, right across the world'. A vessel that is 'not only zero emissions, but also one that demonstrates how ships in the future can be entirely energy self-sufficient – creating their own clean fuel, with no impact on the environment whatsoever'.
And here it is – the MM130.
It's in the small, expedition ship class, designed to take around 300 guests and 100 crew, producing a more peaceful ambience, while enabling it to disembark at smaller harbours often overlooked by the tourism industry.
Regulations are increasingly reflecting these priorities, with zero-emission requirements for the Norwegian World Heritage fjords set to take effect in 2026, and limits on the number of calls 
and passengers allowed ashore soon to be enacted in many locations around the world – as we explained in this article.
The MM130 will have zero-emission technologies (patent-pending) and a 
positive footprint: fully electric propulsion, batteries charged at land-based charging stations, and at sea by wind and solar, including hydrogen fuel cell technology.
Northern Xplorer would also love you to become financially involved in this project. It is seeking private funds, but will also apply for public funds in Norway, Sweden and EU.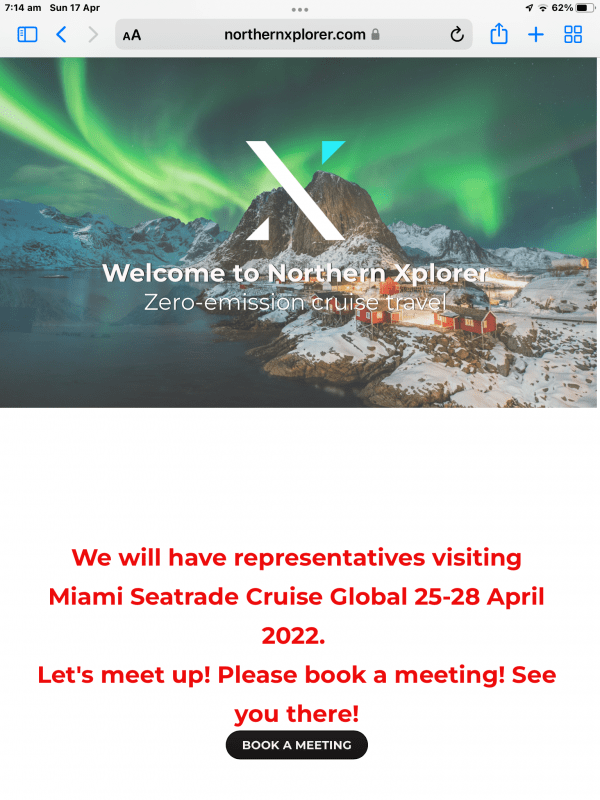 You might like to find your way to Miami, Florida this coming week to meet the movers and shakers and discuss your involvement in the project.
If you do, let us know!
* Words by Michael Barker
PLEASE HELP US TO GROW FREMANTLE SHIPPING NEWS
FSN is a reader-supported, volunteer-assisted online magazine all about Fremantle. Thanks for helping!
** And don't forget to SUBSCRIBE to receive your free copy of The Weekly Edition of the Shipping News each Friday!