Coronavirus is a headache for shipping agents, adding a time-consuming layer to their role. The paperwork, the clearances, the loss of business. No wonder agents don't have time for Shipping News reporters asking basic questions they say are none of our business.
Vessels coming into and out of our harbours, are everyone's business! Sure, not everyone takes an interest, but when they do, as we at the Shipping News do, what harm is there is sharing knowledge and information?
Lloyd's Register and online sources don't fill in the gaps. Shipping agents are the ones who deal directly with owners and managers of vessels and have dress-circle access to details, such as crew and cargo. When they tell you "this information is none of your business", that only piques interest.
Still, if information is not forthcoming, what can be done? Dig a little deeper, snoop a little closer, find out why people in the shipping world are hesitant to disclose information which, on the surface, seems pretty innocuous. So, without their support, one must venture afield to find the information of interest to our readers.
Indian Ocean Shipping Agents told me my recent article about their ship, Kurt Paul, was full of inaccuracies. When I asked them to clarify, they said they were too busy and it was "none of your business." I merely confirmed what I could find online, after three attempts to have my questions answered by the agency were ignored.
By the way, Maritime Traffic updated Kurt Paul's movements yesterday as having moved from her anchorage to a berth in the port of Kupang, Timor, where she arrived 15 days ago from Fremantle.
Australia's geography makes shipping all of our business; indeed, we are, many of us, lovers of boats and oceans and all things related to the sea. Much like plane or train spotters, we maritime movers like to know about those magnificent steel hulks residing off our coast, especially when they enter our inner harbours.
As the vessel UMBRA did recently. The 54 meter off-shore work vessel came into the southern basin of Rous Head Harbour in August, when her captain and crew were quarantined and returned to their countries of origin. Since then she has been purchased by Warburton Group Marine Operations, founded by Multiplex heir, Tim Roberts, and specialising in property, mining, acquaculture, marine, tech, equities and other investments.
UMBRA has been variously referred to on marine sites as a 'houseboat', 'sailing vessel' (she is gearless), a 'pleasure craft' and a 'yacht'. She is a support vessel previously providing services to offshore wind turbines and victims of earthquakes and typhoons. She has also provided charitable scientific research services, but is currently out of register and undergoing a complete refit at her Fremantle berth.
Built by Damen – a 90-year-old family-owned ship builder in the Netherlands – in 2010, UMBRA is 54 metres of steel with a commercially certified helicopter deck and a range of 4,500 nautical miles. She has seven rooms and has a capacity for 19 crew.
UMBRA sailed here under a Jamaican flag and now has coastal status with at least another six months before she'll be ready to meet Lloyd's registration standards, according to a Warburton staff member.
Rous Head Harbour has two basins: the Northern Basin has a natural four meter depth and the Southern Basin is dredged to six meters. This is the same harbour where Rottnest Ferries' North Port terminal is situated.
In the Harbour's northern basin, berthed at Harbour Services Australia's yard, was Barbara, the 88 metre superyacht owned by Russian oligarch, Vladamir Potanin. She was on the market for a tidy $US300,000,000. Or you can lease her through Burgess Yachts for €1,000,000 per week, according to their website.
Barbara's agent, Geoff Cribb of Exclusive Yacht Management in Mosman Park, said she is currently on her way to Italy, via the Suez Canal, for a paint job; she is expected to arrive there next week.
'Barbara came to Fremantle in March for a safe haven from the Maldives,' Geoff explained. 'As there was no port in the Maldives when Covid hit, Barbara and her mostly antipodean crew commented constantly on how grateful they were to be allowed in when the pandemic broke out,' he added. Geoff is a great advocate of providing berths for superyachts as 'they spend a lot of money when they are in town.'
In Barbara's place in the northern basin is Monson Offshore Agency's Vos Shine, a rescue ship sailing under the flag of Portugal on her way to Dampier from Broome, according to Fremantle Port's Voyager system, but who knows.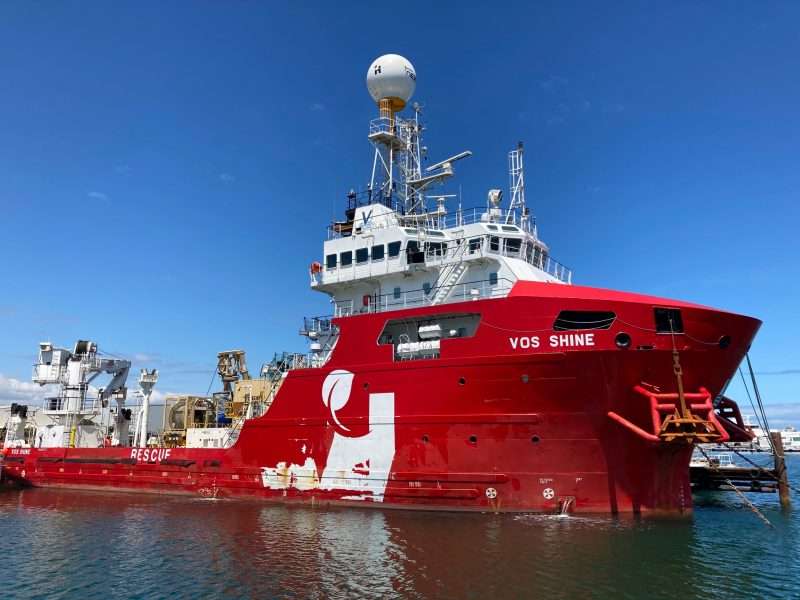 It's been a week on the high seas for maritime movements off our coast. The Vega Dream, an iron ore bulk carrier anchored off Port Hedland is turning into a nightmare as six of her 19 crew tested positive for corona virus, although as of the time of the posting of this story, she is apparently underway again with six covid positive seafarers on board, and one still in hospital quarantine in Port Hedland. The Australian government is considering banning foreign mariners staffing any vessel coming into our harbours, according to a report in The West Australian earlier this week.
We will watch that proposal with interest!