There is different ship at the bottom of our driveway every few days.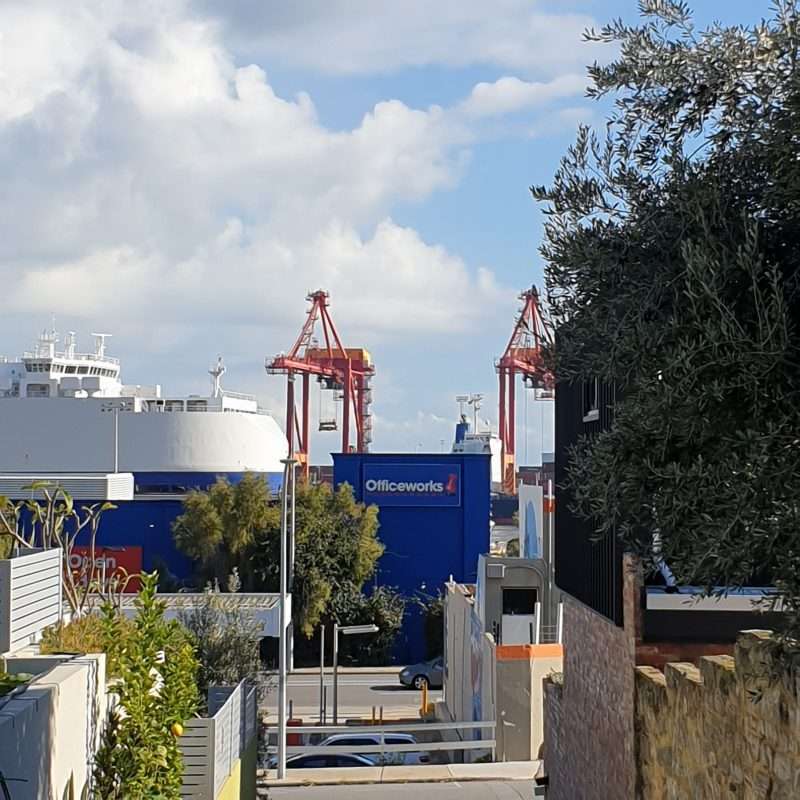 Near the Port and depending on the wind, the nights are often a symphony of humming cranes, muffled bangs and beeps. My favourite is the late-night song of the freight trains coming over the bridge, which starts as a distant brewing, rhythmic rumble and then the odd screech and finally a sustained, resonant ring, a slow crescendo as it snakes around the bend and over the river.
At one end of our neighbourhood is Dwerda Weerinup (place of Dingo Spirits) also known as Cantonment Hill, with its strange lookout tower and scrubby bush.
To the north west is Queen Victoria Street. James Street is in the south and then up the hill on Finnerty Street past the Fremantle Arts Centre and onto Skinner Street.
This area had quarries in it in the early colonial days (Quarry Street runs through the middle). Our house (1895) was a workers' cottage, related to the quarry operations I believe.
The Army Museum, an imposing structure, formerly a barracks and command centre, sits at the foot of Cantonment Hill, and in its grounds rest examples of 20th Century military hardware.
The Hill itself is accessible and gives a great view over the port and through the sparse bushland to the river bridges and up to Cottesloe.
The neighbourhood is a mix of old and new, and a strong sense of history around these streets. There are used car yards, a gym, a printing works, a tattoo place, a garage, a motor scooter dealership and other small businesses along Queen Vic.
The couple of little streets in the middle are typical lovely old Freo streets with (mostly) little 19th and early 20th century limestone houses in various states of renovation, jammed together. Some lovely gardens.
One of the things I like about this neck of the woods is the diversity in use and in era. It hasn't been gentrified or planned to the point of no-return. Stuff still gets down here.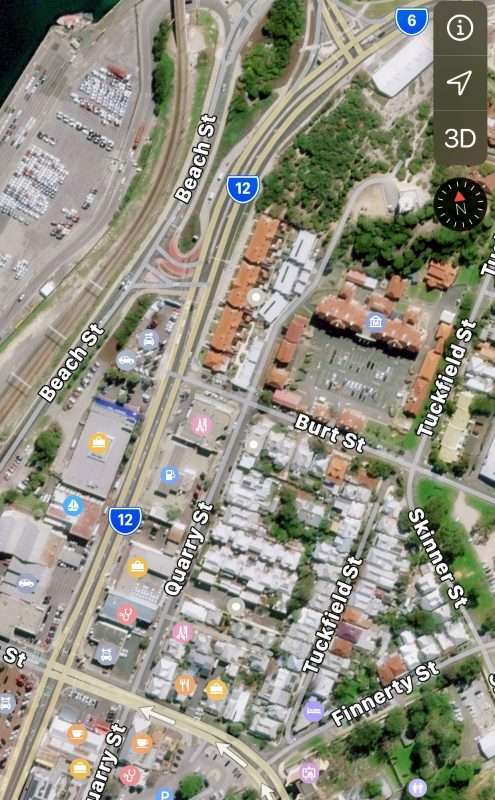 There are olive trees that get picked and olives pickled or turned to oil. There are trees and therefore birdlife, despite a few too many cats.
We get the full effect of the Arts Centre concerts.
Cyclists, flock like parrots at Gesha and all kinds meet there, or at Broody Hen, which now has as a ripper mural.
There is a little bar tucked away on James St.
That little corner struggled for a long time. Now it has strong pulse, maybe the new apartments further down Quarry Street have made the difference.
* This article was written by Bill Lawrie
PLEASE HELP US TO GROW FREMANTLE SHIPPING NEWS
FSN is a reader-supported, volunteer-assisted online magazine all about Fremantle. Thanks for helping!