The hArbour office development was approved by the City of Fremantle on 4 September 2019, and is now getting closer to fruition.
Notices inviting the registration of leasing interests in the completed project have been posted on a number of sites in recent days. And there is a big leasing sign on the development site at the corner of High and Josephson Streets, Fremantle.
Apparently, completion of the project is expected late this year, 2021. But, judging from the fact the development site is still being used as an active Carpark, and no one has yet turned a sod on the site, you'd have to wonder how reliable that estimate is.
But we note that the development approval provides that 'development on this lot must substantially commence within 4 years from the date of the decision letter.' So there's plenty of time to get the project physically underway.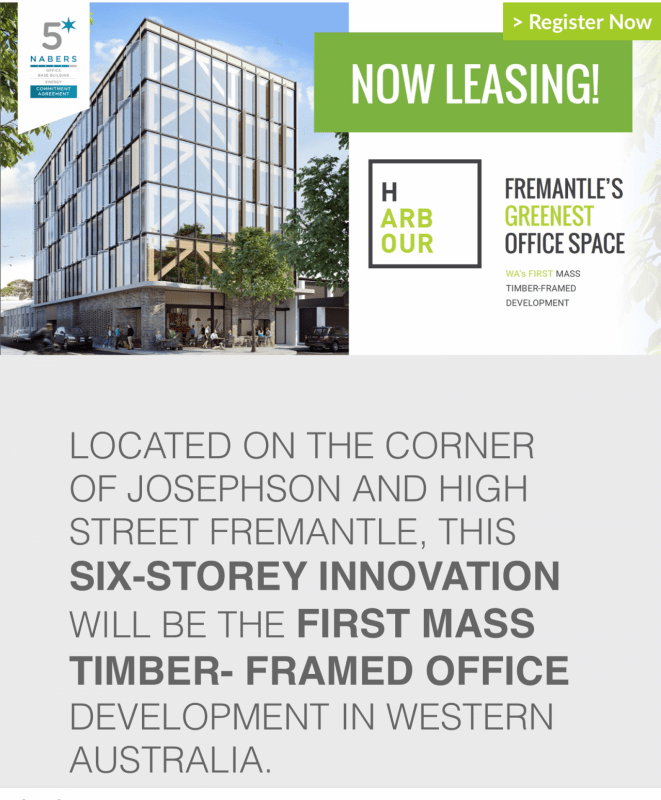 We have to say there is a deal of anticipation around the project. And with good reason.
Developed by Yolk Property Group in partnership with Harris Jenkins Architects, the six-storey development on the corner of Josephson and High Streets comprises 1,895 square metres of office space across 5 levels, a ground floor with a restaurant and a small bar, as well as a basement with a car stacker, pump room and water tank.
A core part of hArbour is the sustainability aspect of the project. In addition to environmental benefits of using timber as a building material, other sustainability features include a solar photovoltaic and battery storage system, a commercial greywater system and renewable construction materials. 
With a dense vertical garden, as well as an operable glass façade to circulate fresh air and deliver natural light to all levels, the proposal also seeks to promote workplace wellbeing.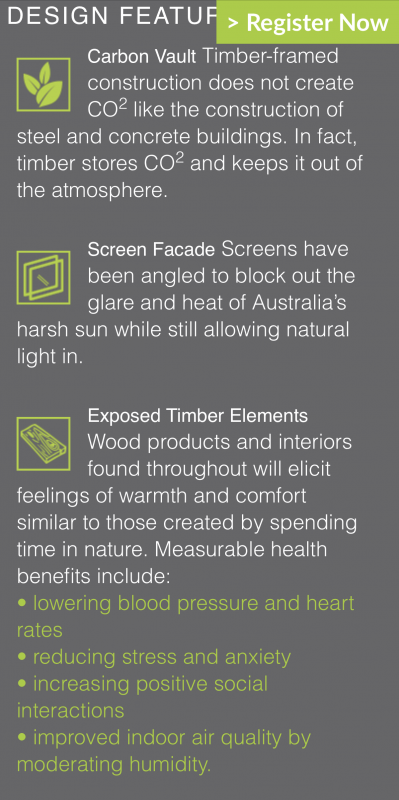 At the time of approval, the view of Council Officers, which was placed before the Councillors on the Planning Committee, was quite supportive of the project, noting that –
It is considered that the proposed development will make a positive contribution to Fremantle, being an innovative sustainable building design and higher value use of the existing open air car park site. The development represents the first significant investment in new major development in the eastern High Street end of the CBD since the review of the development controls in the CBD under Scheme Amendment No. 49.
The proposed mass timber construction method, which is understood to be the first of its kind for an office development in Western Australia, has the potential to showcase a high standard of sustainable building design in Fremantle.
Relevant aspects of the proposal which vary the statutory planning requirements including building height are considered to appropriately address the relevant discretionary criteria of Council policy and Local Planning Scheme No. 4.
Accordingly the proposal is recommended for approval, subject to conditions.
From a planning and heritage viewpoint the development site at the corner of High and Josephson Streets had a heritage/archaeological status, but as a vacant piece of land used as a carpark, nothing of particular value had been identified.
The main interest is probably in the name Josephson.
According to a record of Fremantle street names prepared by Miss K Caldwell for the WA Historical Society in 1931 – and included as appendix 9 to John K Ewers, The Western Gateway: A History of Fremantle (1971) –
Josephson, of McCleery & Josephson, who was said to be a Jew of high birth exiled from Russia for political reasons, built a row of three-storeyed houses in this street. In the very early days he kept a shop where the National Hotel now stands, but latterly his place of business was in Cliff Street.
Miss Caldwell further records of McCleery –
The firm of McCleery & Josephson was in existence in the nineties as general merchants in premises which are still standing next door to the old New South Wales building in Cliff Street. John McCleery, who was the son of a Belfast surgeon and died in 1911, owned land near the street named after him in Beaconsfield.
In a paper recalling early Jewish immigrants to Fremantle, which you can find on Fremantle Stuff, the late Eric Silbert, whose father 'Barney' Silbert established Barney Silbert's shoe store in the centre of Fremantle, recalled this of Josephson –
The next person is Abraham Moise Josephson, and of course we have a Josephson Street which comes off High Street, beyond Market and just before Parry He was a well known business man and a keen Freemason, which was very important in those days. He made bed ends. The story is that there was a ship which came into Fremantle with a cargo of material used for making mattresses. The cargo had caught alight and someone suggested to Josephson it would be a smart idea if he bought it as it was going for a song. He was making beds, why not the jute to make mattresses? And I believe that was the start of Joyce Bros, the well-known West Australian bedding manufacturers. So Mr Josephson was another early personality.
By the way, if you're unsure where Barney Silbert's was, study this great old, sepia photograph. The name can still be found emblazoned in the terrazzo entrance area to the shop that now operates in that space.
So, there you have it.
A great history and a wonderful project waiting to happen.
Fremantle continues to evolve, albeit slowly!