People are flocking to Collie!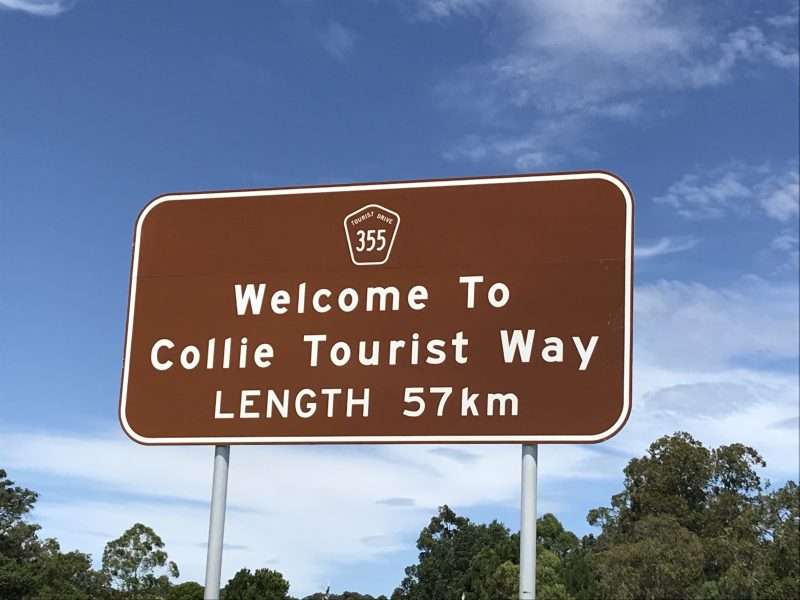 Collie's Mural Trail is strengthening Collie's pull as a tourist destination. The McGowan Government provided $1.5 Million to fund the Wellington Dam Mural and Collie's Mural Trail.
Artworks range from Guido van Helten's mega-mural at Wellington Dam, exploring the theme of memory and identity to intricate stories of Noongar Language and Culture.
I drove the 57km Collie Tourist Way along route 355.
My first stop was at Wellington Dam, deep in Wellington National Park. The dam provides a 6,500 square-metre canvas; it's 34 metres high and 367 metres wide.
Wellington Dam was constructed in 1932, and is the second largest dam in Western Australia. Due to high salinity levels, it no longer provides potable water.
Mega murals are not new to WA; there are several painted silos and buildings around the Wheatbelt and the South West. Australian born visual artist and photographer, Guido van Helton was selected through a commissioning process to create this artwork. He is famous worldwide for his photorealistic large-scale murals. They can be found in Portugal, Canada, USA, Poland, Italy and Iran.
Painting the dam is a monumental task, people abseiled the dam to clean and prepare the walls. Painting the dam is an enormous challenge. The wall is accessed by a mechanical swing–stage that can be raised and lowered from the top of the dam. It is similar to what is used on the outside of sky-scrapers.
This mural is reputed to become the largest mural in the world painted by one artist. Before the project commenced, Guido met local Collie people, asked them about their lives and collected photos.
The paint is a mineral based paint specially made for concrete. Guido mixes all the colours by hand. The mural is almost complete – it really is amazing. I look forward to returning to see it completely finished.
Next stop is the mining town of Collie, 29km from Wellington Dam. Last November 15, mural teams painted over 20 murals sites around the town of Collie. The Collie Mural Trail tells stories about the Collie River Valley's living heritage. There are murals everywhere, on shop fronts, on blank walls, in playgrounds and on the pavement at the Tourist Office.
Art in public places allows people to engage with creativity in a way they may not have done previously. Each of the Collie murals represents aspects of Collie's history and community.
Wellington Dam Mural certainly shines as the centerpiece for the Collie Mural Trail. Maps of the trail are available at the Collie Tourist office or can be downloaded here.
If you are looking for a new weekend getaway – don't forget Collie!