Fremantle based SeaStock Pty Ltd has become Western Australia's first licensee granted permission to commercially sell a native seaweed-based livestock feed supplement that drastically reduces methane.
Awarding of the licence from global patent-holder FutureFeed gives the company market access to sell Asparagopsis, a naturally occurring red seaweed, for processing into a supplement which reduces methane from ruminant livestock by more than 90 per cent.
SeaStock Managing Director and co-founder Tom Puddy says the company's research and commercialisation ambitions were strengthened by the licence agreement as interest in Asparagopsis grows globally.
"This is a huge milestone for SeaStock and WA, which is in the box seat to establish itself as a leading player in the burgeoning native seaweed industry," Mr Puddy says.
There are currently only five FutureFeed licensees in Australia/New Zealand and only nine globally.
SeaStock currently has a multi-year collaboration agreement with the Marine Research team at Flinders University in Adelaide, South Australia, to generate IP related to the extraction of seaweed-based compounds and to ensure a commercially optimized outcome is achieved.
The company's cultivation method has the potential to be replicated globally and generate the natural bromoform feed supplement that can be used across the diary and beef industries globally.
SeaStock has also filed for a patent for a novel method to cultivate and replicate the reproductive lifecycle stages of Asparagopsis taxiformis seaweed.
The company completed its first commercial harvest at the Abrolhos Islands off Geraldton in November 2022, and established a corporate headquarters and pilot plant facility in Fremantle's Fishing Boat Harbour in early 2023.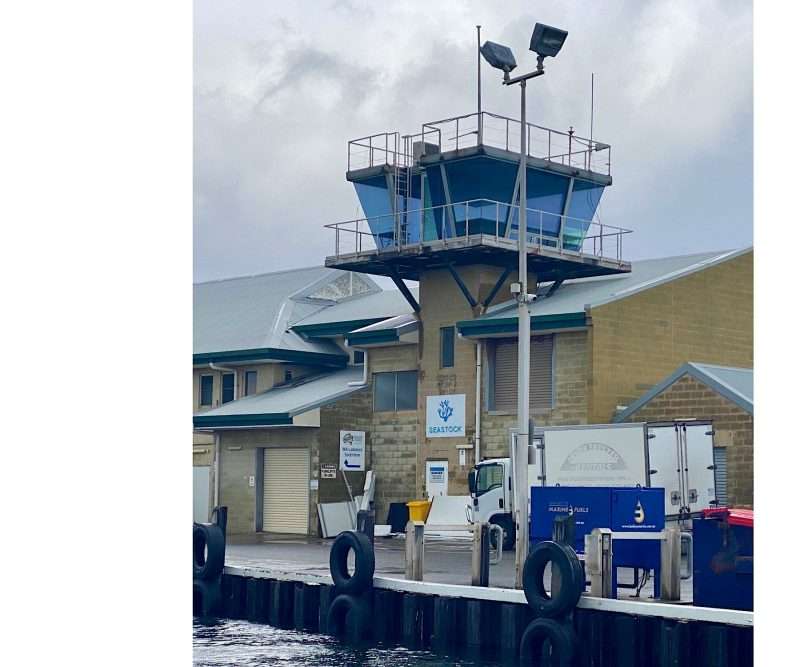 SeaStock is currently engaged in conducting feasibility studies for a fully operational commercial plant in regional Western Australia in 2024.
On top of all that, on 24 May 2023, SeaStock was selected to participate in the MassChallenge Switzerland 2023 accelerator program.
MassChallenge Switzerland partners Buhler Group, Givaudan, Nestle, DSM, Louis Dreyfus Company and Sudzucker promote the challenge with the aim of identifying startups or scaleups with proven solutions or technology in the areas of sustainable food and feeding solutions, sustainable supply chain and manufacturing, sustainable packaging and Agri Tech.
SeaStock was one of over 1200 other startups from across the globe to apply for the accelerator program located in Lausanne, Switzerland and the only Australian company to be selected as a finalist in this year's program.
Tom Puddy said it was a huge honour for the company to be recognised on a global scale for its innovative seaweed production method and to have the opportunity to work with the programs' industry partners.
"It is a fantastic opportunity for us to reach a global audience and to share our business journey with global industry players and to do so at a key stage of our journey as a start-up.
"We are part of an emerging industry that is focused on methane reduction across the global agriculture sector and in identifying and patenting methods of extracting high value compounds from seaweed and algae that are sustainable and that have application across a range of industries.
"The interest in our industry is growing exponentially year on year and we are at the forefront in terms of the science behind cultivating and extracting high value compounds from seaweed and algae and commericalising the supply of those products to end users globally."
Since 2016, MassChallenge Switzerland has been a leader in helping startups across Europe and beyond grow their businesses. To date, 610 MassChallenge Switzerland alumni have raised more than CHF 985M (AUD $1.6B) in funding and created value for both economies and societies around the world!
SeaStock – a Freo company well worth watching.
* By Michael Barker, Editor, Fremantle Shipping News
WHILE YOU'RE HERE –
PLEASE HELP US TO GROW FREMANTLE SHIPPING NEWS
FSN is a reader-supported, volunteer-assisted online magazine all about Fremantle. Thanks for helping!
** Don't forget to SUBSCRIBE to receive your free copy of The Weekly Edition of the Shipping News each Friday!