Forget botox, tiles are the proven youth preserving product of our time. Especially lashings of English, Italian and Japanese ones, lathered generously on outer and inner surfaces. And for that ruthless stealer of youth, ultraviolet rays from the sun, tinted SunX glass and a liberal application of "baffles" – vertically and horizontally, will hold your beauty another forty years or so, if you're a building … specifically, the Fremantle Port Authority building.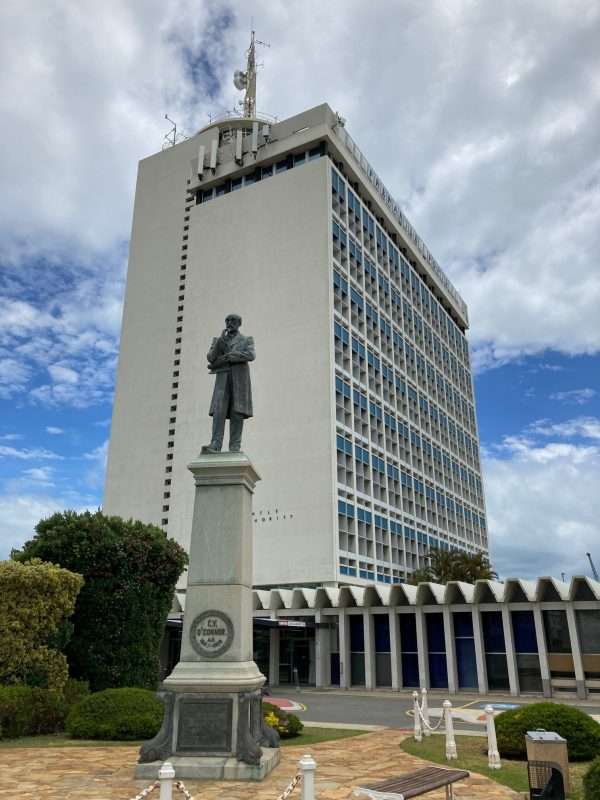 Millions of ceramic tiles were imported by Harris Scarfe Sandovers Ltd at a cost of £20,000, in the early 1960s for the building, which cost a total of £650,000.
Architects Hobbs, Winning and Leighton knew their corrosive materials and how to fight them.
Dust, fumes and other impurities from the port, as well as salt, sun, wind and rain, dictated their decision to clad the entire outer surface of the FPA structure in millions of small, white tiles – 7000 square yards – nearly one and a half acres, plastered on her from top to toe. The result is a permanent sparkling affect and lower maintenance … yes please!
You can see how clean and white she still is. Ageless, and many still celebrate her timeless post-war international design.
The golden-brown Italian tiles on the walls of the building's opulent foyer were, according to a Port Walk tour guide, individually hand laid. They complement the highly polished parquetry floor of local wandoo and jarrah inlaid with brass; the striking block and sawn Italian green and white marble cut to size on the entrance floor; and the burnished glow honeycomb "baffles" cast upon the interior from exterior windows. The blown glass spheres on the entrance doors are drool-worthy – all sophisticated considerations which resonate function with cutting edge style, and continue to inspire.
Opened on 5 March 1964, by Premier, the Honourable David Brand MLA, this visual monument was considered a true representation of the period, reflecting modernisation, technological advancement, large scale migration and a mineral boom. She was Australia's principal cargo port at the time – a gateway to Australia – and the pressure to adequately express this must have been great.
The building housed many firsts including technology that was ahead of its time. The ceiling in the foyer is made of acoustic tiles and vermiculite plaster; the roof over the ground floor is folded pre-stressed concrete in two spans, each 66 feet – the first of its type in Australia; and an Automatic Identification System to track and monitor ships. The Authority also utilises an innovative keel clearance system, Dynamic Underwater Keel Clearance, designed by Australian maritime engineers, OMC International, which ensures safe transit of ships in depth-restricted channels.
The entire steel-framed tower is carried on 120 "Franki" piles, each with a loading capacity of 60-70 tonnes, driven to an average depth of 30 feet below ground level. The A shed development currently underway is also having underwater surface drilling works undertaken to secure her footings.
Some argue the white rectangular monolith decimated the City's historical landscape, with CY O'Connor's offices in the Harbour Trust Building, below, being moved to accommodate her, and later demolished in 1963. The engineer's statue remains in situ, however.
The "Dalgety" building can be seen in the background here, and still exists. It is now named for its current owners, Mediterranean Shipping Company – the world's second largest container company – though there have been moves to restore its original name. Previously known as Wilhelmsen House (the shipping company used the building for their offices for 23 years); and earlier as the Elders building; it was used by the Australian Navy during WWII.
This historic building is on the corner of Phillimore and Cliff Streets, Fremantle, and was designed by JJ Talbott Hobbs, father of architect, Athol Hobbs, who designed the FPA building with William Leighton (who also designed the Windsor, Cygnet and Piccadilly Theatres – as well as that arcade), and Alex Winning. A recent "addition" to this building looks like Darth Vader's brother, and it is curious how this extreme modernism intended to preserve the integrity of the original building.
After grain silos were installed in North Fremantle, the previous signal station on Cantonment Hill suffered an arc of visual and radar obstruction, which begs inquiry into town planning at the time, for she was only built in 1956, less than ten years before the current building commenced operation.
Still the tallest building in Fremantle – the top of the signaling mast is 200 feet above sea level, the FPA building's elevated position on the Arthur Head promontory, allows staff in the top floor Signal Station, 360-degree views of the inner and outer harbour.

The Authority kindly allowed me access into their inner sanctum recently – the brains of the port – and the view is spectacular. Also, a glimpse through one of only two windows on the building's western side, where the Harbour Master and his assistant reside.
Since settlement, ships have been our lifeblood after European explorers navigated our coast hundreds of years ago. Their vital connection remains – a sad farewell to the replica of one of these earliest vessels, the Dutch sailing ship, Duyfken, which explored our shores in 1606 – and is currently on her way to Newcastle, New South Wales, to commence her voyage into Sydney Harbour then, finally, to the Australian National Maritime Museum by Christmas. Truly and end of a very long era.
Was it ever going to be possible to build a monument that would adequately acknowledge and honour the importance of ships to Western Australia?
Like her or not, the Fremantle Port Authority building is that monument. Some suggest she is a fitting tribute because of her parts rather than the final sum of them.
What will the future hold for this sparkling, white, ageless, timeless, architecturally celebrated landmark, when the port eventually moves and developers get their hands on the land for commercial and residential use? Will she be converted into apartments? Remain a commercial interest? Or be demolished?
Love her or hate her – and so many love her so – there is more value in preservation. How will she look in another one hundred years amongst a possibly vastly changed surrounding? That's one for the great-great grandchildren.