We thick-skinned Freo folk are well-used to out-of-towners taking pot-shots at our beloved Port City.(Don't you just love hyphenated words!)
It's not, of course, a recent phenomenon, as this account of a Victorian's visit to Freo in April 1873, discloses.
Mind you, when you read what our friend from t'otherside wrote 147 years ago, it may not be so easy to write him off simply as 'another bloody Victorian'!
(By the way, we assume it's a 'him' and not a 'her' purely on the basis that surely a woman way back then wouldn't have entered, apparently alone, a Freo hotel?)
It's a great read!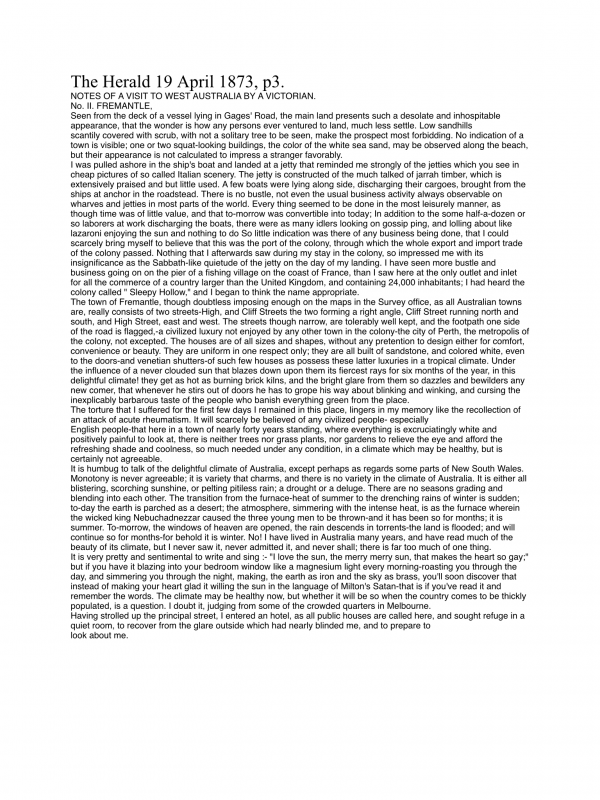 Many thanks to Ron Forsyth, a constant-historian, for passing his Trove digging find on to us.
Ron advises that the full article can be viewed on Trove:
The Herald (Fremantle, WA : 1867 – 1886), Saturday 19 April 1873, page 3.
Ron, and his brother Ian, you may be interested to know, recently wrote and published a wonderful Fremantle story about their great-grandfather, Captain George Forsyth, the very first Harbour Master for the State/Colony.
We covered the launch of the biography at the time. Here's our review and podcast interview with the authors.