I love wandering alone by the Swan River, with enough time to be truly present in the space and without an agenda. It's the perfect place for spending time in nature and witnessing the benefits of the outdoors. One of my favourite river walks is from Freo to Bicton.
 
I usually park on Tuckfield Street, Fremantle, right near the Freo-East Freo border near the playground, and take a few pictures of the Rainbow Sea Containers next to Canning Highway. At 9 metres high and 19 metres long, Marcus Canning's artwork is big and colourful – a favourite photo stop for tourists and locals alike.

 
I head down Andrew's Road (another place to park) and turn right onto Riverside Drive and into East Freo proper. Just beyond the Left Bank Pub are the Bicentennial Falls; these man-made falls descend down a limestone cliff from a series of small lakes in Merv Cowan Park.
 
There is a sign for the Niergarup Track that takes you back up the cliff. The Niergarup is a tradition Whadjuk trail linking Fremantle to Point Walter. Niergarup means 'The meeting place of the pelicans'.
 
I cross the road to the riverside path and can't believe my luck. Two dolphins are chasing fish in the shallows near the river wall. Further on shags perch on the balcony of the Dome café. This stretch of pavement is fringed with palm trees, grass and exercise equipment.
Next is the Marine Education Boatshed, there are usually swans and herons around here. During Covid lockdown, a huge group of pelicans made this jetty their home.  
A little further on, I usually leave the path, let my dog off his lead and walk along the beach that's always full of flotsam and jetsam. There is a little grove of casuarina and paperback trees. Locals keep their upturned dinghies here.  
In front of Zephers Café are palm trees and a sandy beach with shallow water. It's a favourite spot for families with young children. Limestone groynes have recently been installed to cut down on boat traffic erosion.  
Nearby John Tonkin Reserve has lots of shade from mature trees, a wonderful playground with BBQ's, picnic tables, a gazebo and park benches. I love the larger-than-life lady and her dog sculpture.
Information boards explain the indigenous history of this section of the Swan River. It is an important place for Whadjuk Noongars, holding many stories and being a place of spiritual significance.
 
East Fremantle has a diverse history. Orchards of exotic fruit such as guavas, plantains and pomegranates used to grow along here. There were boat yards and a brewery.
 
At the end of the beach, I rejoin the path and walk by the marina section with the Swan Yacht Club, the Rowing Dragon Club, and Aquarama Marina where hundreds of boats are stacked in storage racks.
This is a working boatyard, with a slipway and fuel jetty. Stay between the yellow lines for safety when passing through the boat yards and keep an eye out for boats being launched and people pushing trolleys of equipment.
Beyond the boat yards the path passes another park and then leaves the river and runs along Riverside Road and up a hill. This takes you past EJ Chapman Reserve and the Tricolore Soccer Club.  
At this point you can turn right and loop back along Preston Point Road and part of the Niergarup Track back to the start. I like to head further along to the Bicton Baths and walk around the wooden jetties before heading back along the river.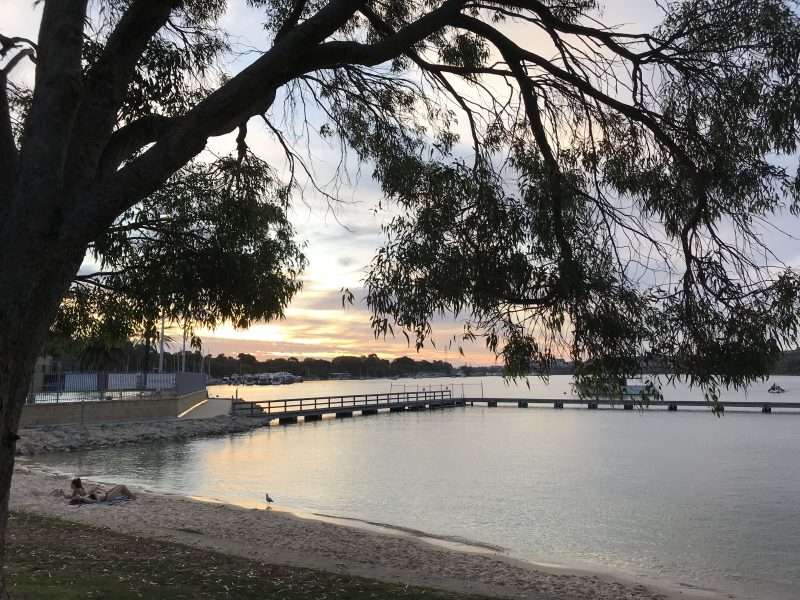 The sun begins to set and two black swans glide by as the river turns golden. I'm reminded of the 70s song Yellow River.
 
'Yellow River, Yellow River is in my mind and in my eyes
Yellow River, Yellow River is in my blood, it's the place that I love'.
(Song by British band Christie)