So, where are the Super Six and the other cruise ships that gave the WA Premier, 'Admiral' McGowan, such nightmares in the weeks gone by?
(This is becoming a bit like asking, 'Where are Annette Funicello and all the other Mouseketeers right now?' By the way, Darlene was my fav!)
Radiance of the Seas. Winner of the (Admiral) McGowan Medal for Best Cruise Ship In Sea. In our last Shipping News report, she was steaming for Bali. As of 17 April, she was heading for the Straits of Malacca. Here's her latest reported position. Not sure exactly where she is just now.
Ovation of the Seas. Sister ship to Radiance, she was trailing her towards Bali on our last Shipping News report. On 26 April, she was just off Singapore. Here she is.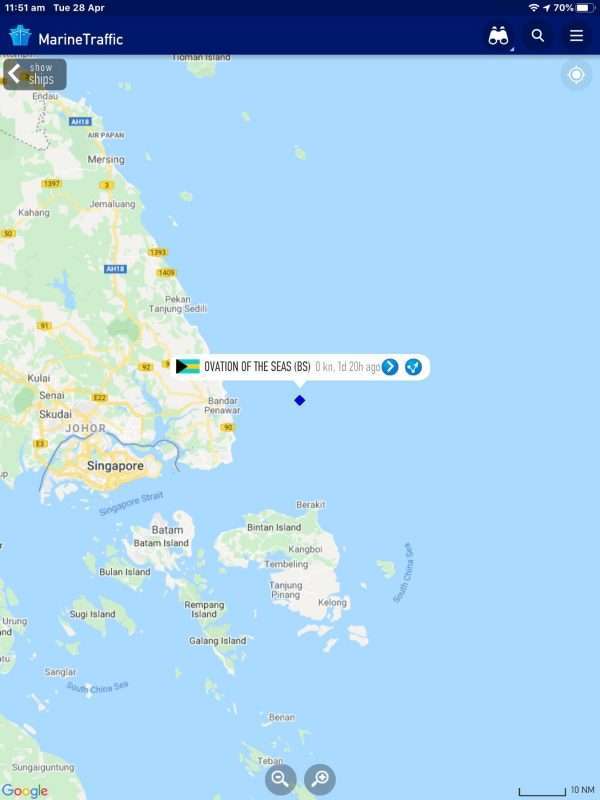 Voyager of the Seas. Sister ship to Radiance and Ovation, on our last report she chasing the other two towards Bali. Well, as of 28 April, it seems, she's anchored off Manila. See for yourself.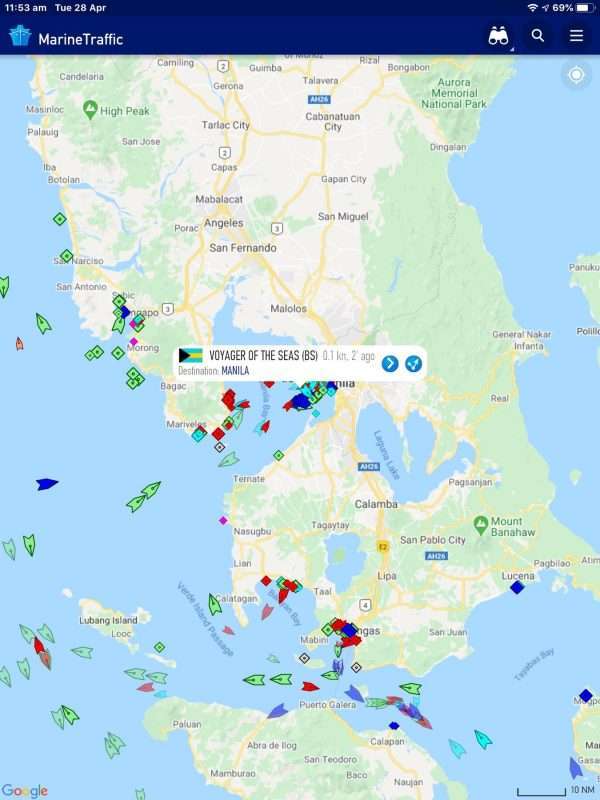 Celebrity Solstice. At our last report, she was trailing the first three and headed for Singapore. A couple days ago she was north of Bali, due to arrive in Singers on 28 April. See here.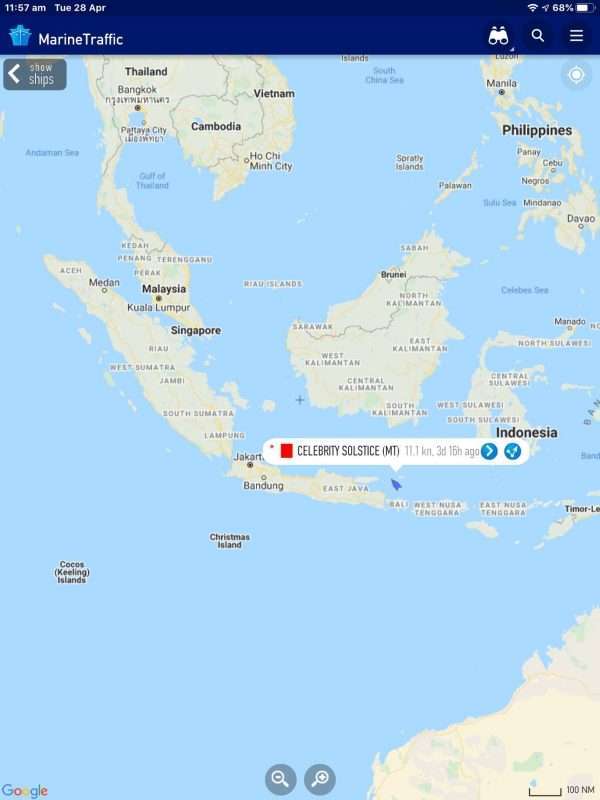 Golden Princess. In our last report we suggested she was rather lagging behind the others. Well slow and steady often wins the race. She's now in Port Klang, Malaysia, as this shot shows, due in Manila on 2 May. Plainly dragging the anchor again.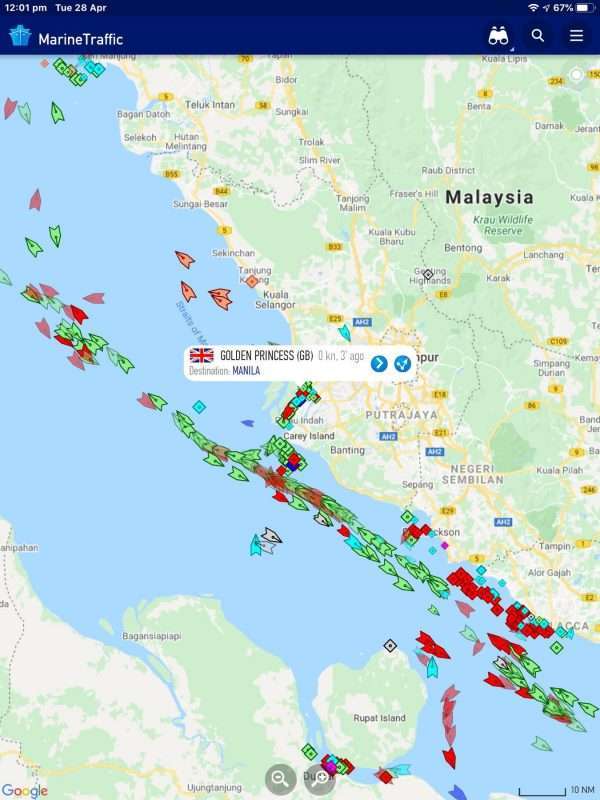 Pacific Aria. She has just arrived, on 28 April, along with Voyager of the Seas, off Manila. Here she is.
And what of the other 'Nightmares'?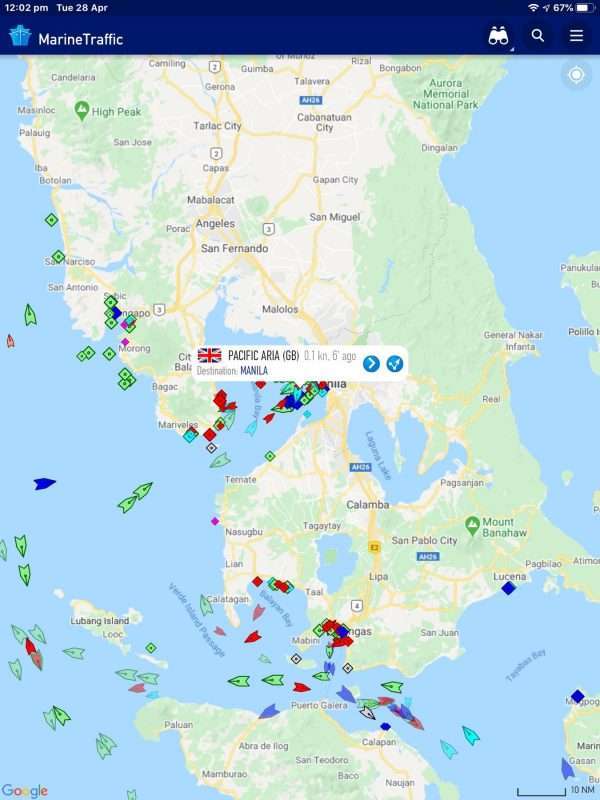 MSC Magnifica. At last report, she was in the Red Sea heading for the Suez Canal. She's now through the ditch and berthed in Marseilles, France. Well done! Have a squiz here.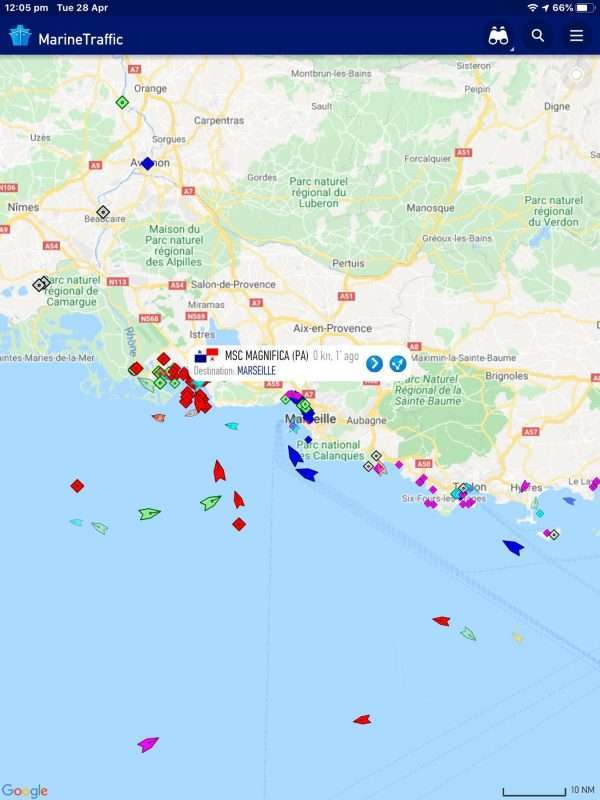 The World. Not sure why, but we have a soft spot for The World. Pretentious. But out there! She's currently in the sedate Laccadive Sea (no, we've never heard of it either) headed for the Suez. (Good alliteration, hey?) Not sure where to then. We will keep watching. Surprised she didn't just go to the Maldives, drop anchor and pretend she was a part thereof. Here she is now.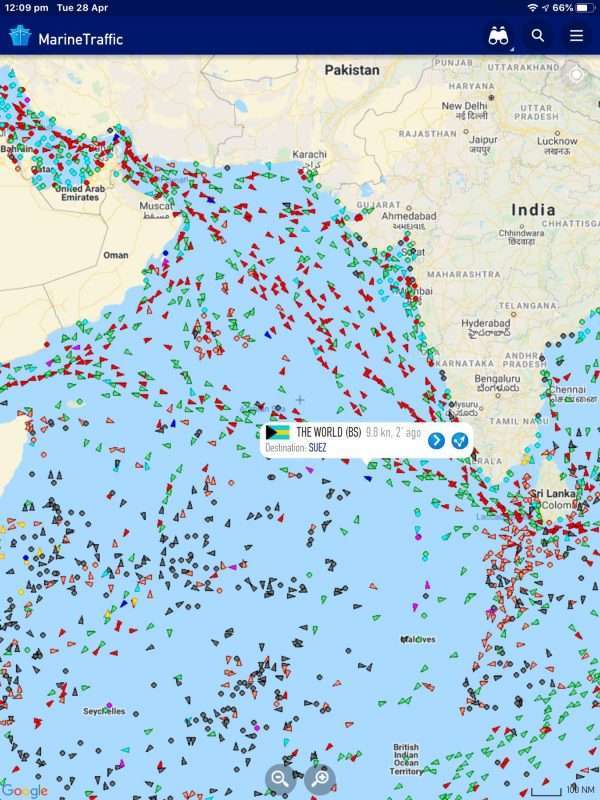 Seabourn Encore. At our last report she had left Colombo and was headed for the Suez Canal, behind Magnifica. Well, she too is well onwards. She left Piraeus, Port to Athens, a couple days ago for nearby Agios Giorgios, where she now seems to be. Have a look.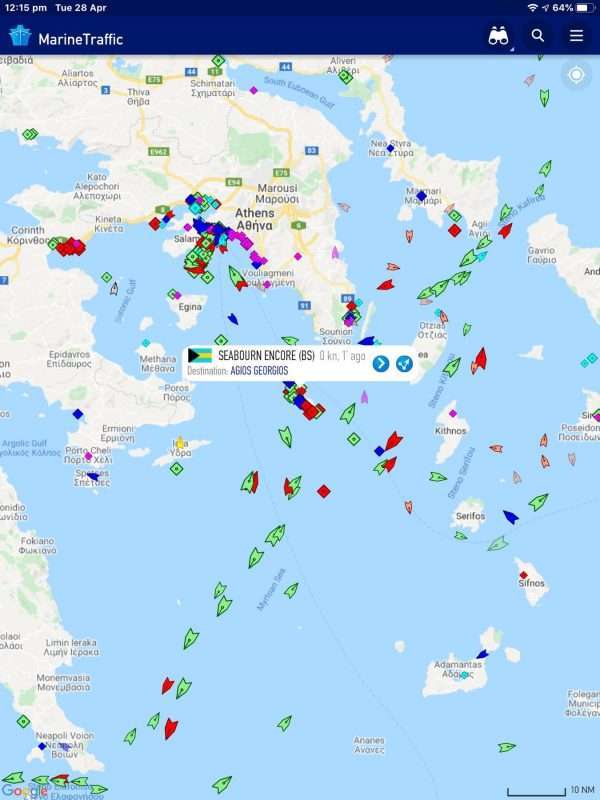 Silver Whisper. At last report, she was about to leave Port Elizabeth, South Africa with next stop Capetown. As of 28 April she was off West Africa, with Tenerife in mind for 2 May.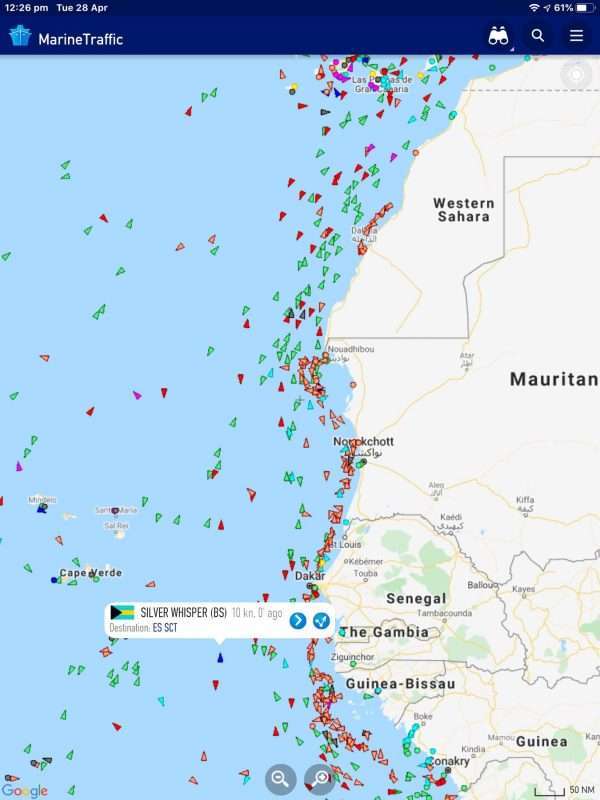 Vasco da Gama. Having dropped Aussies and Kiwis at Freo a couple weeks back, she is now on her way to Tilbury, the port to London, on the Thames, having left Tenerife behind her, as this shot shows.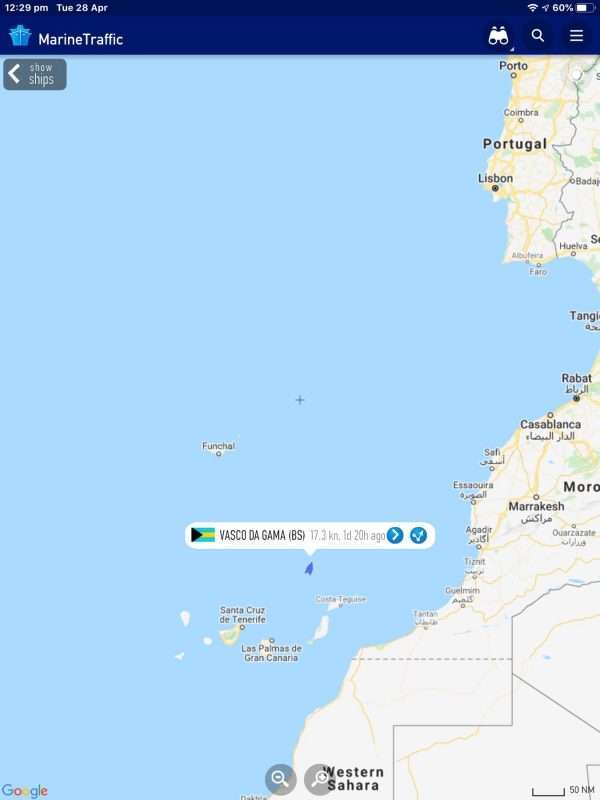 QM2. Now docked at Southampton, awaiting a right royal scrubbing no doubt. Here she is.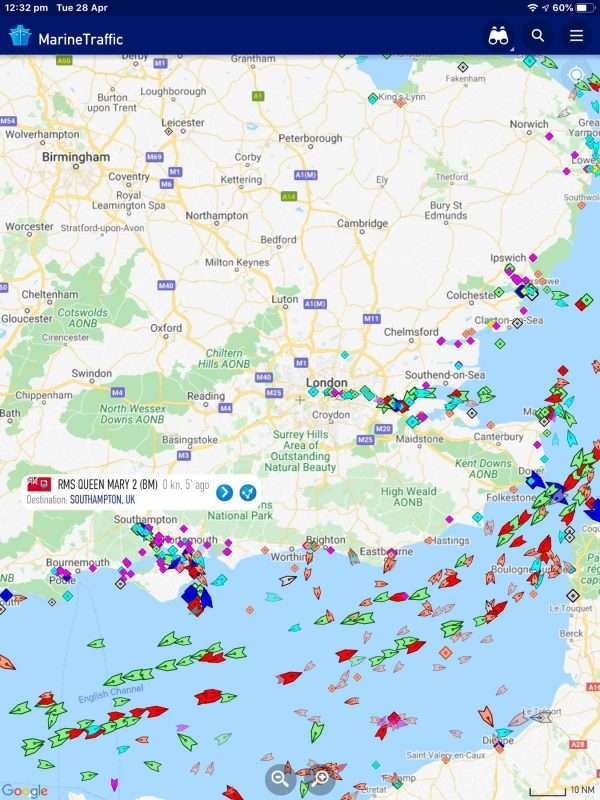 Artania. Of course, no report would be complete without a report on the Artania. Apparently due in Manila on 30 April. She's now just off Jakarta in the Java Sea. May need to get a move on. Unless she is soon to announce other plans? Have a gander and make up your own mind.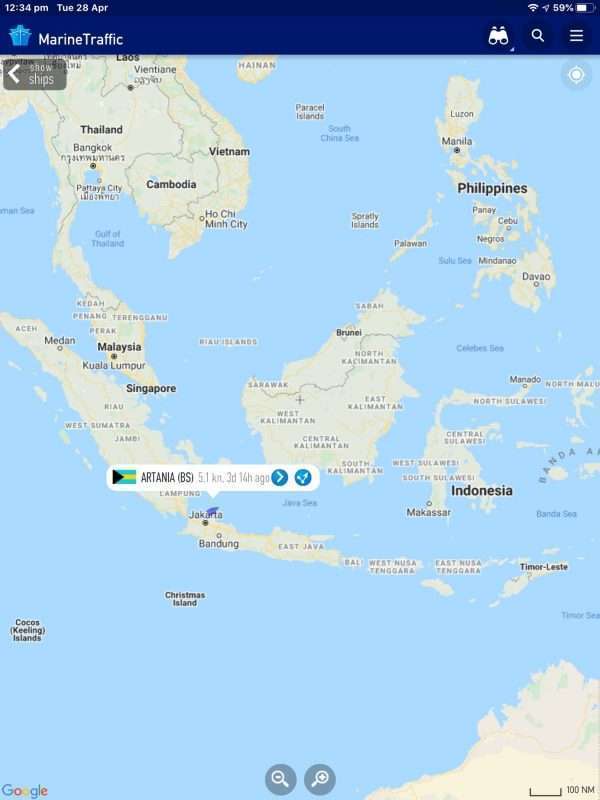 Viking Orion. Due in Singers on 30 April. She should make it ok. Here she is a day ago.
Well, that's the wrap. Oops, no it's not!
Barbara. Oh, nearly forgot to report on the whereabouts of the Cayman Island flagged, Russian-owned, pleasure craft, Barbara. Well, you'll be pleased to hear she is still tied up in Rous Head.
As to her future, we have no doubt that our indefatigable Tourism Minister, Paul Papalia, as we speak, will be working up a new plan involving the Barbara, now that the idea of sinking The World for a dive wreck off Rotto has fallen through.
We can see the Barbara, renamed the Barbara Ann, taking high-net-worth individuals and their families on all-inclusive sunset, whale watching, skinny-dipping, vodka swilling, champagne and beluga tours out of Fremantle, all to the majestic tones of the 1812 Overture.
Watch this space!