Port Hedland recently received The Australian Shipping and Maritime Industry's Port of the Year 2020 Award, for keeping the State and National economy buoyant during the pandemic.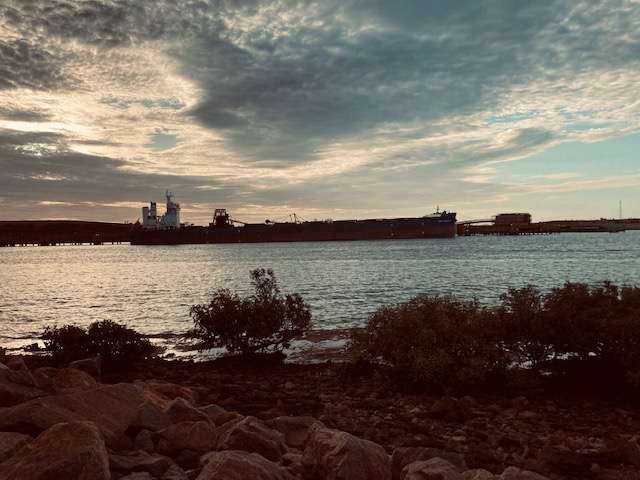 Recognised globally as the world's largest bulk exporter of iron ore, lithium and salt, recent investment has helped increase the Port's capacity by 6.9 per cent.
Total throughput at the Port for 2019-2020 was 717,232,000 tonnes, according to Pilbara Ports Authority.
Significant investment to replace navigation markers; create an emergency passing lane in the outer shipping channel; and an updated signal tower, have contributed toward improving the safety and efficiency of vessels entering the harbour.
Harbour Master, Heathcliff Pimento said projects have included the $120,000 channel risk and optimization project and the channel marker project, as well as the $55.3 million Hedland Tower.
The Australian Shipping and Maritime Industry acknowledged the Port's critical role in the Covid economic recovery and recognises ports, organisations, services and individuals with their awards.
Maran Elegance is one of several vessels in Port Hedland's Inner Harbour today. She is a bulk carrier registered in Greece and comes under the classification society of Det Norske Veritas. Her home port is Piraeus and she is owned by Ippocampos Shipping – Monrovia, Liberia.
She sailed to Port Hedland from Huanghua, one of China's largest and fastest growing ports in North China, a journey of 21 days according to Martine Traffic.
Maran Elegance is 299 meters in length, 50m in breadth, has a gross tonnage of 106823 tons and a deadweight of 205960 tons.
There are a few other Maran bulk carriers in port too: Maran Brilliance, Maran Friendship; Maran Elegance and Maran Virtue.
Wind forecasts are nominal this week, with a range of 2-14 knots and temperatures a muggy 31 degrees – a calm Port after her wild summer storms, and a safe haven, now even safer, for the seafarers and their vessels.
Stay tuned for more postings from Port of the Year – Port Hedland.