This 'mega yacht' class cruise ship is tied up in Fremantle Port at the moment.
She was on her way from Miami to Singapore, on a 146-day cruise visiting 62 ports in 36 countries, due to finish up in Singapore on 21 March, before being diverted to Fremantle.
By reason of Covid-19, on 13 March, Seabourn announced its ships would be the subject of a global pause in ship operations for 30 days, starting March 14, 2020.
Here is Seabourn's announcement –
'Seabourn, the world's finest ultra-luxury travel experience, announced that it will voluntarily pause global operations of its five cruise ships for 30 days, starting March 14. The decision is a voluntary response to the unpredictable circumstances evolving from the global spread of COVID-19 and in an abundance of caution.
"In this unprecedented situation, we feel a pause is necessary," said Rick Meadows, president of Seabourn. "Through this action, it is our absolute intention to convey to our guests and the travel advisor community that we have the health and safety of all who travel with us as a top priority. Our pause should also reassure the hundreds of destinations we visit each year that we want to be responsible in our operations as we bring travelers into their communities each time we visit."
Current voyages that are underway will end by March 22. Seabourn will be communicating these changes with all booked guests and their travel advisors.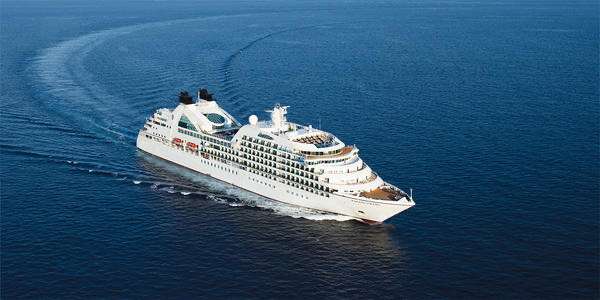 Seabourn guests on impacted voyages will receive a 125% refund of the fare paid in the form of a future cruise credit, which can be applied toward any future cruise through December 31, 2021. For guests who do not opt to choose the 125% future cruise credit, a 100% refund of the fare paid will be reimbursed to the original form of payment.'
As a result, Seabourn Sojourn has now arrived in Fremantle directly from Colombo, bringing the Miami to Singapore cruise to a premature end.
As a result of the global pause in operations, an advertised cruise from Fremantle, due to depart on 22 March, eventually finishing up in New Zealand, has also been cancelled.
The ship is now expected to depart Fremantle at 7.30 pm today, Thursday 19 March. The Fremantle Ports information simply says her next port of call is 'Overseas'.
This is all a great pity, especially for those who had booked on her, as she is a stylish cruiser. While on the smaller side – she takes a few under 500 passengers – that can be a distinct advantage for those on a longer cruise.
One summary review says –
'A cruise on Seabourn Sojourn, particularly a longer sailing, resembles short-term membership at an upscale country club. Bridge and trivia teams stay the same throughout the voyage, allowing friendships to form, dinners to be planned and cards to be exchanged.'
Let's hope the world returns to some sort of old normality soon, although occasionally one wonders just what that new normality will look like – especially in the highly profitable cruise line industry.