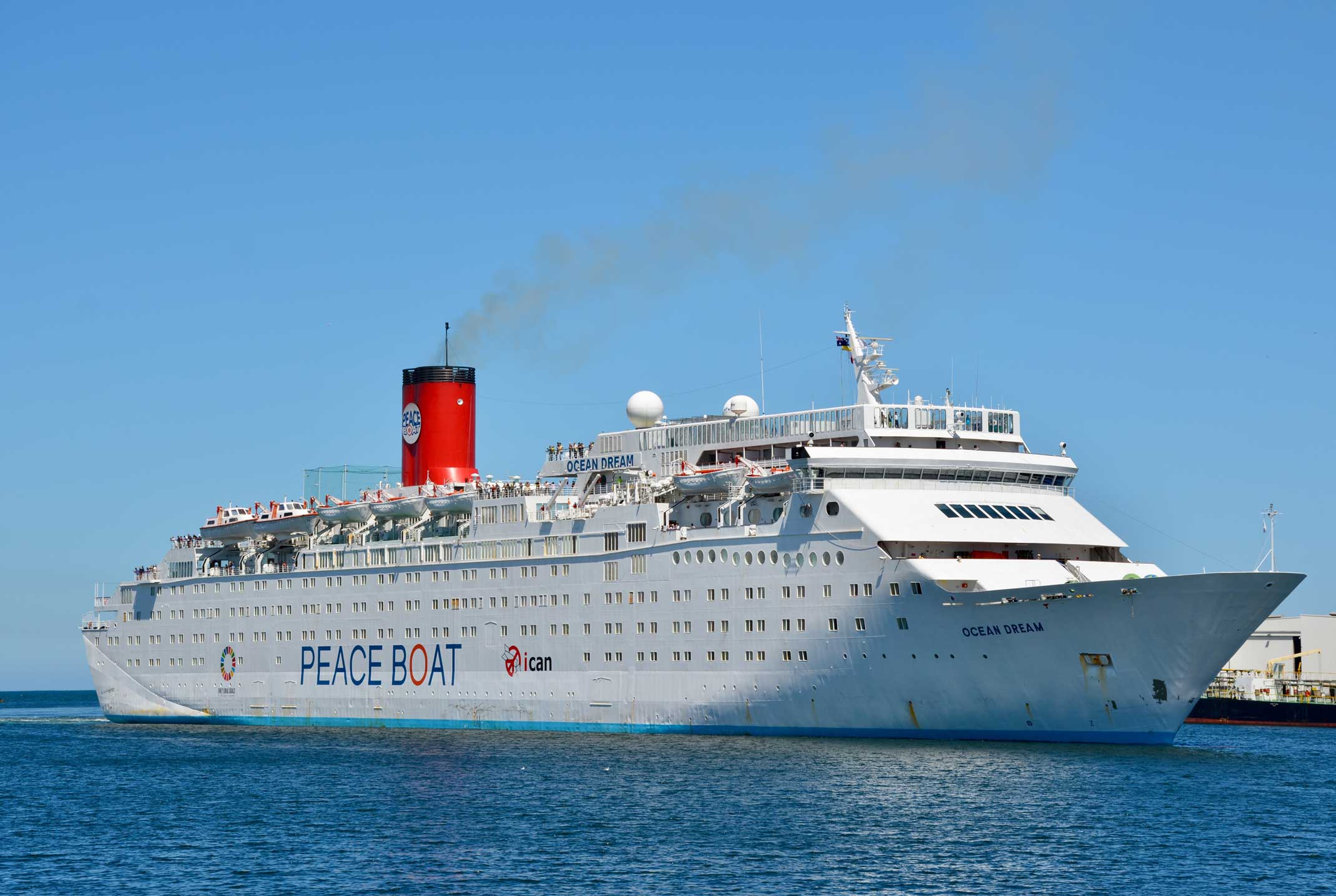 Peace Boat recently docked at C Shed down at the Port of Fremantle overnight which peaked this ship spotter's interest.
Peace Boat is a Japanese based international not for profit organisation which works to promote equal and sustainable development, peace, human rights and respect for the environment.
It travels for Peace and Sustainability, believing that travel in itself can be a tool to create best practices in responsible travel.
Her first voyage was in 1983 and was organised by a group of Japanese students in a creative response to government censorship regarding Japan's history of military aggression in the Asia -Pacific.  On a chartered boat they visited neighbouring countries to learn first hand about the war from those who experienced it and initiated people to people exchange.
The current Peace Boat 'Ocean Dream' was built 1981 in Denmark and is one in a long line of vessels including –
• The Topas built in 1955 (2002-2008
• The Clipper Pacific built in 1970 (2008)
• Mona Lisa built in 1966 92008-2009)
• The Oceanic built in 1965 (2009-2012)
The Ocean Dream, which has been operating as the Peace Boat since 2012, is staffed by over 250 professional officers and crew, with a maximum capacity of 1422, though she usually sails with between 800 to 1000 participants.
It has an array of public spaces adapted to be used as lecture halls, offices, workshop rooms, classrooms and rehearsal areas.  As well as working spaces, the ship also has a variety of places to exercise, relax, read, swim and eat international cuisine.
She is equipped with stabilizers along with the latest safety system based on SOLAS international safety standards.
| | |
| --- | --- |
| Draft | 7.5 metres |
| Length | 205 metres |
| Weight | 35,265 tonnes |