What do we think of when we think of East Fremantle's Woodside? We think of a beautiful early twentieth century building, but we also think of a maternity hospital and women's history.
Readers of the Shipping News will know about the controversy raging over the plan by an aged care provider, Hall & Prior, to build a new aged care facility on the site of the heritage-listed Woodside Maternity Hospital in Dalgety Street, East Fremantle.
In addition to its beautiful setting, the Woodside site comprises the old Moore family mansion, Woodside House, and the eastern Hospital Wing.
Residents take exception to the project on a host of grounds, many of which have been canvassed here. One that hasn't received much attention though is heritage, which is important as Hall and Prior, incredibly, intend to demolish the entire eastern Hospital Wing of the hospital.
While Woodside House has undeniable architectural significance, the site's primary function for more than fifty years, and the reason why many Fremantle people regard the place so fondly, is because of its maternity and birthing function. Woodside House itself served primarily for staff accommodation and administration; the eastern Hospital Wing was the place where women prepared for, assisted, and gave birth. (See Woodside Hospital (FMR) Conservation Management Plan, prepared for Landcorp by Hocking Heritage Studio, 2015, pp 51 and 274). It needs to be saved.
Woodside Maternity Hospital is a prime site of women's history in Perth, but the eastern Hospital Wing, where, in its 53-year history, over 50,000 babies were born, is the centrepiece of the whole maternity hospital precinct.
Hall & Prior don't intend to demolish Woodside House, built for the Fremantle merchant prince, William Dalgety Moore in 1902, and which became the administrative focus of the maternity hospital site. But the developers made demolishing the Hospital Wing, the wing that runs along Fortescue Street, a pre-condition for its whole project, somehow persuading the East Fremantle Council and the WA Heritage Council to approve demolition. This is particularly surprising because, in 1998, the Heritage Council had placed the whole hospital on its register of buildings listed for permanent protection. (See details in Woodside Care Precinct Redesign. Heritage Impact Assessment Development Application. Prepared for Kerry Hill Architects on behalf of Hall & Prior, Griffith Architects, June 2022, p 11. For Heritage Council listing see, Register of Heritage Places. Permanent Entry, 1998)
The Hospital Wing was built in three stages: in 1952, just prior to when the new hospital opened, then in 1962, and again in 1966. The Wing includes one-, two- and four-person wards; an operating theatre; nursing facilities; delivery, preparation and staging rooms; and a day room. In this Wing the bulk of the hospital's work was done. This was where nurses prepared mothers for the birth of their babies, where the babies were born, and later, where mothers recuperated while their babies were in the nursery rooms.
The nursery itself seems to have been in Woodside House. At first there were four single-bed wards in Woodside House's ballroom, but in 1963 the ballroom became the nursery, which remained the case till Woodside Hospital closed. (Woodside Hospital (FMR) Conservation Management Plan, pp 51 and 55.)
For Hall and Prior though, Woodside House, as the home of WD Moore, is more important than the Hospital Wing. As its application to the East Fremantle Council, Development Application Report states (Development Application Report, Woodside Care Precinct, prepared for Fresh Fields (No. 1) Pty Ltd, July 2022, p.p. 1.and 18) –
The loss of significant fabric of the hospital wing additions are mitigated by a focus on a substantial conservation outcome on the earliest fabric of the Woodside House and Ballroom.
This is a classic example of women's history being shouldered aside to celebrate the history of men: in fact of one house and one man, WD Moore himself.
Let's take a look at the history of the maternity hospital.
Two years after WD Moore died in 1910, most of the land surrounding his mansion was subdivided and sold off, with only the mansion and a couple of hectares of land remaining in his family's hands. By the mid 1920s the site was part of a solid middle-class suburban enclave, comprising what are now heritage-listed homes. Between 1926 and 1946, Woodside House operated as a private hospital, then from 1946 to 1949 its owners re-created it as rental flats. From 1949 to 1951, it was a home for disabled children. The state government bought it in 1951 specifically for a maternity hospital, which it named Woodside Maternity Hospital, and it was opened late in 1953. The State Labor government closed the hospital in 2006 and for several years it was an administrative centre for the local section of the Health Department. This information comes from Heritage Council of Western Australia, Register of Heritage Places: Assessment documentation, 1998, pp. 4-7 and Woodside Hospital FMR Conservation Management Plan, p 61. ) Then Hall & Prior came knocking on the door.
Woodside Maternity Hospital was opened for both public and private patients in October 1953, by the then ALP Minister for Health, Emil Nulsen. With the new buildings, it now had 26 beds in 15 wards: 10 single rooms, two with two beds and three with four. The first mothers-to-be arrived on November 3, from a smaller hospital which had been closed. The first baby, Russell David Boyes, was born, said a nurse, "while we were still making up the beds". Indeed, the hospital was taking patients even before it had a telephone number in the phone directory (its number by the way was 63894). (West Australian, 6 November 1953, p 18. For phone number see West Australian, 4 November 1953, p 3.)
The need was indeed urgent. Perth south of the river was booming, with new housing, a fast growing population and new heavy industries, for example in Kwinana. The post World War 2 marriage and baby boom was in full swing. Fertility and birth rates were rising rapidly and the closure of four small maternity hospitals in the Fremantle area didn't help. Anxious citizens everywhere, not just in Fremantle, were crying out for new hospitals. The federal government had promised help under the Curtin-Chifley Labor governments' massive post war reconstruction scheme, but both labour and building materials were in short supply. Indeed, everything seemed to be in short supply, except pregnant women. (G Bolton, Land of Vision and Mirage: Western Australia since 1826, UWA Publishing 2008, chapters 7-8.)
So, in 1948, Fremantle women began to organise. A representative committee initiated by the ALP's Fremantle Women's organisation, which had been pushing for a new maternity hospital for many years, and the Fremantle District Council of the ALP or FDC, began to stage meetings and lobby the McLarty Liberal government. But they hit a brick wall in the person of the health minister, Arthur Abbott, who told a big deputation in September that they would have to wait their turn in the overall hospital programme and that King Edward Hospital would get preference anyway. (Daily News, 6 August 1948 p 5. See also Westralian Worker, 6 August 1948 and 28 January 1949, p 3. West Australian, 20 September 1948, p 11.)
Undeterred, after unsuccessfully lobbying the Federal Labor government for assistance in early 1949, Labor women urged the FDC to set up a new committee to renew the campaign. The new committee, led by the same ALP bodies and this time including the now famous member of the Communist Party of Australia, Paddy Troy, proposed that a monster petition be the vehicle to pressure the government. All the local municipal councils sent out canvassers to collect signatures; large and small bodies chipped in; doctors, trade unionists, the feminist Women's Service Guild and other women's organisations supported it. (For Paddy Troy see Workers Star, 25 February 1949, p 8. As the president of the FDC, observed, "pages are now being filled rapidly and public interest and enthusiasm is without parallels in Fremantle". (Sunday Times, 10 July 1949, p 3.) Fully 8009 people signed it. (For a copy of the petition, see Mary Cameron, Woodside Hospital. Notes on the history of the hospital, WD Moore, copies of newspaper cuttings and photographs, Fremantle, 2002. Unpaged. This can be found in the Fremantle Library.)
Local politicians, all in the ALP, spoke in favour in a parliamentary debate on the petition. John Tonkin, the Labor member for North East Fremantle and later Premier, was one; Joseph Sleeman, the member for Fremantle, and long-time Speaker of the Legislative Assembly another; and my own great uncle, Tom Fox, the former president and secretary/president of the local branch of the WWF, the member for South Fremantle, was the third. (West Australian, 15 September 1949, p 8.)
This was an amazing campaign. Initiated by women and the local bodies of the ALP, it was truly a suburban, community marvel. The petition proved to be irresistible. Fortuitously a new Minister for Health had succeeded Abbott, Florence Cardell Oliver, a powerful and conservative feminist and suffragist, who was a member of the Women's Service Guild, the Karrakatta Club and the Woman's National Movement. (Australian Dictionary of Biography, No 13, 1993.) She was supportive; and, after searching among local houses for something smaller, in December 1950 the government bought the Woodside site and began planning an expanded new maternity hospital. (West Australian, 7 December 1950, p 7.)
Woodside House alone was never going to be big enough and turning it back into a hospital too difficult and expensive, so the state government added the new eastern Hospital Wing. This was built in three stages. The northern portion, comprising several wards, was built in 1952 ready for the opening; more wards were opened in the northern end in 1962; and then in 1966, a new, expanded and modernised central and southern portion including more wards, an operating theatre, delivery, preparation and staging rooms and day room were added. Administration and nursing facilities were concentrated in Woodside House but the primary business of the hospital, delivering babies, was concentrated in the Hospital Wing. (Woodside Hospital (FMR) Conservation Management Plan. See map on p 276.)
From 1953 to 1985 the Woodside Maternity Hospital was run under the aegis of the state government Health Department, then in 1985, it was handed over to Fremantle Hospital. This new level of bureaucracy proved to be less than a blessing, with Fremantle Hospital's priorities the bigger rather than the smaller hospital site. (For example, see the issue of the gynaecological procedures that Fremantle Hospital passed over to Woodside then took back again. Mary Cameron, Woodside Hospital.)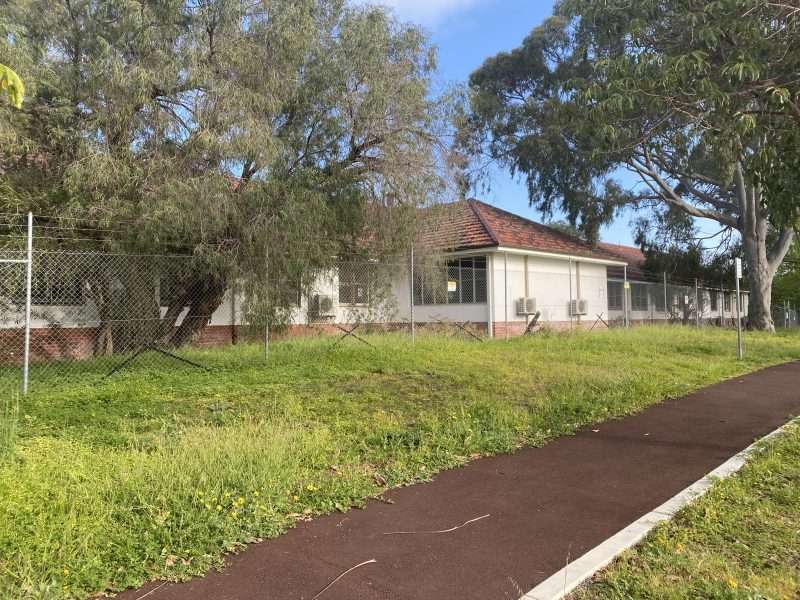 From the beginning, Woodside provided maternity services for both public and private patients. It took patients from all over Perth and across the south-west of the state, often sending its own volunteer drivers out to pick pregnant women up from their homes and taking them and their babies home afterwards. It was also a teaching hospital and provided services to and forged relationships with several outside bodies, including the University of Notre Dame's nursing faculty, Red Cross, Silver Chain, the Nursing Mothers Association, the State Child Health Service, the Ngal-a Mothercraft Home. and the Women's Multicultural Health centre. Yet it was primarily a hospital for women living south of the Swan River and principally for those in the Fremantle area. (See Woodside Maternity Hospital, Fremantle Hospital, Annual Report, 1992-3 in Mary Cameron, Woodside Hospital.)
As we have seen, over its 53-year history – from 1953 when it opened as a maternity hospital to 2006 when it was closed – over 50,000 babies were born at Woodside. The nursing and midwifery staff and their nursing assistants were entirely female, as was the non-nursing and administrative staff, and the hospital was largely managed by women. Apart from a small number of male tradesmen, gardeners and others, the only occupations in which men outnumbered women were gynaecology and obstetrics, the doctors who delivered the babies, did ante and post-natal care and performed minor surgeries. Indeed, one well known obstetrician delivered over 18,500 babies. But these specialists weren't hospital staff; they were private consultants or GP obstetricians contracted to be 'on call, to come in when needed.' (Heritage Council of Western Australia, Register of Heritage Places: Assessment documentation, 1998, p. 7. On the prolific deliverer of babies see 50. Woodside Maternity Hospital, p 10.)
Woodside also experienced profound transitions in the quality of hospital care with improvements in diagnostics and technology. One Woodside midwife wrote in Woodside's 50th anniversary publication in 2003, that in the early days the only access doctors and midwives had to the womb was via hands and ears. Twenty years later ultrasound arrived at Woodside. In another example, in 1997 a new ante-natal clinic was built, whose ante and post-natal procedures and practises made childbirth even safer. Just six years later, fully 40 per cent of women admitted to Woodside came through their clinic. And as a follow on from this, the length of time mothers and babies had to stay in hospital fell from between seven and ten days to just two or three. Woodside was innovative too: new forms of interior design in wards to make them more pleasant and calming; the introduction of a new birthing chair; allowing mothers to spend time close to their babies on their birth, rather than seeing them only in the nursery; relaxations in visiting hours. The stern old rules and regulations which were present in Woodside at the beginning, were slowly relaxed. (All the references for this paragraph can be found in 50. Woodside Maternity Hospital, pp 3,4,5,8,9,10.)
One local paper described another transition, a "homebirth renaissance" in Perth. In 1979 Woodside provided access to autonomous/independent home birth midwives, and five years later it was still the only Perth maternity hospital to do so. It was an important service as independent midwives had been sidelined for years by the medical profession from assisting women to give birth. (Fremantle Focus, September 1988, in Cameron, Woodside Hospital.) Woodside also provided placements for trainee nurses doing midwifery and trained doctors in obstetrics. The hospital did surgery as well. For several years in the late 1980s and early 1990s when Fremantle Hospital stopped doing gynaecological procedures, Woodside stepped into the breech, doing between 700 and 800 operations on women patients annually. (Woodside Maternity Hospital in Fremantle Hospital Annual Report. ln Cameron, Woodside Hospital.)
Governments claim never to have enough money for state hospitals, so hospital support groups often had to step in. The most permanent were the women's auxiliaries who raised thousands of pounds, then dollars, for Woodside. In 1997 for example, the Fremantle Hospital Women's Auxiliary raised $45,000 for the new ante natal clinic. (50. Golden Jubilee publication, p 7.) Staff and their families joined in too, running Woodside's own Easter Fair for several years from 1988. and raising all up around $90,000. At one such Sunday fair in the early 1990s, 1500 people came along to buy goods and take rides to support the hospital. (50. Golden Jubilee publication, p 11.)
These initiatives also had the effect of building up a love for the hospital amongst its East Fremantle neighbours. In 1990 and 1995 staff and local people, again mostly women, demonstrated at the hospital over plans to close it down, illustrating the oft-made point that locals had a deep affection for the place. As the then-Director of the Heritage Council, Ian Baxter, remarked at the time when the Council declared that the Hospital was protected heritage, the hospital had a tradition of providing an innovative service, designed to suit the needs of the local community. "This enables the people to feel involved in the hospital," he said. "They have a sense of ownership, which makes it a special place far beyond that a regional maternity hospital." (Melville Community News, ND. but 1998. In Mary Cameron, Woodside Hospital. Heritage Council of Western Australia, Register of Heritage Places: Assessment documentation, 1998, p. 7.)
Then, finally. on the eve of its closure in 2006, another crowd, again mostly women, demonstrated in favour of keeping it open, at one point fifty of them cornering the then-Minister for Health in a nearby hospital, demanding that he not close their hospital. (Woodside Hospital (FMR) Conservation Management Plan, p 61.)
But there is more. We are lucky to have a source which outlines what women who birthed children at Woodside thought about the experience. Two Facebook pages devoted to the history of Perth and Fremantle include around 2000 posts on the meanings attached to and the memories of the old maternity hospital. See this Facebook page and also this one.
One post reads –
Great memories of Woodside! I was born there 1955, all 4 of my children were born there and some of my Grandchildren were born there. Loved sitting in the red phone box chatting in between feeds. Loved the nurseries and all of the staff. The visitors room with the only TV in it. You would make friends with all the girls and their partners and continue to catch up after.
And another –
Giving birth is a miracle but you were made to feel special there. And another:
Ahhh Woodside babies. My Sons both born there, the staff were amazing, really terrific, the fresh made food delicious and the afternoon teas, divine. Woodside Maternity Hospital, proud to part of its history. Xxx.
These Facebook pages tell us that vast majority of the posts were from women who had babies at Woodside. The posts are overwhelmingly positive about the birthing experience, the hospital the staff, the facilities, the ambience. Even bald statements like, 'my daughter was born at Woodside', announces that the author wanted her experience to be registered and associated with the pages, the other posters and, of course, the hospital.
The pages tell us a great deal about the social situation of the posters. Two, sometimes three generation of women in the one family, all gave birth at Woodside. Extended families went there. One poster had 24 cousins all born there. Some women had all their children there; some had one, two or three. These posts speak of family traditions, motherly advice, family memories, women's knowledge and customer loyalty as well as more prosaic matters like proximity, presence of local doctors and cost in the choice to go to Woodside.
Having a baby at Woodside was often referred to in the posts as a Fremantle thing, as a community thing. Posts like, 'All my friends had their children there' are common.
In heritage parlance these posts are evidence of what is called intangible cultural heritage: amongst other things an aspect of 'the associations that may exist between people and a place, and that contributes to the cultural significance of the place'. (Australian ICOMOS, Burra Charter and Practice Notes, Intangible Cultural Heritage and Place, p. 2. https://australia.icomos.org/publications/burra-charter-practice-notes/)
Woodside Maternity Hospital embodies both the tangible and intangible heritage of women's history. From the outset, the inspiration for the campaign in 1948 for a Fremantle maternity hospital was led and inspired by Labor and feminist women, and the minister for health who approved the projects was a woman and a feminist. For 53 years women had their children in the hospital, while hundreds, possibly thousands of women worked there. Some of these and other women raised money for this women's hospital. And at the end, it was mainly women who fought the battle against Woodside's closure.
The tangible site where all those stories played out will be lost if Hall & Prior's plans go ahead.
It is crucial that the Hospital Wing on Fortescue Street be given the same level of heritage protection that has been accorded to Woodside House.
* By Charlie Fox. Professor Charlie Fox is an Australian historian attached to the University of WA History Department.
WHILE YOU'RE HERE –
PLEASE HELP US TO GROW FREMANTLE SHIPPING NEWS
FSN is a reader-supported, volunteer-assisted online magazine all about Fremantle. Thanks for helping!
** Don't forget to SUBSCRIBE to receive your free copy of The Weekly Edition of the Shipping News each Friday!