As Graeme Cocks explains it, a spell was cast over him when he was summoned to coffee and cinnamon biscuits at an unassuming house in East Fremantle in 1994. For the next 20 years, he could not release himself from the grip of a little sailing ship called Duyfken –  the Little Dove. 
Against all odds, a magnificent 16th century Dutch sailing ship was conceived and constructed in the heart of the old port city of Fremantle. Hailed as the finest 'Age of Discovery' replica ship ever built, Duyfken was sailed on two momentous voyages across the world's great oceans to Indonesia and then to Europe.  And along the way, the old narrative of the first ship recorded in history to visit Australia was rewritten.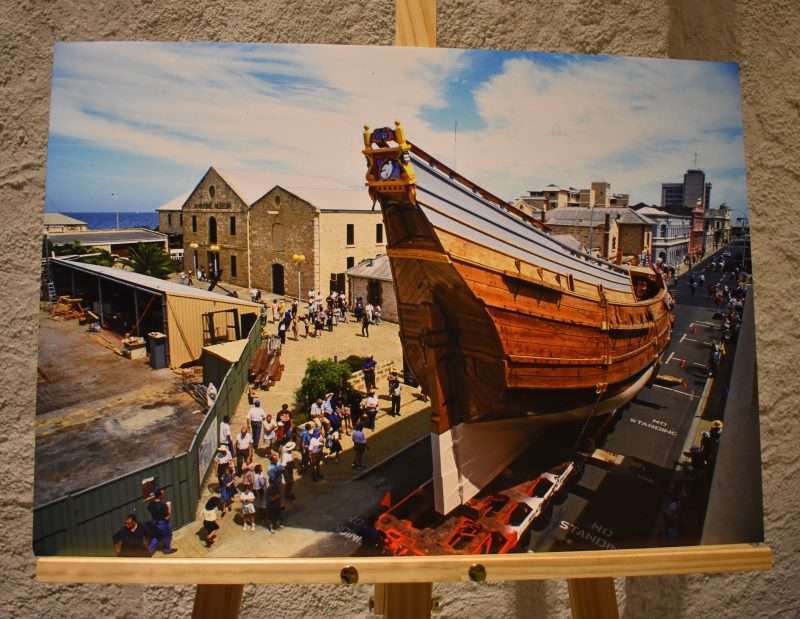 Above photograph from The Romance of Wooden Boats exhibition. Credit Jean Hudson.
 
Now, in his book THROUGH DARKEST SEAS, Graeme, a story teller and writer by nature and training, tells the previously untold story of the replica, from its genesis in the imagination of a Dutch immigrant to Australia, the late Michael Young, to the challenge of building a remarkable ship using traditional skills, and the people who built and sailed her.
 
It is an inside account of these achievements which has never been told before. Graeme Cocks was there from the beginning and then he ran the project through its most glorious and difficult years. The book documents the triumphant highs and tragic lows and the incredible cast of personalities who shared the Duyfken dream. 

 
Graeme Cocks kindly sat down with our editor, Michael Barker, to discuss replica sailing ships, the Duyfken project and the book. Graeme also explains why he thinks it's time to bring the Batavia replica 'home' to Freo. It's a good yarn you won't want to miss.
While you're here –
PLEASE HELP US TO GROW FREMANTLE SHIPPING NEWS
FSN is a reader-supported, volunteer-assisted online magazine all about Fremantle. Thanks for helping!
** Don't forget to SUBSCRIBE to receive your free copy of The Weekly Edition of the Shipping News each Friday!
Here's the PODCAST. Enjoy!