High school curricula around the country today teach kids what their parents and grandparents often only heard hinted at – that First Nations peoples around Australia's frontiers were often mercilessly killed at the hands of European settlers as the country was 'opened up' following British colonisation. 'Murder' is so often the correct description of the actions of the settlers and the police involved.
The 1834 so called 'Battle of Pinjarra', more accurately the 'Pinjarra Massacre', on the Murray River, around 80 kilometres/50miles south of Fremantle, is a case in point. James Stirling, the Governor of the then new Colony of Western Australia, led a party to wreak reprisals on the troublesome Murray River mob who were considered responsible for the deaths by spearing of some settlers near Perth. Aboriginal men, women and children were shot.
The stories were the same from all frontier parts as Australia was opened up to European settlement. In the 1890s the stories from the Kimberley region of WA echoed that of Pinjarra.
The Kimberley stories are well researched and told in Dr Chris Owen's much praised book, 'Every Mother's Son Is Guilty': Policing the Kimberley Frontier of Western Australia 1882-1905', and published by UWA Press.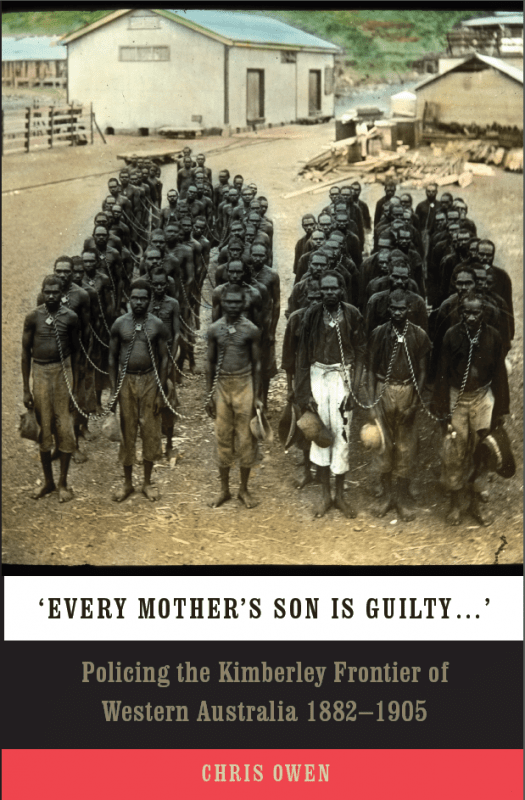 More recently, Dr Owen has researched massacre sites in WA on behalf of the University of Newcastle's Colonial Frontier Massacre Map Project and and has been a contributor to The Killing Times series published by The Guardian Australia.
PLEASE HELP US TO GROW FREMANTLE SHIPPING NEWS
FSN is a reader-supported, volunteer-assisted online magazine all about Fremantle. Thanks for helping!
By the way, if you're wondering about the title to Dr Owen's book, here's the answer. When the 1904 Royal Commissioner Walter Roth was questioning a Kimberley police officer, asking if it's a rather one sided justice for Aboriginal people, he received the reply: 'It's a queer country up here. Every mother's son is guilty.'
Dr Chris Owen kindly agreed to sit and discuss the topic of frontier killings with our editor, Michael Barker, who in an earlier life was the barrister who appeared for the Miriuwung people of the East Kimberley on their ground breaking, successful application for native title in the Federal Court of Australia in the late 1990s.
Sit back and listen now to the discussion. It's most informative.