Kota Nebula sailed into Freo's Inner Harbour on Wednesday and is due to depart today. The 180 metre container ship has come from Melbourne and is on her way to Singapore, where she is registered.
Built at Dalian Shipbuilding Industry Group in China, Kota Nebula has a gross tonnage of 20902 Gross tonnage and a deadweight of 25985 t. She has the capacity for 1,810 TEU (Twenty-foot Equivalent Unit) and is owned and managed by Pacific National Lines, Singapore.
In 2019, Kota Nebula took aboard Danish Red Cross Ambassador, Torbjørn C. Pedersen. He is travelling to every country in the world without flying. He commenced in 2013, and in 2020 only had nine more countries to visit. You can read about his travels and his time on board the container ship in his blog, Once Upon A Saga.
Ambassador Pedersen writes about the busyness of the ship when it's coming into port with pilots, customs, immigration, police and stevedores coming aboard, and the rapid offloading, loading, cranes, spare parts, paperwork and the coordination between agents and crew, often with no more than 24 hours.
Around and around the globe these ships continue to sail, picking up and dropping off all the supplies this planet produces and consumes.
The supply chain has to keep up and decarbonize at the same time. Our own Treasurer, Jim Chalmers, has said the supply chain is broken. During ABC's Capital Hill speech yesterday, Reserve Bank Governor, Philip Lowe, said shipping delivery times are shortening.
Kota Nebula shares the container terminal berths with CMA CGM's 299.26 metre container ship Corneille; 335 metre Gulf Bridge; and bulk carrier Xing Zhi Hai from Pyeongtaek in South Korea.
Kota Nebula's shipping agent is Gulf Agency Company, Australia. They won "Best Ship Agent" at the ShipTek International Awards in Greece earlier this month.
They have aligned with Bahrain's renewable energy company Al Mannai to install 522 solar panels on the rooftop of warehouses at Bahrain's Investment Wharf in Al Hidd. The panels will generate 300 kilowatts of power. Solar energy is regarded as an infinite long-term energy solution.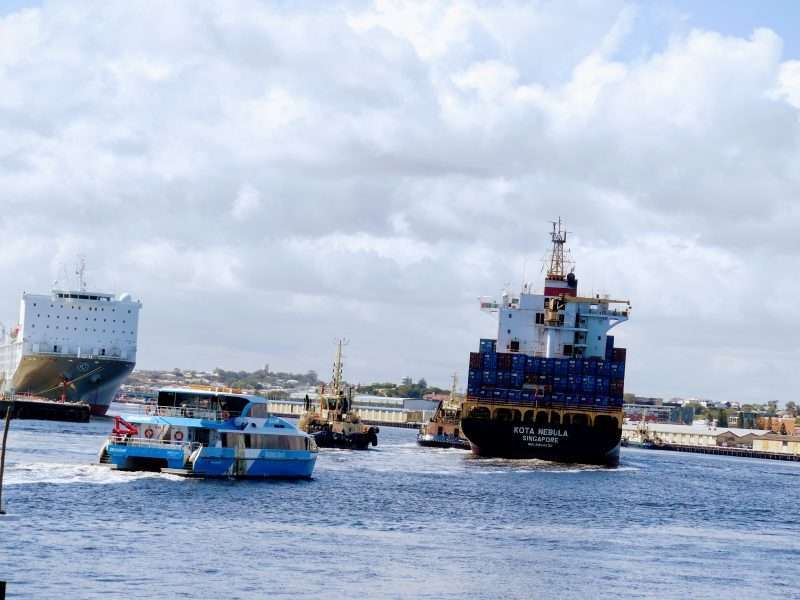 Bahrain's Economic Vision 2030 aims to reduce emissions by 30% while doubling their regional renewable infrastructure.
Nicholas Brown is GAC's Global Director of Bunker Fuels and is head of the company's Sustainability Working Group. They are also working with Norce, a large Norwegian research institute, to develop hydrogen-based bunker fuels in a project they call HyValue.
"GAC Bunker Fuels has pledged zero oil-based bunker sales by 1 January 2030," he said.
Watch this space.
The Norwegian government's Ministry of Petroleum and Energy has committed NOK15,000,000 (approx. AUD2,250,000) per year to 2030.
"Hydrogen can be produced renewably from electrical energy and the bio-renewable process. It is carbon and sulphur free, and disperses organically in the event of a leak," Mr Brown said.
By the way, Ballast water is being released from Kota Nebula, whose bulbous bow reduces drag, increases speed, range, fuel efficiency and stability.
* By PA Sinclair, our Shipping Correspondent. For more Shipping Movements and articles by our Shipping Correspondent look here.
While you're here –
PLEASE HELP US TO GROW FREMANTLE SHIPPING NEWS
FSN is a reader-supported, volunteer-assisted online magazine all about Fremantle. Thanks for helping!
** Don't forget to SUBSCRIBE to receive your free copy of The Weekly Edition of the Shipping News each Friday!