The 2022 Fremantle Soroptimists' Help the Homeless Art Auction was a wonderful success last Saturday evening at the new Walyalup Civic Centre at Walyalup Koort, Freo with 32 works going under the hammer.
The Auction exhibition was installed last Friday and de-installed Sunday morning after the auction.
To the organisers' great delight, the event was fully booked with additional tables required during the evening.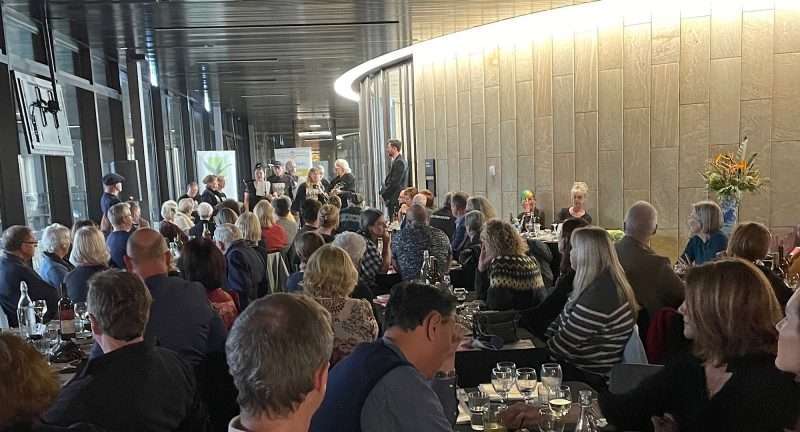 Finn Pearson who stepped in at the last minute to cover a Covid-positive Jack Davies was a hit performer, and the MC Sam Longley a consummate professional.
The Starlight Hotel Choir encouraged the audience to join them in song, and to join the choir later at their twice weekly rehearsals at St Pat's Community Support Centre.
Scott Willis, the experienced art auctioneer, made his return to the first live version of the event since the onset of the Covid pandemic, and successfully sold 32 of the works in the auction.
All of this is great news for the beneficiaries of the art auction, the Freo Street Doctor and St Pat's Community Support Centre who both provide invaluable services to the homeless.
By the way, it's not too late to acquire one of the 14 unsold works. Here they are. Have a look and then phone Lyn DiCiero, the curator of the auction, on 0421 376114 or email her at art@artistschronicle to discuss your purchase. Artworks will be delivered to your door after purchase.
While you're here –
PLEASE HELP US TO GROW FREMANTLE SHIPPING NEWS
FSN is a volunteer-run organisation and we rely on the support of Freo people to keep making local news free. Thanks for helping!
** Don't forget to SUBSCRIBE to receive your free copy of The Weekly Edition of the Shipping News each Friday!