Here are some great photographs of the Iron Brolga.
The Iron Brolga is an Escort tug specifically built for the harsh north western Australian climate, which includes scorching temperatures regularly exceeding 45 degrees Celsius and 6 months of cyclone season.
Usually, she can be found working hard in the largest bulk handling port in the world, the Port of Port Hedland.
However, recently she was on the hard stand for 5 weeks in Henderson, just south of Fremantle, getting her 5 yearly spruce up.
The Iron Brolga is a high-performance ASD Escort Terminal tug which has the following specifications: 1200 tonne, 34.94m, and a 85 tonne bollard pull.
She was originally built in Singapore in 2017 along with 5 others of her class, RAstar 85.
They all have 2 x 2550KW main engines along with a state-of-the-art Markey render/recover winch, which you have to see in action to believe.
Iron Brolga is managed and operated by 360 Towage & Salvage, as is her sister tug the Iron Kestrel.
Usually there is a crew of three operating the tug – the Master, a Chief Engineer and a Mate.
A big question throughout the marine industry worldwide is how soon vessels of all shapes and sizes will be electric and how quickly the industry can achieve carbon neutrality. Some Bulk handling carriers are already leading the way such as HL Eco and HL Green.
While this tug isn't electric powered, it's beginning to happen in tug world. Check this out!
After her recent 5 yearly docking at Henderson, The Iron Brolga departed last Monday, arriving home in Hedland Friday night.
She and her crew are now back in the thick of the amazing marine traffic to be found around Port Hedland Port, as this Marine Traffic graphic from today shows.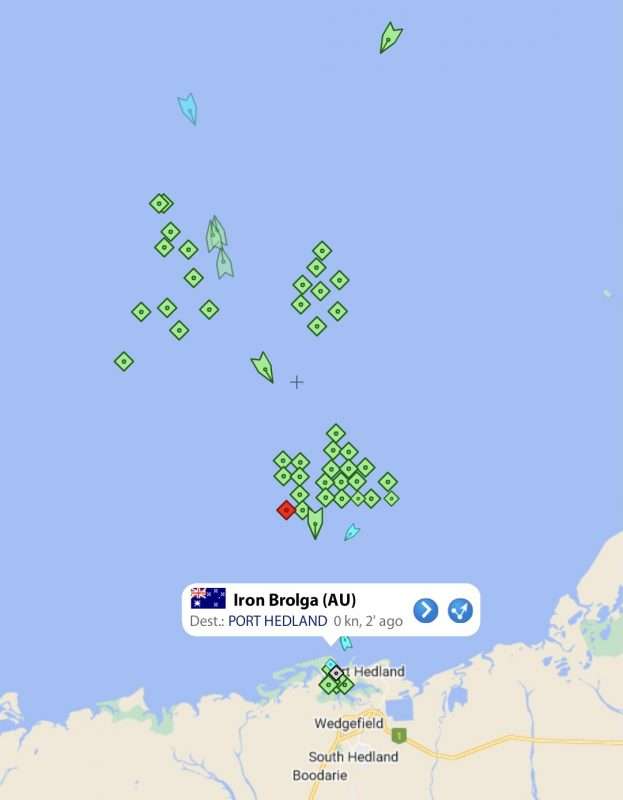 It's another world really!
PLEASE HELP US TO GROW FREMANTLE SHIPPING NEWS
FSN is a reader-supported, volunteer-assisted online magazine all about Fremantle. Thanks for helping!
And don't forget to SUBSCRIBE to receive your free copy of The Weekly Edition of the Shipping News each Friday!