Lot's happening in Germany right now.
The federal elections have been held over the weekend just gone, and the political parties are now haggling over who will provide the next Chancellor to replace the outgoing, much-loved Chancellor Angela Merkel.
On top of that it's German Unity Day on 3 October.
Love and peace no doubt filling the air everywhere!
And as if to remind we Australians about all these events and all things German – especially the great football club FC Bayern Munich – the German Navy Frigate Bayern (Bavaria in English) arrived in Fremantle port this morning to much fanfare.
Our Deanna Shanahan, whose great photographic work is also to be found on Instagram @flotsamandjetsam6162, was on hand to record all the action.
Bayern's on a short visit here as part of her current Indo-Pacific Deployiment.
In total, relying on public sources and doing the best we can, it seems there are about 65 commissioned ships in the German Navy, including Bayern.
All up the German Navy comprises 11 frigates, 5 corvettes, 2 minesweepers, 10 minehunters, 6 submarines, 11 replenishment ships and perhaps as many as 20 miscellaneous auxiliary vessels – although the 20 may be misleading. For those interested in total displacement statistics, the total displacement of these vessels is 220,000 tonnes.
The Bayern commenced her current operation in August 2021 off the Horn of Africa and is now here in Australia encounter for Japan. And then back again, as this map of her journey shows. She is due to complete her deployment in February 2022.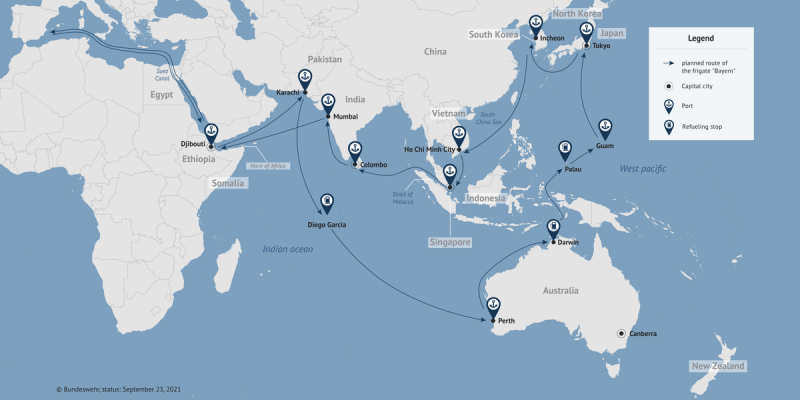 The vessel's core mission is stated to be: 'showing the flag'.
With the Indo-Pacific Deployment, the German Navy aims to underline its role as a reliable political asset for Germany that can be employed worldwide.
Formally, the voyage is a training one. The Bayern's mission is one of diplomacy and security policy. It includes performing joint exercises with the navies of Germany's partners in the region, including those of Australia, Singapore, Japan, and the US.
But this voyage is also about demonstrating that Germany will stand by its international partners when it comes to securing the freedom of the sea routes and upholding international law in the region.
So it sounds very much South China Sea orientated!
So, to the Captain and Crew of the Bayern we say welcome to Fremantle, Australia's western gateway!
PLEASE HELP US TO GROW FREMANTLE SHIPPING NEWS
FSN is a volunteer-run organisation and we rely on the support of Freo people to keep making local news free. Thanks for helping!
* This article was written by Michael Barker, Editor Fremantle Shipping News